Football Expert & Columnist
Jamie Redknapp: Arsenal team that lost to Bournemouth the worst I've seen
Last Updated: 15/01/18 11:04am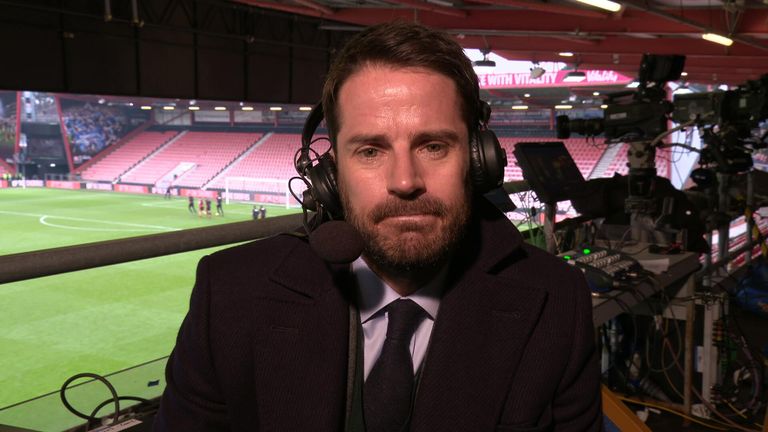 Jamie Redknapp said the Arsenal team that lost 2-1 to Bournemouth on Sunday is the worst he has seen.
With Alexis Sanchez and Mesut Ozil not in the squad, the Gunners still took the lead in the 52nd minute at the Vitality Stadium through Hector Bellerin.
But two goals in four minutes from Callum Wilson and Jordon Ibe saw the Cherries turn the game around and earn their first Premier League win against Arsenal.
The starting line-up was Arsenal's youngest in the Premier League since November 2012, but Redknapp was not impressed, saying: "You can say it's the youngest, but I'd probably say it's the worst Arsenal team I have seen.
"If you look at the blue-chip players of the years gone by, the Henrys, the Bergkamps, there are no players that are going to get in the Hall of Fame in this side. It was very disappointing today.
"They didn't do enough for me, all around the pitch. It was the same failings, a lack of desire to get back into the game. You could see at 1-1 it was inevitable, there were no characters out there, nobody pulling people into position. A hugely disappointing result and performance from Arsenal."
Arsenal have now not won in five matches in all competitions and their hopes of a top-four spot seem to be fading.
Redknapp's fellow Sky Sports pundit Graeme Souness described the Arsenal side, minus Sanchez and Ozil, as "very ordinary".
"If you are an Arsenal supporter it's a worrying time," he said. "[They were] devoid of imagination, anything you associate with Arsenal in the last couple of decades, like attractive football, quick, sharp, incisive passing…
"Everyone across that midfield had far too many touches, the striker wants the ball quick and early, when was [Alexandre] Lacazette getting any passes? They were all after a slow build-up."