Arsene Wenger could be approached by FIFA or UEFA over possible role, says Pat Rice
By Paul Gilmour, Sky Sports News reporter
Last Updated: 24/04/18 7:51am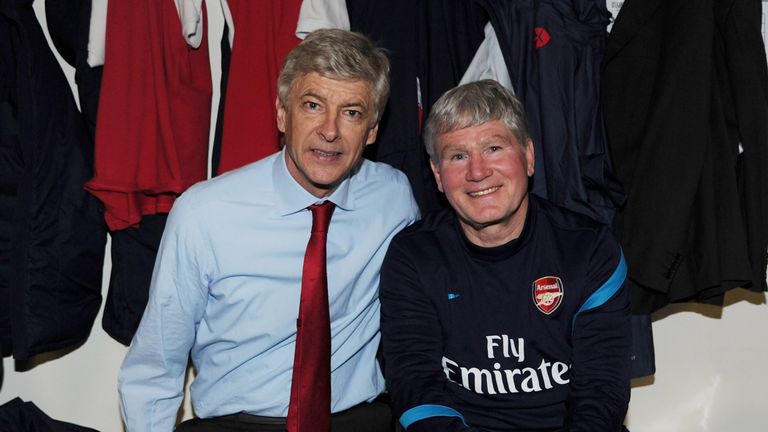 Arsene Wenger is held in such high regard that the governing body of world football could rival clubs for his signature, according to Pat Rice, his assistant of 16 years.
Rice, who retired as Wenger's No 2 in 2012, believes the Frenchman will have the hunger to continue in the game after Arsenal and will be in demand by some of the leading figures in the game.
"I think he's so well respected if he wants to be a manager at another club," Rice told Sky Sports News.
"I know he's very well respected at UEFA and FIFA and I would not be surprised if he had an opportunity to go and join one of those.
"Football is his love. When I was working there you would go in the next day and talk about what film or comedy show you watched the previous night, or if you'd been out in the West End.
"He would come in and ask if anyone had seen Juventus or Roma or Barcelona v Malaga."
Rice also offered an insight into Wenger's relationship with Manchester United boss Sir Alex Ferguson.
The two are usually regarded as having a fractious relationship but Rice says they enjoyed a more harmonious existence off the pitch.
"They are both great managers and they both had great respect for each other," added Rice.
"After [a game] Arsene would make sure there was a good bottle of wine in the staff room for Sir Alex.
"They used to chat about the match and players so what you see on the screen is not necessarily what it was like off the screen."
As for whether the Premier League would see a rivalry like theirs again, Rice said: "I don't think so."
Rice is also convinced Wenger left the Emirates of his own accord, despite still having a year to run on his contract.
"I don't think the board would do anything untoward on Arsene," he said. "They totally respect him. There is no one in the game as far as I know that doesn't think he's a wonderful man.
"He is a great manager and so I think that decision will have been his decision. He's always said that when it's time to go he will know himself."