Arsene Wenger says Arsenal have clear objective v Atletico Madrid after Europa League draw
By Zinny Boswell
Last Updated: 27/04/18 8:55pm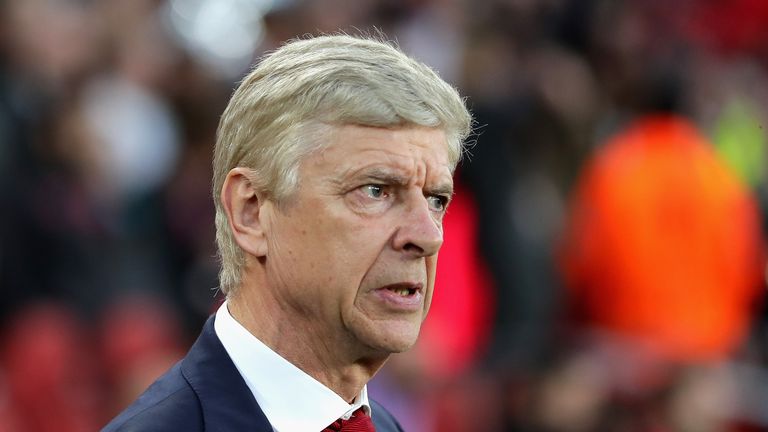 Arsene Wenger says the fact Arsenal's objective is "clear" in their Europa League semi-final return leg against Atletico Madrid could prove to be an "advantage".
Arsenal head to Madrid knowing they must score to progress to the final of the tournament after conceding a late goal from Antoine Griezmann to draw Thursday's game 1-1.
Wenger has urged his players to be optimistic about their chances in the second leg after opening up Diego Simeone's defence at the Emirates on numerous occasions.
"The only good thing of last night - our attitude is clear and that is an advantage sometimes in the game," Wenger told Sky Sports, exclusively ahead of Super Sunday's clash against Manchester United.
"We know we have to go there and win the game or at least score a goal to qualify, so on that front we know exactly what we have to do.
"We could open them up and create chances. So, we have to take that out of the game and go to Atletico Madrid in a positive mind.
However, Wenger admits he has felt frustrated his side were unable to make more of their opportunities on Thursday, saying they deserved to win the game.
"At the moment I think, how could we miss so many chances? How could we give a goal away as well?
"The most frustrating thing in our jobs is always when the result is not linked with the performance because you are in very uneasy land. You accept your result is not good when your performance is not there - that's okay, we were bad and we have to suffer.
"But, when the performance is there and you come out with a result like that it's very, very frustrating. The first 24 hours after are very difficult for a manager then."
Watch Soccer Saturday live on Sky Sports News from 12pm to see the full interview with Arsene Wenger.