Arsene Wenger says he turned down "many clubs" throughout his career out of his love for Arsenal.
Arsenal are set to face their arch rivals Manchester United on Sunday, live on Sky Sports, in what will be Wenger's final visit to Old Trafford as Gunners boss.


The Frenchman has now admitted he met with former United chairman Martin Edwards around the time Sir Alex Ferguson was poised to retire in 2002, but could not part with Arsenal due to his loyalty for the club,
"Arsenal is the love of my life. I turned many, many, many clubs down to face the challenge when we built the stadium," said Wenger, referring to the Emirates, ahead of the upcoming tie with United.
"I speak to everybody, yes I met [former United chairman] Martin Edwards, many people came to see me but I was always loyal to this club."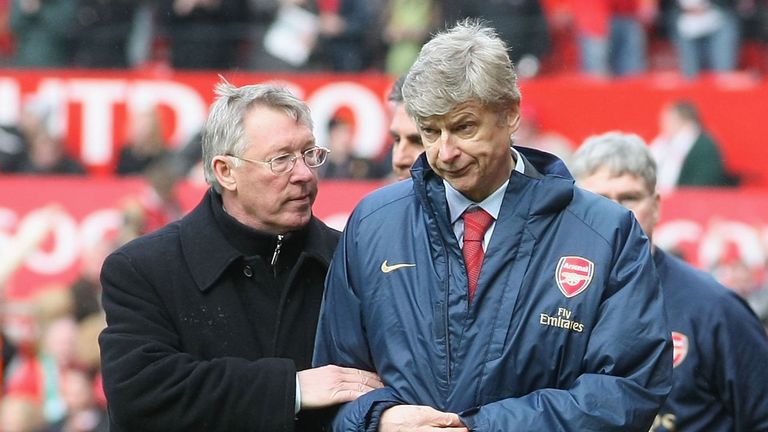 "When I look back now I realise what a great team they had," Wenger said of United.
"[Ryan] Giggs, [Paul] Scholes, as young players they had [Cristiano] Ronaldo and [Wayne] Rooney and you see what Ronaldo and Rooney went on to do in the rest of their careers.
"[Ruud] van Nistelrooy, all these players together - it was an unbelievable team and I think I realise more with a bit of distance what a challenge it was."
While Wenger will be well remembered at Old Trafford for the many battles his side provided down the years, he is unsure of the reception he will receive on his final appearance there.
"I don't know what reaction I will get but look we had some great battles in 22 years and for me what will be at stake is to recover from that result [against Atletico] and before we go to Atletico [to] have a good game."
Despite clashing with current United boss Jose Mourinho several times over the years, the Portuguese has said he regrets some of the "little negative episodes" between himself and Wenger, calling on home fans to give him a fitting send-off on Sunday.