Arsene Wenger sad as Arsenal love story comes to an end
By Sky Sports News
Last Updated: 04/05/18 5:09pm
Arsene Wenger has revealed his extreme disappointment that his final season at Arsenal will end without a trophy, but accepts that not all love stories have a happy ending.
The departing Arsenal boss had hoped to end his 22-year spell with the club by lifting the Europa League trophy, but that dream was ended on Thursday after losing to Atletico Madrid in the semi-finals.
The defeat also means that the Gunners will once again miss out on Champions League football next season and Wenger admits that could have an effect on the club.
"It is a setback," he said. "We favoured the Europa League recently because it is a price we pay for the away form [in the Premier League].
"It is not difficult to correct but our home form was very good. The club has to correct this next season."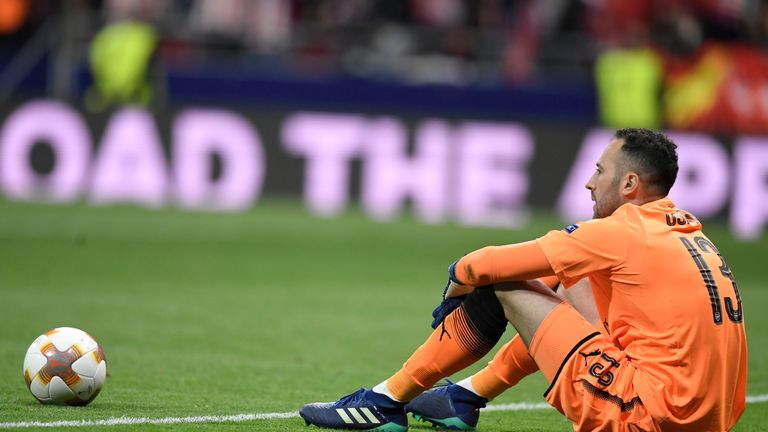 When asked if he thought that could impact Arsenal's prospects in the summer transfer window, Wenger added: "It is possible, yes. But I think we have enough quality inside the club.
"You always find one or two players who are always happy to join the club. I don't know how difficult it will be.
"I wish that the club will be successful in having a good transfer market."
"It is sad, but all the love stories come to an end. They do not always finish well."
Arsene Wenger
Wenger now has just three matches left in charge at Arsenal, with his final game at the Emirates taking place this Sunday against Burnley.
The Frenchman admits it will be an emotional day, but says he has come to terms with the realisation that his time at the club is coming to a close.
"I had some time to adjust to that and to get that idea into my head," he added.
"It is sad, but all the love stories come to an end. They do not always finish well. Most of the time they don't finish well.
"I feel sad because I love this club and what the club represents. 22 years of your life and to walk away is not easy.
"I have dealt with difficult situations before in my life and I will do it again."