Arsenal chief executive Ivan Gazidis says Unai Emery was the standout candidate on an eight-man shortlist for the head coach position.
Emery, 46, left Paris St Germain at the end of the season having won the domestic treble and replaces Arsene Wenger following the end of the Frenchman's 22-year reign.
Gazidis says there is "chemistry" between him and the Spaniard and is confident the Gunners have the right man for the job.
"We had some clear criteria we were looking for," said Gazidis. "We wanted progressive, entertaining football, a personality to fit Arsenal values and a reputation for developing players. And also through cultural demands, demanding more from them.
"His teams improve over time. We also felt for some time that he is a superb fit with the criteria I laid out.
"He came in extraordinarily well-prepared with a detailed knowledge of Arsenal Football Club.
"He had an analysis to share with us, not just his ways of working, his ways of coaching, the team of people that he works with, but he had an analysis of all of our individual players - their qualities and how he believes he can help them develop individually and collectively - and also an in-depth analysis of our off-the-field team and how they can contribute.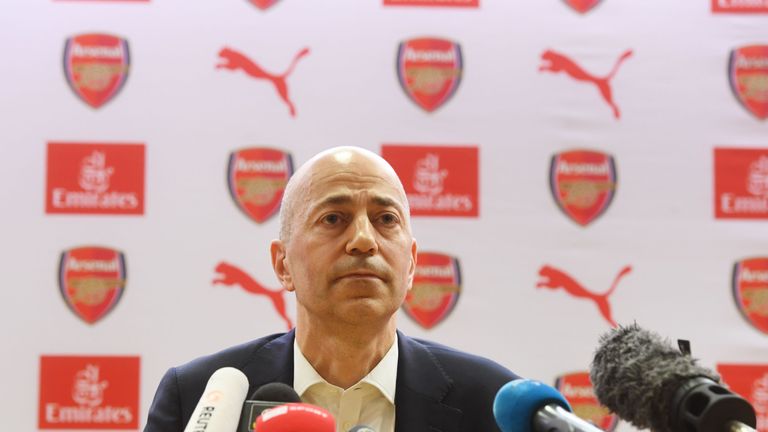 The ambition is to get back to the position where we are a candidate to win the biggest trophies in England and across Europe.
Ivan Gazidis
"The thing that distinguished Unai was the chemistry between us. He has an energy, a competitive energy, and will to win that made us think this was a perfect fit for Arsenal."
Gazidis and Emery have already discussed the rebuilding job that is required at Arsenal and how they need to better this year's sixth-place finish in the Premier League.
"I think all of our players will respond to the new energy that Unai brings," said Gazidis. "They will have somebody under whom they can improve their individual game and our collective game.
"I don't think anybody believes that sixth place is a place that a club of the stature of Arsenal should be. We need to look to improve that.
"How big a rebuilding job? That is a discussion that we have started with Unai and a discussion that will continue.
"Clearly the ambition is to get back to the position where we are a candidate to win the biggest trophies in England and across Europe.
"But what we have to understand is that that will not just be done in one leap. It's going to be the result of focus, hard work, discipline, energy, commitment, will to win - that's what we need to have our players embrace and I believe they will."