Why Idrissa Gueye is so important to Everton and their style of play
Last Updated: 08/04/17 11:50am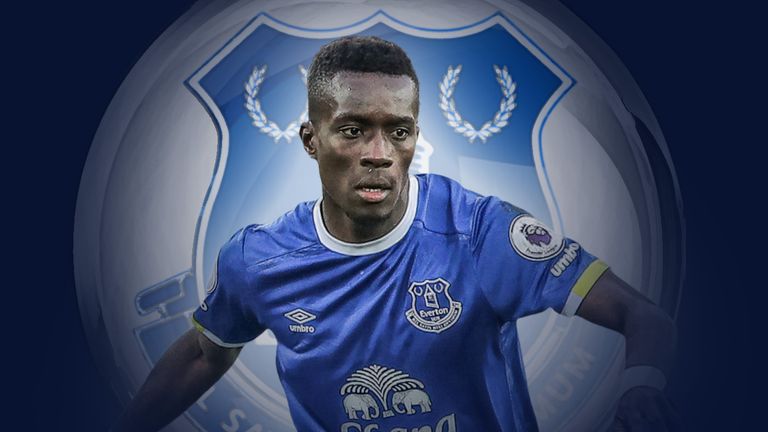 Everton midfielder Idrissa Gueye is the Premier League player closest to N'Golo Kante and one of the signings of the season. He has also helped Ronald Koeman change the team's style of play after taking over from Roberto Martinez, writes Adam Bate.
Idrissa Gueye arrived at Everton soon after Steve Walsh, Leicester's recruitment guru. It was no coincidence. "I've already found him," was Walsh's reply to The Times when he was asked whether he could identify the next N'Golo Kante. Statistically, Gueye was not a hard man to spot given that he'd been second only to Kante for tackles and interceptions last season.
Ronald Koeman confirmed in the summer that this was a factor in the player's £7.1m acquisition from Aston Villa. "He was one of the players of last season with the best record in interceptions and pressing in the midfield," said Koeman. "We need this kind of quality."
Even so, there were those who were unconvinced by the numbers and indeed what they could bring to this Everton team. After all, Gueye's qualities had not come close to preventing Villa from finishing a distant last in the Premier League table and suffering relegation to the second tier for the first time in almost 30 years.
Nine months on, the wisdom of the signing is no longer in doubt. After a difficult afternoon at Anfield last weekend in the Merseyside derby, Gueye was back to his best at Old Trafford where he was the only Everton player to win the ball more times than he lost it. Manchester United equalised in stoppage time but the draw keeps alive hopes of a top-six finish.
Gueye is the top tackler in the Premier League this season with 116 of them. He is also in the top half-a-dozen midfielders for interceptions too. Those statistics are well documented but what is less discussed is how Gueye has helped Everton to change their style of play.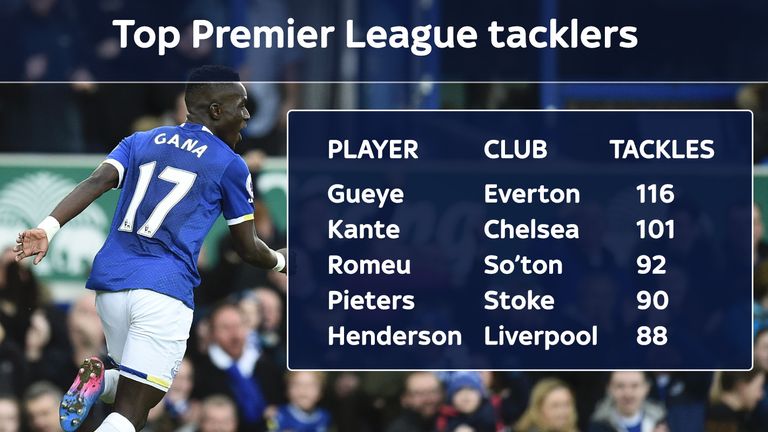 Pressing is at the forefront of Koeman's plan. Young forward Dominic Calvert-Lewin recently suggested that it is the biggest aspect of his coaching - a message reinforced daily on the training ground. It does not necessarily come naturally to players like Romelu Lukaku and Ross Barkley but that is not going to stop Koeman from trying to improve them.
At the heart of Everton's approach is the midfield energy of Morgan Schneiderlin, Tom Davies and Gueye. Having ranked 16th in the Premier League for tackles in 2014/15 and 10th last season, Everton are now second on that metric this term. They had been among the bottom three teams for interceptions in the past two seasons but no longer.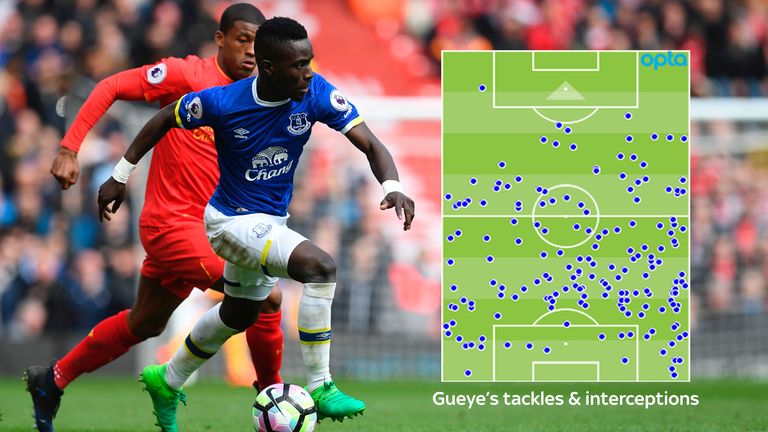 "From the first day that Gana was here he has showed what we need in the midfield," said Koeman after seeing him drive Everton to a 3-0 away win over Sunderland in September. "The energy, how we pressed … he's fantastic to have in your team." His assist for Lukaku's opener in that game underlined the fact that Gueye can contribute offensively too.
After a win over Middlesbrough later that month, Koeman went further, describing the midfielder as "perfect" in every aspect of football. He added: "Of course he wins a lot of second balls, he wins a lot of tackles, but the boy showed his composure in midfield. In my opinion, in that position in the team he will become maybe the best in the Premier League."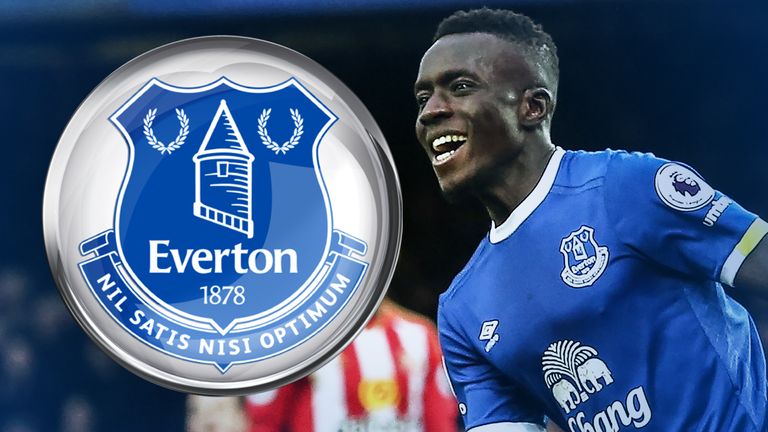 He allows us to control the game a lot more which we were lacking slightly last year.
Romelu Lukaku on Idrissa Gueye
More recently, Lukaku told EA Sports: "He's been one of the signings of the season for me, he improved the team in midfield by making so many challenges. He allows us to control the game a lot more which we were lacking slightly last year. He's given us this control through his work rate, passing and his dedication. He is someone that we really need."
For much of the season, he was a player who Sunday's visitors Leicester needed too. The reigning champions initially struggled to replace Kante, despite Claudio Ranieri's suggestion that Nampalys Mendy, whom he'd worked with at Monaco, could fill the void. It was not until Wilfred Ndidi hit his stride under Craig Shakespeare that the Foxes solved the problem.
Gueye is not surprised that Kante was missed. "For me, he is the best midfielder in the world," he told Sky Sports last week, and given the similarities between the pair perhaps it's no surprise to see the Everton man emerging as a transfer target for big clubs this summer.
Lukaku takes the headlines in that regard and Barkley remains a fascination. But the importance of Gueye, the side's midfield dynamo and catalyst for their pressing game, shouldn't be underestimated either. Such players are crucial. Just ask the Leicester fans at Goodison Park on Sunday.
Sky customers can now upgrade to Sky Sports and get 12 months for just £18 per month. Upgrade now!