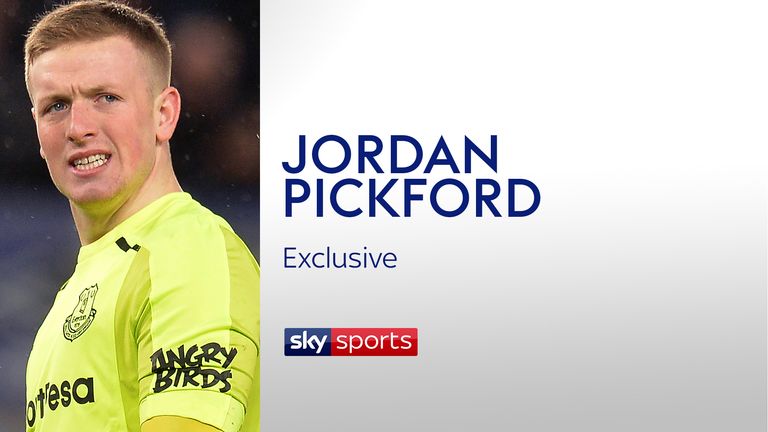 Jordan Pickford has urged his Everton team-mates to be ambitious as they prepare for the final Premier League run-in, starting against Burnley live on Sky Sports.
It has been a topsy-turvy first season for the 23-year-old goalkeeper at Goodison Park, with periods of poor form, finishing bottom of their Europa League group and a change of manager.
But with 10 games of the Premier League season to go and top seven finish still realistic, Pickford has called on his team-mates to aim high and finish the campaign strongly.
"As a group of lads, we've got to be ambitious. If you're not ambitious, there's no point in playing football," he said ahead of Saturday's game with Burnley live on Sky Sports.
"We want to finish as high as possible and if that's seventh, that's where we want to be. I feel like we're capable and it's an easy target - if we win on Saturday then we go seventh on goal difference.
"We have to kick on. We've got 10 games left in the season and as a group, we want to win as many games as possible and that starts on Saturday.
"We're in ninth compared to when the gaffer [Sam Allardyce] came in and we were two points away from the relegation places. Now, we're three points away from seventh so you look at it positively rather than negatively.
"We've got to keep looking up and go in with a good game plan against Burnley, hopefully come away with the three points. That's what we train all week for, to be prepared for the Saturday's game.
"I feel like we've got 10 games to show the fans how good we can be. We've had a little break which is going to spur us on for the next 10 games and bring the lads together to win as many games as we can for the fans, for ourselves and hopefully get that top-seven finish."
Pickford arrived at Everton after a £30m move from Sunderland - a British record for a goalkeeper - having had six loan spells while at the north east club, which he credits with helping him grow into a mature player.
"Coming into a new club, it's always exciting. I've been on loan at a few clubs but it's a bit different to a permanent transfer so for myself, I was really ambitious," he added.
"We had a lot of new signings but sometimes when there are that many new signings, it is going to be hard. You don't know if you're going to gel straight away or if you're going to need a bit of time and we took the route of needing a bit of time.
"Then, unfortunately, Ronald (Koeman) lost his job and we brought the gaffer in. He steadied the ship and got us performances when we knew we had to get them. Since then, we've been a little bit up and down but we keep getting results. Now we just need back-to-back results.
"I never let anything affect me because I feel like if it is affects me, it affects my performance and that's the main thing I need to get across to show why I cost that much money. Even if I'm getting stick from fans behind the goal, I will never let it affect us. That's what loan moves are for, to grow into a mature person.
"I always work hard on and off the pitch for the Saturday's game and it's all about performing on a Saturday, that's why I work my socks off during the week. All I can do it keep doing what I'm doing off the pitch to help us on it.
"I would like a few more clean sheets but it's a team game and we all try out best to keep a clean sheet. Sometimes it isn't to be, but when you do get a clean sheet, you know you have every chance of winning."
There is also the small matter of a World Cup spot for Pickford in the England squad, and he is hoping his performances for Everton can secure him a seat on the plane.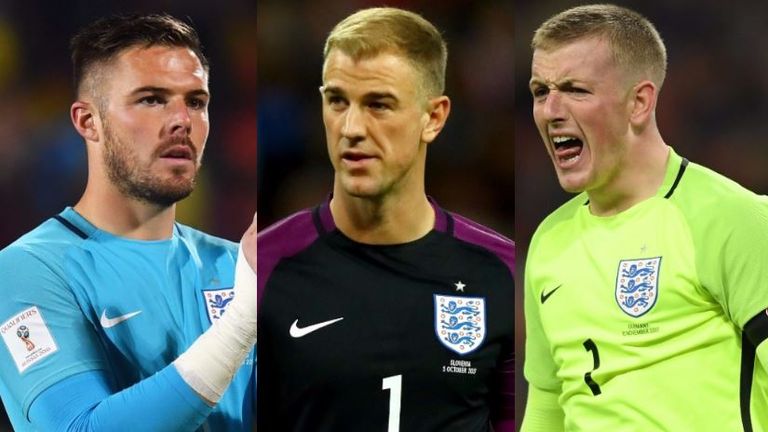 "I know that's [the World Cup] is in the back of mind and we've got a camp coming up in March so hopefully I'll get picked for that and get some game time," Pickford said.
"But the main aim is to keep putting performances in for Everton, keep working hard and hopefully I can keep doing that and get on that plane.
"We've got a lot of competition for goalkeepers in England now and that's brilliant because for me, I thrive on wanting to be the best and if there's competition, you always want to get better and I'll never stop learning, I always want to try and learn something new to become the best I can be."