Everton boss Sam Allardyce to meet with Wayne Rooney to discuss Merseyside derby spat
Last Updated: 09/04/18 2:20pm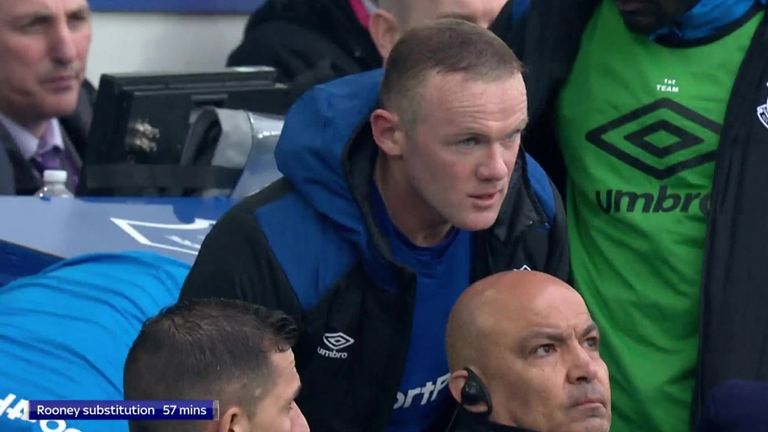 Everton boss Sam Allardyce will sit down with Wayne Rooney this week to discuss his angry reaction to being substituted during Saturday's derby draw with Liverpool.
Rooney was taken off with just 57 minutes played in the goalless draw at Goodison Park to be replaced by Idrissa Gueye, and seemed angry with the call as he grabbed his coat with force and muttered to himself on the bench.
However, Allardyce understands why the 32-year-old former England captain was less than impressed to come off.
"Wayne's disappointment was frustration at the fact of being an Evertonian through and through - he's been an Evertonian all his life, he made his debut for Everton when he was 16, he was playing in a great big derby match against Liverpool on his own park and he got substituted by the manager," Allardyce told talkSPORT.
"That was too much for him to take and he had to show his frustration. We'll sit down in the next week and we'll talk it through and we'll see how he feels. I'm sure he's calmed down a little bit now."
Asked if Rooney still has a future at Goodison, Allardyce replied: "Oh yes, there's no doubt about that.
"The situation is it's his first season, it's been difficult for everybody. There's been, obviously, lots and lots of changes, not just behind the scenes with myself and the staff, but lots of changes with the players.
"We have to get that stability back, which I think we are slowly but surely doing, and then we have to look at what this summer will bring and what next season will bring."
It was the second time in succession Rooney had been brought off before the hour mark, after lasting 57 minutes in the 3-1 defeat by Man City last week.
Allardyce stood by his decision after the game, saying: "We needed more legs, and as talented as Wayne is and as good as he is on the ball, we needed to get about the pitch a bit more, and he'd done his job.
"That's the way the game goes, nobody is too big to be brought off. It's because it's Everton v Liverpool isn't it? He's bound to be disappointed, there's no doubt."