Premier League: Everton full-back Seamus Coleman enjoying life at Goodison Park
Seamus Coleman has declared that he is as happy at Everton as he has ever been and just wants to keep impressing.
Last Updated: 22/03/14 10:12am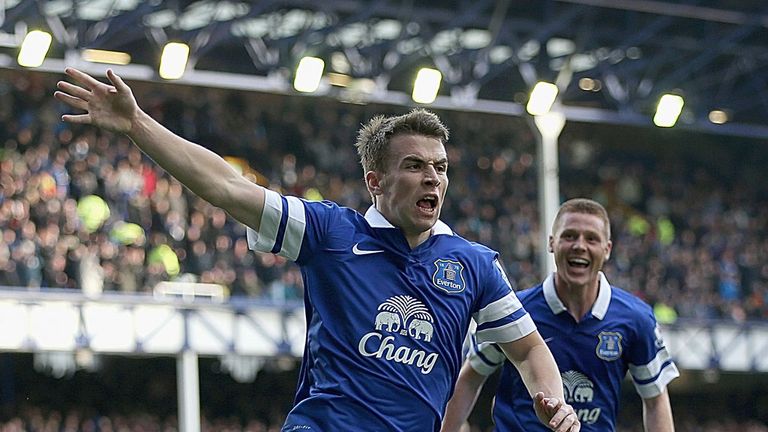 Coleman's performances in the Premier League this season have been so eye-catching that he has reportedly attracted interest from a number of other clubs, and manager Roberto Martinez had to reject speculation earlier in the week that Manchester United were in talks over a possible transfer.
Martinez has made it clear that he wants to keep the Republic of Ireland right-back and plans to reward him with a new contract in the summer.
And Coleman is enjoying life at Goodison Park so much that he has given no thought to leaving.
He told the Daily Express: "I am as happy now at Everton as I was on day one. I put it to the back of my mind. I just want to impress as much as I can."
Coleman has been likened to players such as Barcelona's Dani Alves and Bayern Munich captain Philipp Lahm, and Martinez has been enthusiastic in his praise for the 25-year-old and how far he can go in the game.
"I don't really think the manager is talking about me to be honest," said Coleman. "It's nice to hear those kind of things, but when I go out on the pitch I'm not thinking, 'I'm the best at this or that'.
"I'm going to be judged on the next 90 minutes no matter what has gone on before. I don't think about what I may have done in the previous three games. It is about proving myself again. None of what has gone on before counts.
"That is how I like to play. I don't study other right-backs as such. I'll watch the games in the Champions League and might pay more attention to that position, just to see how they are getting on.
"I know Dani Alves is brilliant for his attacking play but, for me, Philipp Lahm is the best full-back around. When he is playing I will try and watch him."
Coleman's focus for the next couple of months will be on helping Everton finish the season as strongly as possible, although he acknowledges that it will be tough to finish in the top four.
"The top four have pulled away a little bit and we need teams to slip up, but if it isn't Champions League I would be happy to get into the Europa League," said Coleman.