Harry Kane admits preventing Chelsea reaching a Premier League record has been the hot topic in Tottenham's dressing room ahead of their clash on Wednesday, live on Sky Sports 1HD.


Chelsea equalled Arsenal's record for consecutive Premier League wins in a single season when they beat Stoke 4-2 on New Year's Eve to make it 13 victories in a row. 
A win for Antonio Conte's side at White Hart Lane would see them become the first team to win 14 English top-flight games in a row within the same campaign, but Kane revealed the Spurs players have been plotting their rivals' downfall since their own 4-1 win over Watford on Sunday. 
"We definitely don't want to be the team that lets Chelsea break that record," said Kane. "Of course, we know that's in our mind, we were just talking about it there in the changing room.
"We don't want to be that team they break the record against so we're fully focused. It's going to be a great game and we're excited for it." 
Tottenham's title challenge came to an abrupt end at Stamford Bridge last season when a bad-tempered 2-2 draw, which included 12 yellow cards, ensured Leicester were crowned champions. 
Spurs won six out of their last seven matches, though, scoring 13 goals in their last four fixtures, and although Chelsea sit 10 points ahead of them, Kane believes his side are a different proposition in the current campaign.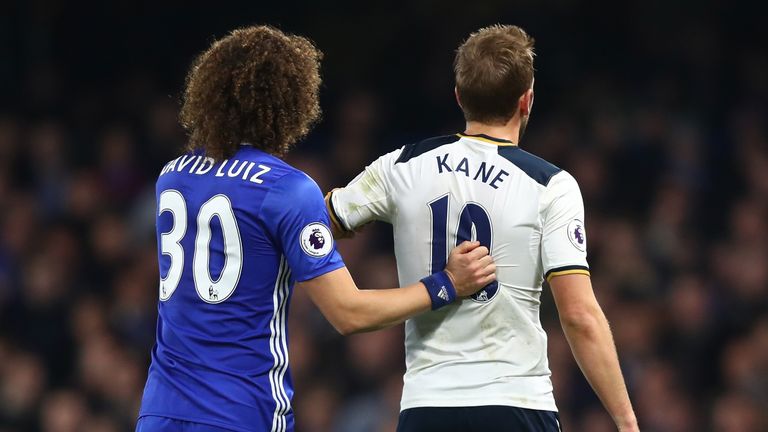 "I think we're a better team now, 100 per cent," Kane said. "I think we're four or five points [it is four] better off than at this stage last season and we've probably not played as well as we did last season either.
"It shows we're on the right track. A lot of us are bigger, stronger, better and more experienced so hopefully we can continue that through the second half of the season." 
Kane spent eight weeks on the sidelines after injuring his ankle in September but has since returned to score 10 goals in 11 games, and the England striker has fond memories of playing against Chelsea.
The 23-year-old scored twice in Tottenham's resounding 5-3 victory in this fixture two years ago, a moment which Kane highlights as a turning point in his career. 
"Before that game I think I had scored goals against a few lesser teams in the league," Kane said.
"I was excited to see if I could mix it a bit against the best defenders - I think they had the best defence in the league at the time - and that gave me a lot of confidence knowing I could do it against the best.
"That was definitely a big point in my career that I look back on as excelling me forward."
Tottenham will have Kyle Walker and Jan Vertonghen available to face Chelsea after serving one-match suspensions while Mousa Dembele, who was rested against Watford, is expected to return in midfield. Erik Lamela, however, is still out with a hip problem.