Ref Watch: Tottenham's Dele Alli correctly booked for simulation, says Dermot Gallagher
Last Updated: 02/10/17 1:34pm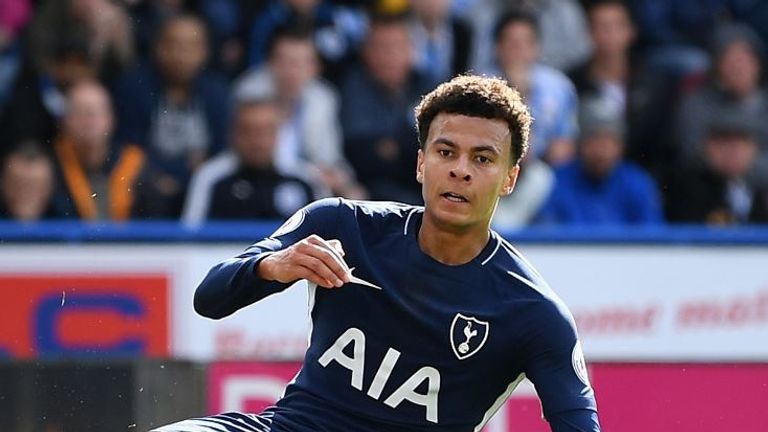 Should Dele Alli have been booked for simulation? Were Everton unlucky not to be awarded a penalty for handball? Dermot Gallagher has his say in this week's Ref Watch.
Also on the cards for analysis this week are two incidents from Newcastle's 1-1 draw with Liverpool on Sunday as well as Burnley's Scott Arfield being booked for another suspected case of simulation.
There are also two further penalty appeals, with Crystal Palace and Bournemouth both having calls turned down in their respective games, but were they unlucky?
Read on to see Dermot's verdict on the weekend's biggest incidents and if they were handled properly by the officials...
INCIDENT: Dele Alli tries to latch onto the ball down the left of the box but is tracked by Christopher Schindler. Huddersfield goalkeeper Jonas Lossl is at the near post to try and put him off, and Alli goes to ground as he reaches the by-line but there does not appear to be any contact. He is then booked for simulation.
DERMOT'S VERDICT: Correct decision.
DERMOT SAYS: Absolutely [the right decision]. It is a great spot by the referee. I was really surprised at this actually because Tottenham are 3-0 up and you're thinking if he had got a penalty, do they need a fourth goal and he [Alli] would have been suspended for two matches. I was surprised that he did that but credit to the referee, his spot is superb.
I think it is a correct decision rather than a tough one. I think the real tough ones are when there is physical contact. I'm not saying this wasn't tough, but sometimes when players are much closer and they are more congested it is harder. There, it was only the two players and the referee is able to see it. Neil Swarbrick there has worked his socks off to get into the right position and the right angle to see it.
INCIDENT: Newcastle defender Ciaran Clark commits two similar fouls in quick succession. Liverpool have two corners and in the first, he appears to pull on the shirt of Joel Matip before doing so again for the second, this time on Dejan Lovren. Both incidents go unpunished with no yellow cards or penalties.
DERMOT'S VERDICT: Referee's positioning means he misses both incidents.
DERMOT SAYS: I can understand why the first one doesn't get seen because both players are grabbing. But when you see an incident like that and the ball goes out for a corner, everything will be telling you to be alert and switched on when the next ball comes in.
But for the next corner, the referee takes a position where he can't see that. I would think after the first one, your vision would need to be looking down the line, but the position he has taken up means he doesn't see the shirt being lifted and the giveaway is the amount of flesh. If he had given a penalty, everyone would have been able to see why, but because of his position, he doesn't see the incident.
INCIDENT: Joe Gomez goes to clear a ball ahead of Christian Atsu, but it is a high challenge and he goes over the top of the Newcastle forward. He receives a yellow card.
DERMOT'S VERDICT: Correct decision.
DERMOT SAYS: I don't think he is lucky to get away with not being sent off. We have to be careful that we don't have a knee jerk reaction and think because we saw a red card earlier in the season, every time a boot is raised, it's a sending off. We have to judge every one on individual merits.
If you watch this incident, it is a lot more interesting. The player goes for the ball and actually plays the ball. The forward comes into him and the boot is high but it is a boot that has just taken the ball away. It is not a boot that has gone into a player at speed with intensity and force.
We have to be careful that we don't think that every time we see a boot raised, it is a definite red card. You've got to take every one on its individual merit. He is not endangering the opponent in any way, shape or form.
INCIDENT: Burnley midfielder Scott Arfield goes down in the box after a challenge from Everton defender Ashley Williams and is looking for a penalty. However, he is given a yellow card for simulation instead.
DERMOT'S VERDICT: Incorrect decision.
DERMOT SAYS: I think this is a tougher decision than the Alli incident. For me, I wouldn't have yellow carded there. I don't think it is a penalty but I think sometimes we lose sight of the fact that there are three decisions to be made - it's a penalty, a dive or it's play on - and I think if the referee had played on, no one would have really argued.
Let me pin my flag firmly on the floor, I'm not knocking the referee in any shape or form because he made that decision. I'm just saying when you look back at it, Jon Moss has one look and that's it. For me, you play on but he chose differently.
INCIDENT: Wayne Rooney tries to head a Gylfi Sigurdsson cross towards goal, but it hits the raised arm of Burnley defender Matt Lowton. The Everton striker appeals for a penalty but nothing is given by referee Jon Moss.
DERMOT'S VERDICT: Correct decision.
DERMOT SAYS: It's quite amazing how many penalty appeals there were this weekend. Lowton's arm does go up but it's already there and he's coming away from the ball. His eyes are on the ball and he goes to head it but Rooney gets there first.
If you watch it, Lowton is going to jump and he's looking to head the ball. If Rooney hadn't have been there, he would have done so. You can see he is moving his arm away from the ball and that's when you give him the benefit of the doubt. He hasn't put his arm to the ball or try to block it off.
INCIDENT: Chris Smalling appears to clip Jeff Schlupp, with the Crystal Palace winger going to ground in the box. However, despite appeals for a penalty, nothing is given by the referee who waves away the claims.
DERMOT'S VERDICT: Incorrect decision.
DERMOT SAYS: It's a massive risk from Smalling. From the referee's angle, he can't see that the knees comes together. I think it is the knee that sends him into the other player. The fact that Smalling does that sells the idea to Mike Dean that the knees have not touched. I think it is a penalty but it is a tough one to give.
INCIDENT: Just after Bournemouth hit the crossbar, Marc Pugh tries to slot home the rebound at the back post but it hits the hand of Danny Simpson before going behind the goal. No penalty is given for Bournemouth and Simpson escapes any punishment.
DERMOT'S VERDICT: Unlucky incident for the referee.
DERMOT SAYS: It is the toughest decision you will ever see a referee have to make and the unluckiest. There's only two people in this incident on the pitch who knows it's a handball - one is Simpson, who handles it and the other is Pugh who sees it. Even the next closest Bournemouth player to it doesn't see it.
Graham Scott goes to the most natural position for the first shot that struck the bar and when the ball comes out to Pugh, he shoots and Simpson's body completely blocks the view. The knock on effect is that his assistant is on the far side and it is just complete bad luck for the referee.