Harry Kane is "obsessed" with being the best striker in the world, says Ryan Mason
Last Updated: 03/10/17 12:01am
Former Tottenham midfielder Ryan Mason believes Harry Kane is "obsessed" with becoming the best striker in the world.
Kane has looked unstoppable of late, having scored 17 goals in September to take his tally to 36 strikes in 2017.
And, speaking on Sky Sports' The Debate, former team-mate Mason insisted such form is a result of plenty of hard work on the training ground, and a determination to be the very best striker in the world.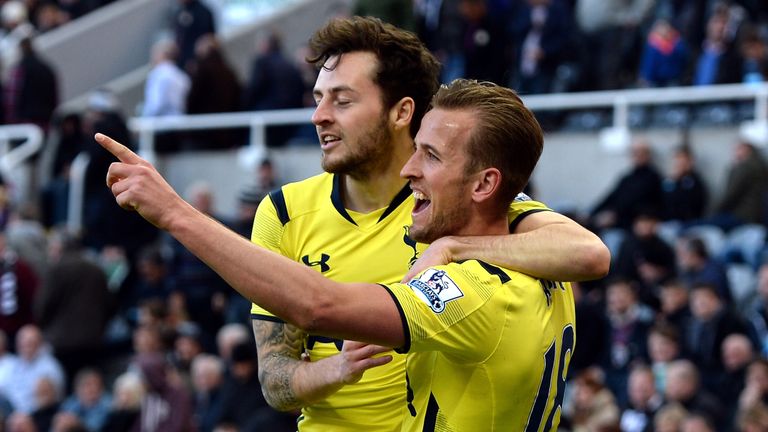 "Harry is just obsessed," Mason said. "After his first breakthrough year at Spurs, where he scored so many goals, his mindset changed. Now, he has set his sights on being the best striker in the world. There aren't many better than him in the world right now.
"The work he has put in is starting to pay off now, and people are starting to see what a great player he has become.
"If you looked at Harry when he was 19 or 20, you would have looked at him and thought he was a bit heavy, he didn't really have that turn of pace. He realised that and has been working on his body for years. Now, he gets away from defenders. He is an animal, a beast up front. From a physical point of view there isn't a weakness."
Pep Guardiola, somewhat mischievously, labelled Tottenham the "Harry Kane team" when discussing Manchester City's title rivals at the weekend, but the Mail on Sunday's Oliver Holt believes Guardiola's comments should be taken positively by the England striker, and believes there is more to Tottenham than just the Kane's abilities.
"It is a massive compliment to Harry Kane, and so it should be - he has been unbelievable in September," Holt told The Debate. "He is a fantastic player, but if you devote all your time to Kane then Dele Alli or Christian Eriksen will hurt you. It is too simplistic to suggest Spurs are a one-man team.
Hull City midfielder Mason, who is still recovering from a severe head injury, also had words of praise for his former manager at Tottenham Mauricio Pochettino, hailing the Argentine's personable approach as one of the main reason's for Spurs' success.
"He puts great trust in his players and encourages them to express themselves," Mason added.
"I cannot speak highly enough of him. When he came in, he invited me round for dinner with my fiancée. He was there with his wife and two sons, and we were just speaking as friends. It is that connection he builds away from football is the biggest compliment to him."