Real Madrid 1-1 Tottenham: Mauricio Pochettino makes his point
Last Updated: 18/10/17 11:20am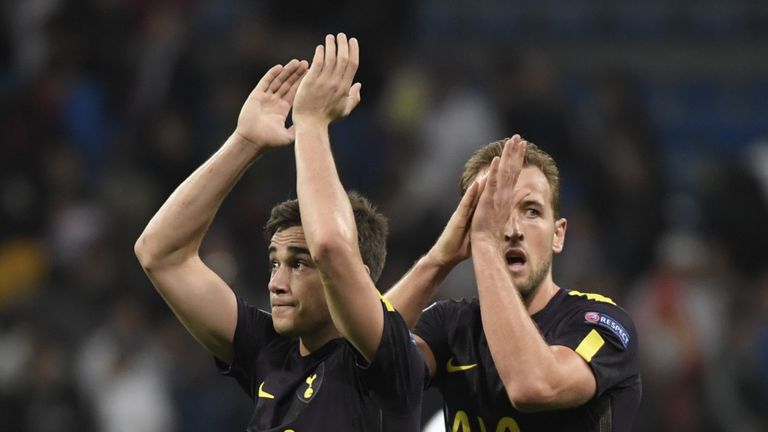 Tottenham's point at Real Madrid shows how far Mauricio Pochettino's team have come, writes Adam Bate.
Real Madrid are more than merely defending champions. This is the only team to have won the competition in back-to-back seasons in the Champions League era. A team that is still the bookmakers' favourite to become the first for over 40 years to win the European Cup three times in succession. The Bernabeu is not a place to go with a patched-up side.
While Tottenham had to count on one extraordinary save from Hugo Lloris, Mauricio Pochettino's men did just that and still came away with a 1-1 draw. Madrid are now unbeaten in 30 Champions League group games but it took a glorious move coupled with a Serge Aurier error to extend that run thanks to Cristiano Ronaldo's penalty equaliser. Spurs still made their point.
The travelling supporters roared with delight when the draw was sealed but while Madrid did have more possession and more shots, Spurs had chances to win it too. Harry Kane was brilliantly denied by Keylor Navas when he telegraphed his finish into the far corner and the goalkeeper pulled off another fine stop to deny Christian Eriksen at his near post soon after.
Kane may have been denied his big moment but he had played his part in the opener, his run causing Raphael Varane to turn the ball into his own net, and his miss was not the story of the night. This was a triumph for Tottenham and the striker's sentiments afterwards summed it up. "It shows how far we have come as a team," he said. "It shows we can handle it at this level." Tottenham have had their troubles at Wembley but they can cope with the big stage now.
Much credit, of course, must go to Pochettino, the man tasked with coming up with a plan to stop Zinedine Zidane's side running riot. His solution was to try something new - starting Fernando Llorente up front alongside Kane for the first time in a 5-3-2 formation that saw Jan Vertonghen deployed at left wing-back and young Harry Winks line up in the heart of the midfield.
Llorente justified his inclusion, not only occupying the defenders to allow Kane to roam free, but creating both of the aforementioned openings for his team as well as going close to winning a first-half penalty too. But the tall striker was far from the only fringe player to impress with even the much-maligned Moussa Sissoko belatedly enhancing his reputation with the fans.
Winks was the pick of the midfield though, completing more passes than any Spurs player. "Ninety minutes for that young man in a stadium like that," Jamie Redknapp told Sky Sports, "he has played 50 games today. The experience of playing against Cristiano Ronaldo and having to have eyes in the back of your head in that midfield area. What a brilliant day for him."
It was a brilliant day for Tottenham too, one that will have allayed some of the long-standing fears that they struggle to maintain their standards when key players are missing. Redknapp added: "The thing that really sticks out for me is that at the start of the year we were all talking about whether their deficiency would be that their squad isn't big enough.
"Now they have gone to the Bernabeu without Mousa Dembele, who I think is so important to them, Danny Rose was on the bench, Victor Wanyama didn't play, Dele Alli was suspended. They have gone there and more than held their own, so that shows you that the depth of the squad is not as bad as everyone thinks."
Pochettino has achieved it by making Spurs more solid and the switch to three at the back has helped. Prior to this draw, they had won five out of five away from home this season and that steel is going to be very important in this Champions League campaign. They can go into the return leg against Real Madrid in a fortnight full of confidence.
Borussia Dortmund's failure to defeat APOEL in Nicosia means that even if Madrid do get the better of Spurs at Wembley, Pochettino and his players are on course for the last 16 anyway. But then, that is the natural habitat for them now. The logical next step for this group of players, this manager and this club. Pochettino knows it.
"Last season we could not compete at this level," he said afterwards. "This type of performance must help us to believe more, and to trust in ourselves." He also stressed that Spurs are "still a work in progress" but the gap between them and the finished article is not so big. "We are still a very young team," he added. But Tottenham are coming of age now.