Tottenham may have to paint over see-through tunnel in new stadium, says Mauricio Pochettino
By Husmukh Kerai
Last Updated: 12/12/17 11:05pm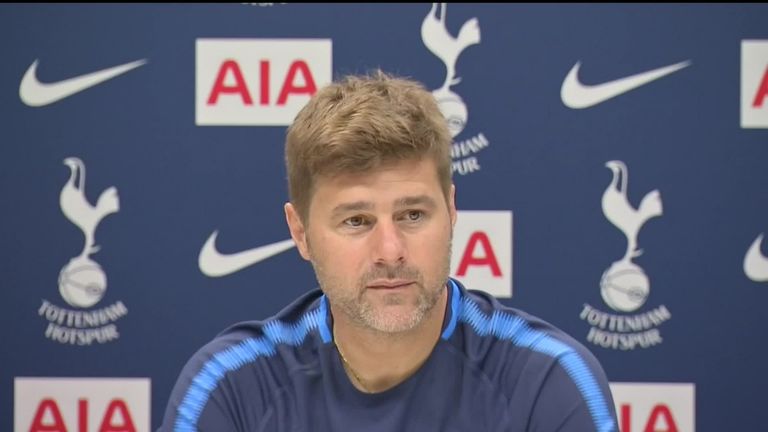 Mauricio Pochettino joked Tottenham may have to paint over the see-through tunnel at their new ground following the Old Trafford fracas.
Manchester United and Manchester City have been asked for their observations by the FA over a tussle that broke out next to the changing rooms following last Sunday's dramatic 2-1 victory for City in the Premier League.
Sky Sports News understands the City squad were celebrating with loud music in an open-door dressing room when United staff took offence, and Mourinho is thought to have said something to those inside on the way to his post-match interviews.
Pochettino joked about Tottenham's plans to include a 'Tunnel Club' at their new stadium which will allow fans to see players up close before and after matches next season.
"The tunnel is with glass, big glass like the bank. Very safe," Pochettino said with a smile.
"But now yes, City and Tottenham, maybe (have to) paint it black. Or at half-time, curtains - before the game, open, half-time, closed. Or if not you must pay double if you want to open them!"
The Spurs boss said similar scuffles in the tunnel were not unusual during his playing days.
"In France too they were tough, playing (for PSG) against Ajaccio at half-time I remember a massive fight in the tunnel," Pochettino said.
"You (the media) didn't see it but they was fighting between us. It was terrible. Sometimes it happens.
"Was I hurt? No, I was clever. It was tough. After you are scared a little bit because it was like we were animals fighting and you do not know what happened. I don't know if it was similar.
"You can talk when you're calm and relaxed, but when something happens on the pitch and you are under stress and emotion sometimes you cannot stop and it can happen."