Pep Guardiola defends Man City's celebrations after Manchester derby
By James Dale
Last Updated: 12/12/17 5:21pm
Pep Guardiola has defended Manchester City's dressing-room celebrations at Old Trafford, insisting he encouraged them.
Both City and Manchester United have been asked for their observations by the FA over a tussle which broke out next to the changing rooms following Sunday's dramatic 2-1 victory for City in the Premier League.
No punches were thrown, according to Sky sources, but City coach Mikel Arteta was left with a cut to the head.
The City squad were celebrating with loud music in an open-door dressing room when United staff took offence, and it is understood Jose Mourinho said something to those inside on the way to his post-match interviews.
The scuffle then followed, with a milk carton thrown towards Mourinho which missed and hit a female member of his staff.
"I encouraged the players to celebrate victories, but of course inside the locker room and with huge respect for opponents, not just Manchester United, for all the opponents," Guardiola said in his pre-match press conference ahead of facing Swansea on Wednesday.
"When you lose you have to accept defeat, and when we win to try and celebrate.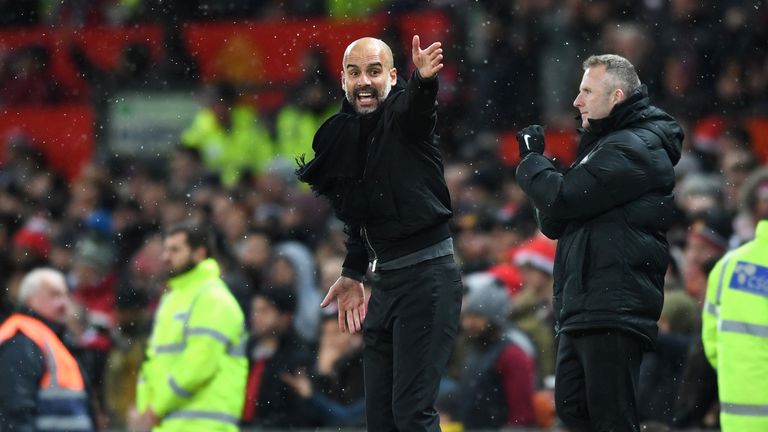 I am the guy that encouraged them to celebrate it in that moment.
Pep Guardiola
"I don't know if we are going to win or not win titles this season, nobody knows, so we cannot wait for the right moment.
"I am the guy that encouraged them to celebrate it in that moment but between each other, because football is like this, and it's what we did."
Guardiola would not comment on whether the fracas in the tunnel only began when Mourinho got involved or how Arteta came to suffer his injury.
But the City boss, whose side moved 11 points clear at the top of the Premier League with the victory, insisted their celebrations were nothing extraordinary.
"No, definitely not," said Guardiola. "It was the same as the Southampton game.
"We were happy, we won a derby against United, so believe me we were happy.
"In that moment the best rivalry we have to win, so people expect we are not going to celebrate? No, we are going to celebrate it.
"But I think like when United win derbies, they celebrate it. When Arsenal wins against United, they celebrate it."