Mauricio Pochettino has delivered Champions League football for Tottenham yet again. Is he overachieving or is this what should be expected given the quality of the Spurs squad? Adam Bate takes a look at both sides of the argument.
Tottenham's 1-0 win over Newcastle on Wednesday evening, coupled with Chelsea's failure to beat Huddersfield, means that Pochettino's team will be playing Champions League football for a third consecutive season for the first time in the club's history. It is a testament to the consistency of performance that Spurs have achieved under the Argentine.
Only Manchester City have picked up anywhere near as many points in that period and, as Pochettino pointed out earlier in the week, this accomplishment has come against the backdrop of a stadium move that could have undermined the undoubted progress that the club has made. "You need to compare every season in context," he explained.
"At White Hart Lane we won 17 out of 19 games last season. We were playing fantastic football. We were very confident. When you finish second and move to Wembley, there were a lot of fears because the Champions League was not great last season. I think in this context it is an amazing season. To find ourselves in the position to be third is an ideal situation for us. We need to be excited about this position at the end of the season."
It is a measured attitude that makes sense. The link between financial muscle and league position is well established. Tottenham simply do not have the resources of their rivals and that is worth stressing when Pochettino is criticised for failing to deliver any silverware during his four seasons in charge. Financially, this has not been a fair fight.
The most recent published accounts reveal that Tottenham's wage bill for last season was £121.2m. That is around £100m a year lower than the wage bills of Manchester City, Manchester United and Chelsea. It was also £80m lower than north London neighbours Arsenal and actually closer to the wage bills of Everton and West Ham than Liverpool.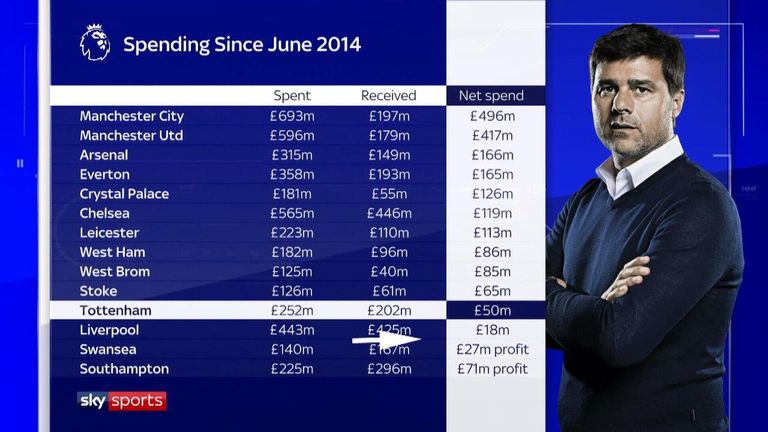 It has not been done through excessive transfer spending either. Since Pochettino arrived in the summer of 2014, the club's total spend is far less than their top-six rivals and the gulf in net spend between some of them is remarkable. City and United's net spend in that time is in excess of £400m. Tottenham's stands at £50m, below relegated Stoke and West Brom.
To deliver Champions League riches with this spending is hugely impressive, but there is a caveat and it came this week in the form of research by the CIES Football Observatory. This showed that, by their calculations, the average transfer value of Tottenham's players was the third highest in Europe, behind only Manchester City and Barcelona.
This puts a different perspective on Tottenham's status and while it does not outweigh the significance of their smaller wage bill, it does provide some of the context to which Pochettino refers. Put simply, Spurs may not be paying these players as much as their rivals, but that does not mean that their players are not as good as those of their rivals.
Kyle Walker is a highly-paid £50m full-back now. His acquisition was cited as a key reason why Manchester City should win the Premier League this season. But before this he was a Tottenham player and few were suggesting that they should be expected to win that same title despite having a £50m-rated full-back in their ranks.
Harry Kane is the perfect example of this. When Manchester United signed Romelu Lukaku for £75m last summer and Chelsea also went into the market to pay £60m for Alvaro Morata, those signings came with big expectations. But both clubs would surely have been willing to pay such figures twice over if they thought they could land Kane's services.
Would it really be accurate to suggest that Spurs cannot be expected to compete with their rivals because they have a mere youth-team graduate leading the line? Of course not. Kane is perhaps the outstanding No 9 in Europe right now. His presence in the starting line-up is an advantage over other clubs regardless of his transfer fee or his annual wage.
Pochettino has played a huge part in that development. It is his coaching on the training ground and the environment that he has created there that has facilitated this extraordinary uplift in the performance of Kane and many others. Something Gary Neville has noted. "I don't think Kane had 10 Premier League goals when he arrived," Neville told Sky Sports.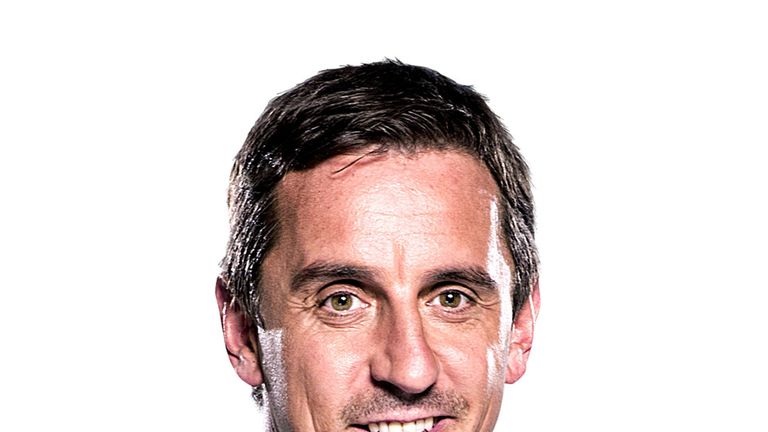 The manipulating of the squad from being a shambles, which it was with the attitude and the culture that existed to what it is now, it is an outstanding performance.
"Mousa Dembele, I used to think was overweight and lazy but now I think of him as a fantastic player. Christian Eriksen used to play on the outside of games, now he gets right in where it hurts. The manipulating of the squad from being a shambles, which it was with the attitude and the culture that existed to what it is now, it is an outstanding performance."
Perhaps this is why Pochettino talks of Tottenham being a victim of their own success. He has succeeded in turning these individuals into top-class players but now they are expected to produce the success that top-class players bring. If Dembele is a genius, if Hugo Lloris is world class and if Dele Alli is the world's best in his age bracket, then why not expect big things?
A lack of squad depth might help to explain why such expectations should be tempered. Those CIES Football Observatory numbers reveal the average transfer value of the players in Tottenham's squad. Rotation is required over the course of a long season and there is a big difference between having 25 quality players and having only 15 of them.
Spurs have suffered because of this in the past, winning only one of the eight games that Ryan Mason started in their 2015/16 near miss, and it has been a similar story with Moussa Sissoko this season. Tottenham have averaged 1.73 points per game in his 15 starts compared to 2.18 points per game in the 22 matches in which he's not been in the line-up.
Fatigue has appeared to be a factor for key players in recent months, notably Kane, who has had to cope with an ankle injury, and this may be the true cost of the resources issue. Whatever transfer fees have been paid and however much they are earning, Tottenham do have the players. They just need more of them if they are to compete on so many fronts.
A sustained spell of Champions League qualification should help. So is it a remarkable overachievement given how little the club has spent in putting together this playing squad? Or is it an achievement in line with what might have been expected given the quality of those players? As with most things in life, perhaps the truth lies somewhere in between.