Harry Kane's furious half-time team talk inspired Tottenham to stage a remarkable comeback against Ajax in the Champions League semi-final, Kieran Trippier revealed after the game.
The England captain, who injured his ankle during the first leg of Spurs' quarter-final against Manchester City, was watching from the stands in Amsterdam, but went into the dressing room during the break to demand more from his team-mates.
Mauricio Pochettino's side found themselves 2-0 down at half-time, needing three goals to progress and Trippier revealed how strong Kane's influence was, despite the forward being unable to take the field.
"Harry's exceptional for club and country," said Trippier. "I don't know the timescale with his injury but obviously we're all hoping he can be back because of his presence, even here.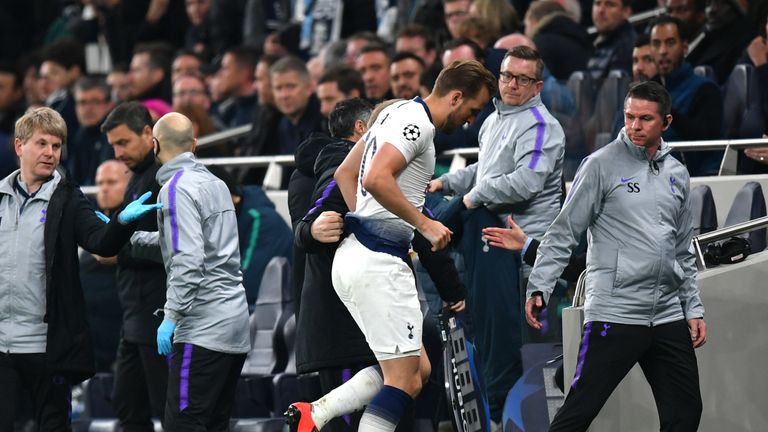 "At half-time he came in and was going mental at us because we can do better, which we all knew, but this is what we need, the leadership he has.
"The way he came in at half-time and wasn't happy, we all knew that.
"He just gives us that extra lift because his presence was massive for us."
After Matthijs de Ligt and Hakim Ziyech's first-half strikes, Tottenham were in need of goals, but with their top scorer unavailable, it was Lucas Moura who stepped up in Kane's absence, his hat-trick securing an improbable win.
Rose: Hopefully we shut Gullit up
Following a 1-0 defeat in London last Tuesday, Tottenham knew they had a point to prove and Danny Rose said comments from certain pundits after that loss had fired up the squad.
"Seeing people's comments, like Ruud Gullit, after the first game and how rude he was, it's nice that we fought back and hopefully we shut him up," said Rose.
"He was very critical of individual players and saying how bad we were technically and he's bang out of order for that.
"So that was fuel to the fire and I hope he eats his words after tonight."
Speaking on BeIN Sports after the first leg, Gullit said: "For me, there were a lot of players that were disappointing because I see them every week in the Premier League.
"Dele Alli. Oh my god! Technical wise, so bad! Wanyama, oh my god! Rose. Technical wise, especially that."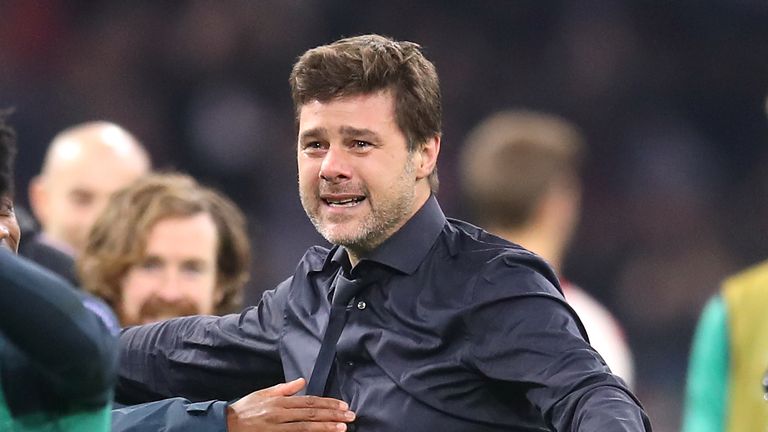 Disbelieving Eriksen thought final chance had gone
But Tottenham's technical class and fighting spirit was on show in the Amsterdam Arena and on the night of the club's greatest Champions League outing, even those who masterminded their stunning win over Ajax were in disbelief.
From 3-0 down on aggregate with 45 minutes remaining of their semi-final in Amsterdam to an astonishing away goals victory, this was a comeback that stunned the players themselves.
Christian Eriksen, Spurs' creative fulcrum who spent five years at Ajax before his move to north London, was honest when asked whether he could believe a Champions League final against Liverpool awaits.
"No, nobody can," Eriksen told Sky Sports News. "After losing the first game and being down 2-0 nobody expected us to go through, but we did it and we can be really happy with what we have achieved.
"When Jan hit the crossbar from the corner, I think we thought this was the biggest chance we could get before the game was over.
"So it was that moment where we felt 'is there anything else left' and luckily Lucas popped up again."
'We came back from the dead today'
The dramatic nature of Moura's winner, the Brazilian completing his hat-trick one second after the allotted stoppage time had been played, made Wednesday's game so remarkable.
But it is the two teams' performances in the competition so far that make this victory all the more special.
Tottenham followed up their VAR-laden second leg against Man City in the quarter-final with another astonishing game full of frantic, late drama.
Pochettino's team came from behind against Ajax, conquerors of defending champions Real Madrid and Cristiano Ronaldo's Juventus.
But despite the three-goal deficit, Tottenham's players refused to give in with defenders Toby Alderweireld and Rose saying their side's superior fitness levels were crucial.
"In this competition we died a couple of times and we came back from the dead, like today as well," said Alderweireld.
"We knew we could play better, we knew we were physically better than them and we said 'one goal', so massive credit to this team."
Rose said: "Ajax are a great technical team, but we knew from the first game that they blow up and they blew up again tonight and we're so fit and we keep going and going.
"I think it's just what we deserved."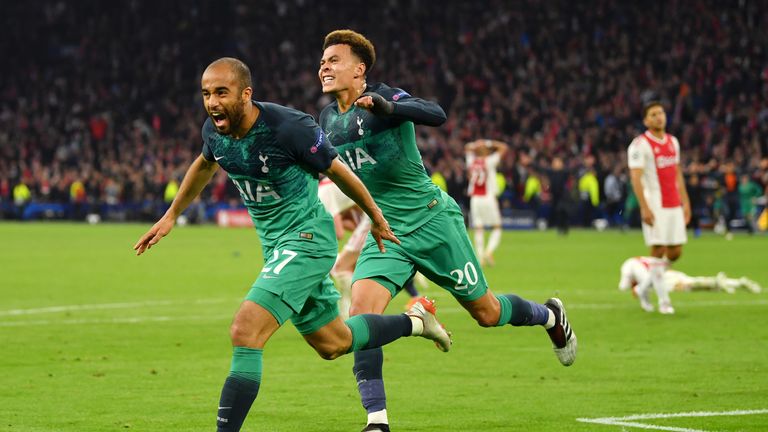 'Moura was unbelievable, what can I say?'
Many thought Heung-Min Son, returning from suspension, could be the difference for Tottenham, particularly in Kane's absence, but it was Moura who took the plaudits and the match ball for his three superbly taken goals.
"He was unbelievable," said Son. "What can I say?
"I think he deserves it, he's such a nice guy and for me he deserves it.
"I don't care who scores these goals, we are in the Champions League final. I am really happy for him and he deserves it."
Moura said: "The gaffer told us if we score one goal we are in the game. When I scored the first goal it gave us new motivation and I always believed."
'We made history, but it is not finished'
Even in the moments after the game, attention was turning to the prospect of Tottenham's first European final since the 1984 UEFA Cup, a penalties win over Anderlecht.
Liverpool staged a remarkable comeback of their own on Tuesday against Barcelona and despite the Reds' superior league performance, Tottenham's players were confident of having enough to beat Jurgen Klopp's side at the Wanda Metropolitano Stadium in Madrid on June 1.
"Why not?" said Alderweireld. "We have to believe like today.
"We had a difficult group, we went to Dortmund, they are first in the league and we beat them, Man City are first in the league and we beat them, Ajax, first in the league and we beat them, so why not?"
Son said: "Liverpool is a very good team, you saw what happened at Anfield against Barcelona.
"We should just enjoy it, we are in the final, we made history, but it is not finished.
"We can make more history for us and this club."