Tottenham midfielder Eric Dier's confrontation with supporters after Wednesday's defeat to Norwich in the FA Cup is being investigated by the FA.
Dier was filmed jogging along the touchline at full-time before leaping over the advertising hoardings and then clambering over seats, before appearing to target one person, who he was unable to reach as other supporters became involved.
The Metropolitan Police have been made aware of the incident involving Dier, but no complaints or allegations have been made.
Spurs manager Jose Mourinho suggested Dier had reacted to insults towards a family member at full-time and defended his reaction, although said it was not professional.
Here is the full transcript of what the Tottenham manager said when asked about the incident in his post-match press conference:
"I cannot run away from the question and I think Eric Dier did something that we professionals cannot but, in these circumstances, something that every one of us would do.
"When someone insults you and your family is there, and your family gets involved with the person that is insulting you, in this case your younger brother, I think Eric did what we professionals cannot but, I repeat, probably every one of us would do.


"I am with the player and understand the player.
"The fans I think were with the team until the last penalty kick that we miss. The people that is in this privilege positions, in this area of the tunnel, of course some are Tottenham fans, but I think a lot of corporation, a lot of invitation, a lot of people with some special status, and probably the place in the stadium where I have some doubts if they are the real, the real Tottenham fans.
"Because these are the ones who support the boys until the last. This one who insulted Eric, the family was there, the younger brother was not happy with the situation, and then Eric, I repeat, did what we professionals cannot do, but did something that probably we would do."
Asked if Tottenham would discipline Dier, Mourinho said: "If the club does that, I will not agree."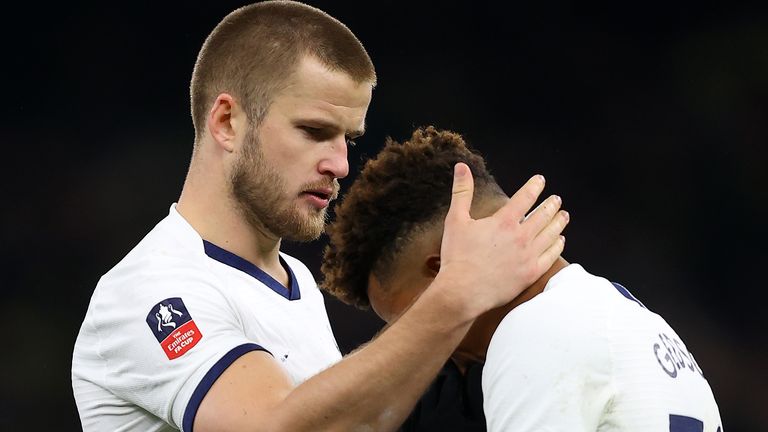 Reports on social media suggested Dier had chosen to enter the crowd after Gedson Fernandes - who missed his penalty in the shootout - was racially abused.
However, Mourinho was unsure if that was true, saying: "I cannot say, I do not know. I just know the reaction of Eric was based on that his brother didn't like what was happening there."
Asked to confirm if Dier's brother was in the stands, Mourinho replied: "Yes."
What is the referee's role in reporting Dier incident?
Former Premier League referee Dermot Gallagher spoke to Sky Sports News to explain the procedure Wednesday night's lead official, Paul Tierney, would have had to follow at the Tottenham Hotspur Stadium.
"As he has left the field, without doubt that would have been reported to him before he left the stadium," said Gallagher.
"There is no way the match commander would have allowed him to leave the stadium without being aware of that. Paul Tierney wouldn't have wanted that, he would've spoken about that.
"If anything happened that I needed to process after the match that would have been established in a pre-match meeting. Once that has been reported back to him, he is duty-bound to follow the procedure.
"He has to report it as an extraordinary incident, processing everything through the FA saying, 'this is what has been reported. I had left the field, I hadn't seen it and therefore you will have to go through the footage available'."
Dier played the full 90 minutes plus extra time as Spurs were beaten 3-2 on penalties, after Troy Parrott and Fernandes missed their spot-kicks.