Tottenham have been awarded a bye into round four of the Carabao Cup to host Chelsea, with Leyton Orient forced to forfeit their round-three tie.
The original fixture between Spurs and Orient was called off on Tuesday due to positive coronavirus tests at the League Two club, with Orient owner Nigel Travis critical of the decision and warning it may encourage clubs not to test players.
In a statement on Friday, the EFL said: "In accordance with Carabao Cup Rules, Tottenham Hotspur have been awarded with a bye to progress to Round Four of the Carabao Cup and will now play Chelsea on Tuesday 29 September.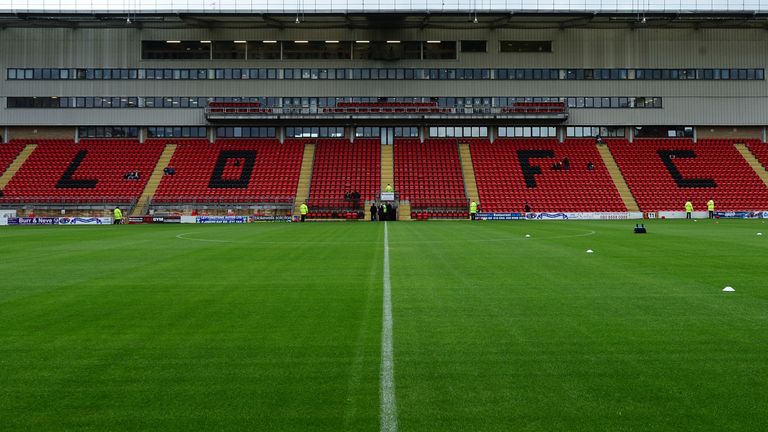 "The Round Three tie scheduled for Tuesday 22 September between Leyton Orient and Tottenham Hotspur could not take place following the issue by Waltham Forest Borough Council of an order preventing the match being played as planned. This followed a number of Leyton Orient players testing positive for COVID-19.
"The EFL Board has determined that in line with Carabao Cup Rule 5.1, the Club was unable to fulfil its obligations to complete the fixture by virtue of the Council's order and shall therefore forfeit the tie."
Orient were set to host the Premier League side on Tuesday night, live on Sky Sports, but were forced to call off the game and close their Breyer Group Stadium and training ground until further notice.
Testing, paid for by Tottenham, was carried out following the O's 2-2 draw against Mansfield on Saturday.
Speaking to Sky Sports News before the EFL's decision, Travis said forfeiting the game would be "a demonstration that doing the right thing doesn't work."
He added: "Can you imagine the outrage if say in the fourth round, Spurs vs Chelsea... one of those teams were impacted in the same way and the game didn't take place?
"Can you imagine the outrage that you'd hear on Sky Sports and on the radio stations? This clearly is not a good policy. Leyton Orient have followed all the guidelines and have done the right things.
"It is an incentive for people not to test, and that will only create a worse situation in the football world and in the UK at large."
There is a growing feeling among some Premier League clubs that cup competitions involving teams outside the Premier League and the Championship are a risk because of the lack of testing in those divisions.
EFL clubs no longer have to conduct mandatory tests on their players and staff for coronavirus on a weekly basis this season, as is still the case in the Premier League.
Both Plymouth Argyle, who Orient beat in last week's Carabao Cup second-round tie, and last Saturday's league opposition Mansfield issued statements on Monday saying they will take an additional round of testing as a precaution.