Spurs secure stadium money deal
Tottenham have reached a new funding agreement with London Mayor Boris Johnson and Haringey Council over a new stadium.
Last Updated: 31/01/12 5:34pm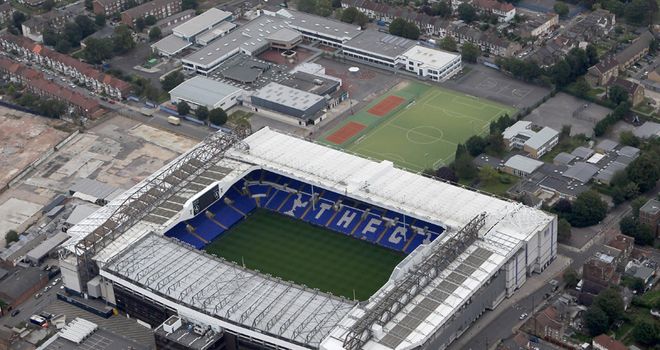 Tottenham have reached a new funding agreement with London Mayor Boris Johnson and Haringey Council to move the club one step closer to building a new 56,000-seater stadium next to White Hart Lane.
Spurs have moved one step closer to achieving their aim of building a new stadium next to White Hart Lane after revealing they have reached a new funding agreement with London Mayor Boris Johnson and Haringey Council.
Tottenham scrapped their plan to challenge West Ham to become the tenants of the Olympic Stadium in Stratford and have instead committed themselves to their original plan for a new stadium known as the Northumberland Development Project (NDP).
Spurs had experienced problems in getting funding from the Mayor's office and the local council to regenerate the area around the proposed new stadium, but that obstacle has been overcome with Tuesday's announcement of a £27million support project.
Haringey council will invest £9million towards new and improved public spaces around the stadium and Johnson has committed £18million to the regeneration of North Tottenham.
Commitment
Spurs chairman Daniel Levy said in a statement: "As a major employer and business in the area, we are delighted with this commitment from the Mayor and Haringey Council.
"We have long said we could only invest in the area if we could see our commitment supported by others and that there was a real need to maximise the regeneration benefits and lift the wider area.
"We therefore see this as a commitment from the public sector to the Tottenham area and one which strengthens our ability to deliver a new stadium scheme with the potential to kickstart the long-term regeneration of north Tottenham."
As part of the club and the council's commitment to work together, both parties have entered into a Memorandum of Understanding which sets out the intentions of each to support delivery of the NDP.
Haringey Council leader Claire Kober said: "We have said all along that we are eager to support Spurs in their efforts to stay in Tottenham. They're a great club, with a great history in a great area which really wants them to stay.
Excellent
"We are investing in the regeneration of Tottenham and supporting Spurs' Northumberland Development Project, because we know that together we can bring new employment opportunities to Tottenham, significantly improve the area and attract investment for a successful and sustainable future."
Around £3.5million of the mayor's £18million support package will be spent on upgrading parts of nearby Tottenham Hale station.
The club gained planning permission for the NDP in October 2010.
Tottenham MP David Lammy, who has campaigned for the club to go ahead with the NDP, welcomed the move.
"This is excellent news for Tottenham and for the football club," he said on his website.
"After all the twists and turns, this is a special moment for the community and fans that have fought so hard to keep the club in the place where it was born over 100 years ago.
"The club will now be able to go from strength to strength in a stadium fit for a club that will no doubt be consistently challenging for silverware at home and in Europe for decades to come."