Premier League: Tottenham press ahead with stadium plans
By Lyall Thomas
Last Updated: 02/10/14 7:18am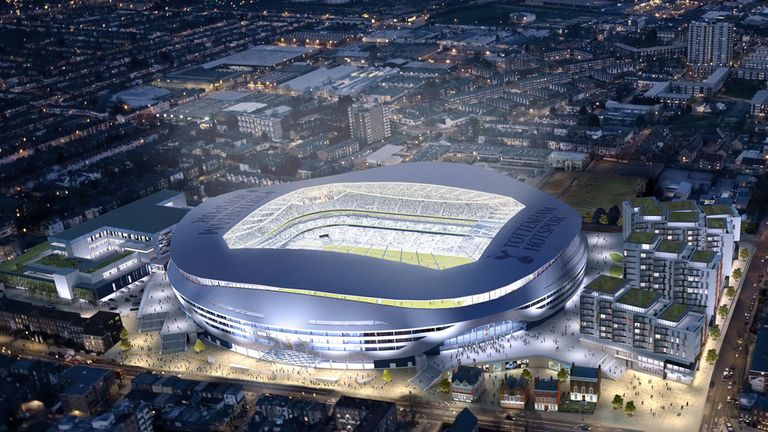 Tottenham are pressing ahead with their new stadium plans, employing engineering firm M Anderson Construction to oversee its foundation and structural build in a deal worth £50million.
M Anderson, based in Chelmsford, Essex, engineered the build of Spurs' state-of-the-art training facility at Hotspur Way in Enfield, opened in 2012.
The company will be responsible for the as-yet-unnamed stadium's foundations at Northumberland Park, adjacent to White Hart Lane, as well as building its super structure, including upper floors and stairways.
A letter sent from Savills to Haringey Council, seen by Sky Sports News HQ, confirmed: "THFC have today entered into a Joint Contracts Tribunal (JCT) Design and Build Contract for the civil engineering ground works, concrete foundations and structure for the new THFC Stadium Project.
"The contract has been made with M Anderson Construction Ltd and the sum for the works is £49.773.727."
Haringey Council have approved the contract made between the two parties and have also granted permission to demolish Fletcher House – a listed building on the site – having been satisfied with the club's intentions to see the work through despite a recent set-back.
Spurs must overcome a High Court challenge from Archway Street Metal Works Ltd, the last remaining landowner on the site, before they can commence building works, and were last month forced to search for a temporary home for the 2017-18 season whilst the stadium is completed.
Sky sources understand that Wembley and MK Don's Stadium:MK are both in consideration as well as Upton Park, which will by then have seen current occupants West Ham move to the Olympic Stadium in Stratford.