Wembley is the overwhelming preference among Tottenham supporters for their ground-share season in 2017-18, according to a poll by the Tottenham Hotspur Supporters Trust.
Spurs must spend a term playing away from White Hart Lane while their new stadium – the Northumberland Park development – is being built, and the two options being pursued are either Wembley or Stadium:MK in Milton Keynes.
Discussions remain ongoing with both stadiums and the club are no closer to reaching a decision, but 82% of the 3,228 supporters who responded to THST's poll want the team to play at Wembley.
Spurs have promised an amnesty to season-ticket holders should they not wish to renew for the 2017-18 campaign, and 40% of those who responded to the poll said they would only renew their season ticket if the 90,000-seater Wembley was their destination.
Some 61% of all respondents said they were either unlikely or highly unlikely to watch Tottenham matches games at Stadium: MK, which holds 30,500, and only 8% said they were highly likely.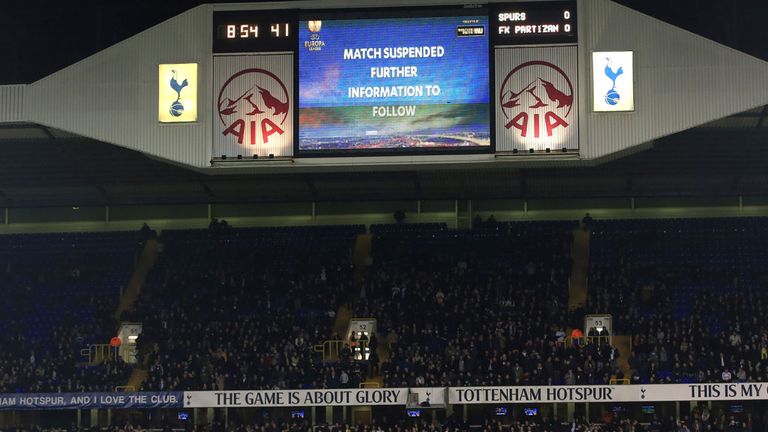 THST have clashed with Tottenham at recent meetings and only 25% of poll respondents felt the club had communicated properly to fans regarding the issue.
A huge majority of 90% feel it is imperative the club communicate and genuinely consult supporters over where they end up, and 63% believe the club should seek the explicit agreement of supporters on which ground they share.
'Identity'
In further questions in the poll, 69% believe Stadium:MK should not be chosen simply because it is the cheapest option, while 65% of respondents feel the club staying in London for that season is vital to the club's identity.
In his end of season address to Spurs fans, chairman Daniel Levy stressed the importance of the move having minimal impact on the team and admitted the decision would not please everyone.
He said: "A more effective, timely build programme can take place when the club moves away from the Lane for a period of one season and we are currently undertaking due diligence and holding discussions on alternative stadium options.
"Consideration needs to be given to several factors including planning, policing, transport and the impact it may have on the team itself. Clearly all possible options have pros and cons and we are aware that we shall not be able to find one which will please all.
"It is, however, a short-term, interim arrangement so that we can ultimately deliver a fantastic new stadium in Tottenham for the long-term future success of the club.
"We shall also, at the appropriate time, be sending supporters a survey about their match-day activities, in order to better inform decisions for the season away."