John Terry considers management option as he looks to future
By Matthew Treadwell
Last Updated: 05/05/18 2:00pm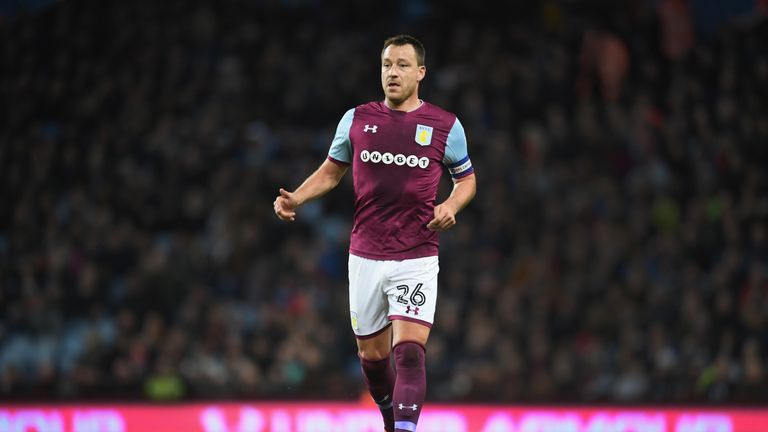 John Terry admits he could face a tough decision in the summer as he considers whether to try and follow Steven Gerrard into management.
Former Liverpool and England captain Gerrard was named Rangers boss on Friday, his first senior role having previously coached Liverpool's U18s side.
Terry's one-year contract at Villa Park runs out at the end of the season, although that will automatically renew for another year if Steve Bruce's side secure promotion back to the Premier League.
If they fail in that aim, Terry will have to consider his options and he says he is interested in making the move into management, having played under the likes of Jose Mourinho, Luiz Felipe Scolari, Guus Hiddink, Carlo Ancelotti and Antonio Conte during his 22-year association with Chelsea.
"I think I have played under some very good managers who have passed on some very good things," Terry told the Mirror.
"Some have passed on things I wouldn't do or I have made notes on how not to do things.
"Management is a big thing I want to go into. It would be a shame if our generation of players like myself, Lamps [Frank Lampard] and Stevie [Gerrard] are not giving back after the careers we have had.
"I am on my A licence in the summer and whatever happens then I will be ready to coach and manage with the work in progress in my A licence.
"I will be prepared whether I decide to carry on playing or if I decide to stop. I will be ready to go depending what options I choose."
Terry could yet carry on playing for at least one more season, though, and he says he has been made welcome at Villa Park since joining them in the summer.
"Initially it was a big decision for me to leave Chelsea and come to Villa but I have settled in very well and been welcomed," he added.
"It is in my contract if we go up, and fingers crossed and touch wood we do, then I will be staying another year."