Former Newcastle chairman Freddy Shepherd has died aged 75.
A pivotal figure in the St James' Park club's rise during the 1990s, he was chairman for 10 years from 1997.
Shepherd eventually sold his share of the club to Mike Ashley and recently, along with brother Bruce, was granted the freedom of the city of Newcastle.
"Freddy Shepherd, former chairman of Newcastle United and chairman of Shepherd Offshore Group and Triple S Sports & Entertainment Group, sadly passed away peacefully at his home last night," his family said in a statement.
"At this difficult time, the family have asked that their privacy be respected."
Tyneside-born Shepherd became a Newcastle director in 1992 and served as vice-chairman to John Hall as the club finished Premier League runners-up in both 1996 and 1997.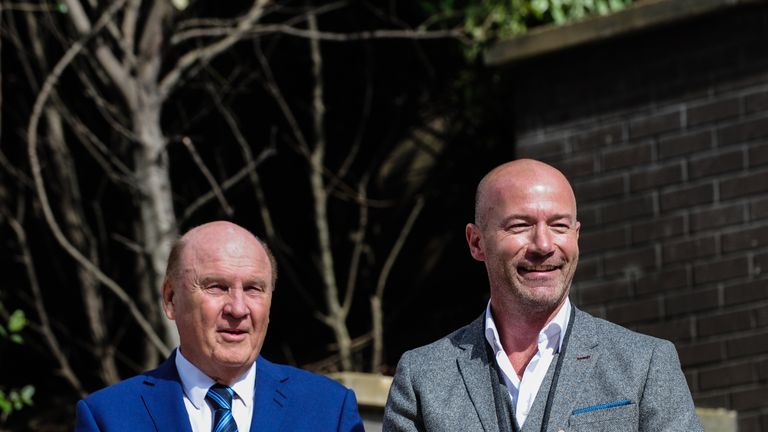 Shepherd played a key role in the appointment of Kevin Keegan as manager in the early 1990s, a move that helped transform the then struggling second-tier side into a top-flight force.
Under Keegan's management, Newcastle went toe to toe with Manchester United in the Premier League title race before losing out to Alex Ferguson's team.
Shepherd was also influential in signing England striker Alan Shearer from Blackburn for a then world-record £15m in 1996, as well as the successful appointment of Bobby Robson as manager.
Newcastle's record scorer paid tribute to Shepherd saying he owes his former chairman "a huge debt" after he persuaded him to opt for a return to his boyhood club over a move to Manchester United.
"It's a desperately sad day for Newcastle. His passion for the city and the football club was there for everyone to see," Shearer told Sky Sports News HQ.
"I owe him a huge debt for bringing me back home because he was the guy that was responsible (for that). I've lost a great friend and a great person.
When Shearer was asked about his favourite memory of Shepherd, he said: "I was sat in a room with him 'umming and ahhing' whether to sign for Newcastle or Manchester United and he was very persuasive. He used all of his tricks to get me back here to Newcastle."