Rafa Benitez unhappy with officials after Newcastle defeat by Bournemouth
By Gerard Brand
Last Updated: 05/11/17 7:50am
Rafa Benitez was "unhappy" with the officials' decision to rule out a Newcastle goal for offside in their 1-0 defeat by Bournemouth on Saturday.
Steve Cook's 92nd-minute winner condemned Newcastle to their second 1-0 defeat in the space of six days, coming after Dwight Gayle had seen a goal incorrectly ruled out for offside.
Replays show Gayle was just level as Matt Ritchie struck to hit the post before the striker rolled the ball home, and though despondent manager Benitez was clearly unhappy with the officials, he kept his own counsel when asked about the disallowed goal.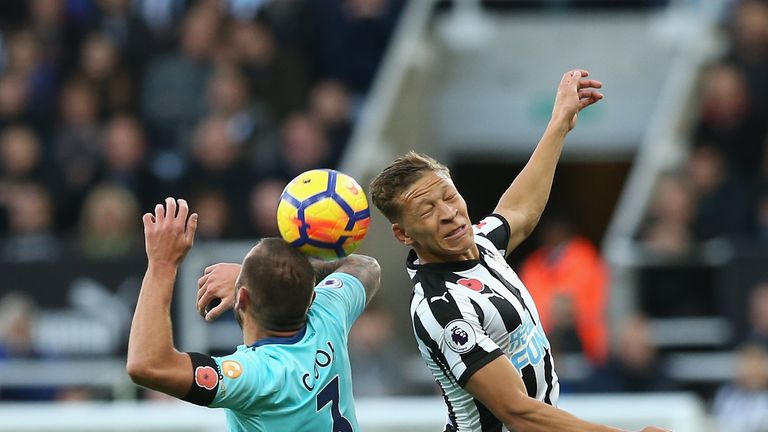 "I will not talk about the decisions because I am not very happy with the decisions," Benitez said in his press conference, having told Sky Sports earlier: "I think we lost, that's it, and we'll have to analyse."
Benitez admitted his side had been made to pay for not taking their chances, and for a series of mistakes which contributed to their own downfall.
He said: "In football, you have to play well, create chances and take them and don't make mistakes, and we didn't do that. We didn't do what we had to do on a lot of occasions and our mistakes, in the end we paid for that.
"I was really happy before the game, disappointed after the game, I know that it is still too early, but we have to keep working the same way as we did before."
It was Newcastle's second successive defeat and posed further questions over their summer recruitment, but the Spaniard vowed to come out fighting once again.
Benitez, who saw captain Jamaal Lascelles leave the stadium on crutches with an ankle injury, said: "From September 1, I was worried and what I did was to work harder, and that is what I will do now.
"We are where we are and this is further proof that we have to keep working hard and stay compact together or we will have problems in this kind of game.
"We have created chances in every game, then we have to score, that's it, it's not just to create, after you have to take your chances.
"We have to keep going, we know we are Newcastle, a good team that has been promoted, and we were doing really well, so we have to go back to our principles."