Rafa Benitez exclusive: I'm more relaxed, but not very relaxed
Watch Burnley vs Newcastle on Monday Night Football, live on Sky Sports Premier League at 8pm
Last Updated: 26/11/18 8:28pm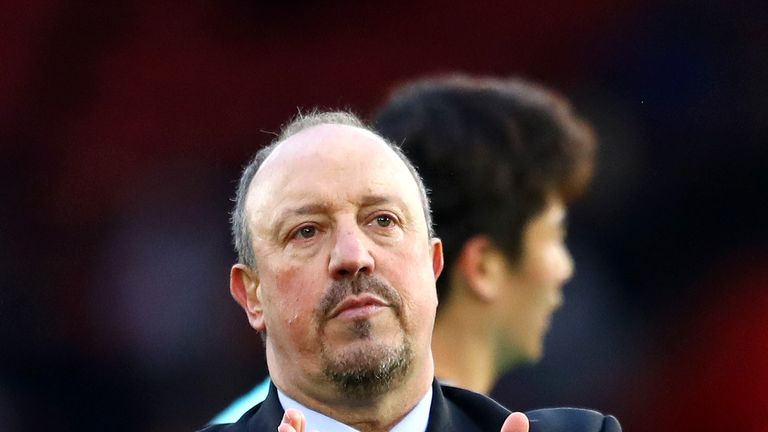 Rafa Benitez admits he is more relaxed about Newcastle's situation following two straight wins, but knows there's work to do.
Newcastle dragged themselves out of the Premier League relegation zone with wins over Bournemouth and Watford before the international break, having previously not won all season.
Benitez's side now go to Burnley on Monday Night Football, live on Sky Sports Premier League at 8pm, and the Spaniard admits the mood is much better at St James' Park.
In an exclusive interview with Sky Sports, Benitez said: "Relaxed? I don't know if that's the right expression, I am more relaxed maybe, but not very relaxed. Because still you have to have some nerves, some tension before the games.
"But it's true that after winning a couple of games in a row, the mood is much better, and the way to approach every training session and every game is a little bit different, because the players don't feel so much pressure, and can maybe express themselves a little bit better.
"We have had some moments of tension, but I try to stay calm as much as I could. I think we did well, and hopefully we can carry on. People think: 'You have won two games in a row, that's it,' but no, we are at the beginning, so still we have to keep going, keep working hard, still we have to show we are really focused.
"We don't think the job is done because we are out of the bottom three."
Benitez says that throughout the difficult start to the season, which saw numerous fan protests against owner Mike Ashley, he believed the Newcastle support could see the players were working hard.
"Some people criticise our fans because they are 'too demanding'. But the majority of the fans want to see the team working hard.
"My job in this case has been to convince the fans this group of players care. I think it's easy to do that because they can see them working so hard in every game, and after that convince the players to keep trying, even when you make mistake and lose a game.
"The only way to change things is to try again. If you make a bad cross, and then you are scared, you will not do the other one! How can you change things? You have to try. Even if you make five mistakes, maybe the sixth one will be the good one, so you have to try and carry on."
Much has been said about Benitez's future after being vocal about Newcastle's lack of spending in the summer, but the manager insists he is happy about the club, and is focused on the coming games and the January window. Then, he says, his future will be decided.
"The last meeting we had, two or three weeks ago, about the transfer window, about my future, we decided we would talk later on. So I think the main thing to concentrate on now is what we can do to improve the team, and to be sure we are strong in January, and after we can talk about my future. I am happy here, and can see the potential of the club.
"It's important for the team, important for the club, because you have to do the right things. For me, it is to make sure we can compete and stay in the Premier League, and then after it is easier to talk about the manager, future, whatever.
"But the first thing is to do what we have to do in January, to be sure that we make the right decisions, and then it will be easier to compete against these teams, who are strong and spending a lot of money, and to have better chances to win games."
Watch Burnley vs Newcastle on Monday Night Football, live on Sky Sports Premier League at 8pm