Sergio Aguero will miss the Manchester derby as he starts a three-game suspension for an incident involving Winston Reid against West Ham. How will Manchester City fare without him and what are Pep Guardiola's options to replace their striker? We take a look…
It's the biggest game of the season so far and, with both Manchester clubs going into Saturday's derby with 100 per cent records, it's a fixture that could have significant consequences. Whoever wins will probably be installed as the favourites for the title.
So the absence of Aguero could be a decisive factor. The Argentine scored 24 Premier League goals last season and won the Golden Boot the year before. He has the best goals-per-minute record of any man in Premier League history. But how big a miss will he be?
What's City's record like without him?
Somewhat surprisingly, there is no discernible drop off in Manchester City's Premier League results when they are without their best goalscorer. Indeed, last season they averaged more points in the nine games in which he didn't start than the 29 in which he did.
Interestingly, that's merely a continuation of a trend noticeable in the previous campaign when City were unbeaten in the eight Premier League games he was out of the starting line-up, winning six and drawing the other two.
The sample size is bigger for the 2013/14 season when Aguero started only 20 of City's 38 games. In that year, there was a slight dip - from 2.35 to 2.17 points per game when he was missing. But Manuel Pellegrini's City side still won 12 of those 18 games on the way to claiming the title.
No Aguero, no problem?
| | | | | | |
| --- | --- | --- | --- | --- | --- |
| With Aguero | 82 | 50 | 14 | 18 | 2.00 |
| Without Aguero | 35 | 23 | 7 | 5 | 2.17 |
That means, for all of the understandable talk of Aguero's importance, City have averaged 2.17 points in the 35 games he has not started in the past three years compared to only 2.00 in the 82 he has. Enough to offer optimism ahead of Saturday's crunch clash.
One caveat is that the quality of opponents in games Aguero has missed has not been as high. For example, last season the average place of opponents was 13th in those games compared to ninth for matches in which he played. Perhaps City need him for the big ones…
How about United games?
Aguero has scored five goals in his last four Premier League appearances against Manchester United. There was a brace in the 4-1 win at the Etihad Stadium in September 2013 and the only goal of the game when the team's met there the following season.
However his goals, let alone his presence, haven't always been the decisive factor in the result. City won 3-0 at Old Trafford without him in 2014 but then lost 4-2 with him in the side one year on, despite Aguero scoring twice.
So who's stepped up in his absence?
A scorer in that aforementioned 3-0 win and by far the most dependable man when Aguero has not been around has been Yaya Toure. Impressively, he has scored 17 goals in those 35 missed games. But Toure won't expect to be called upon to start this Saturday.
Of more significance could be the fact that three of Kelechi Iheanacho's goals for City last season came in games where Aguero didn't start. Meanwhile, Raheem Sterling scored four times without Aguero - including his hat-trick against Bournemouth last October.


What are Guardiola's options then?
Iheanacho would be the closest thing to a straight swap having been a substitute under Guardiola in the Premier League so far. The young forward boasted the best goals-per-minute record in the league last season and deputised for Aguero against Steaua Bucharest.
"He is always ready," said Guardiola at the time. "We will need him. Sergio can't play all season and Keli is going to play." But for such a big away game, the coach could be tempted to make an alternative tweak to the team given the options at his disposal.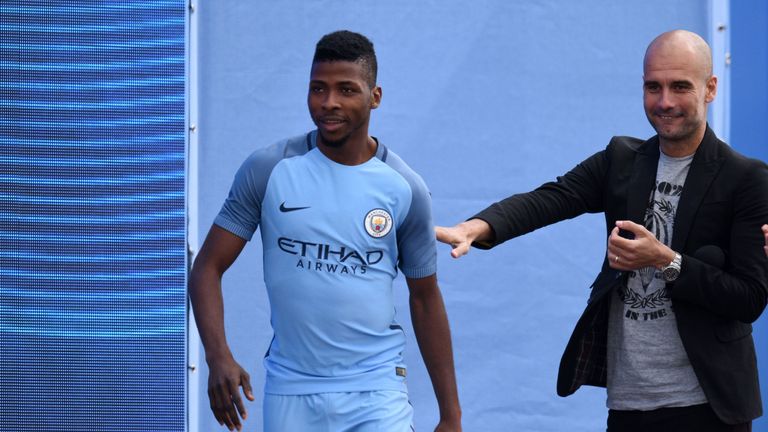 Left-winger Nolito is capable of filling is as a forward, which would allow summer signing Leroy Sane to come in for his debut. Another possibility is to deploy Sterling in a central position, although both of these moves would involve changing something that's working.
Any clues from his time at Bayern?
Guardiola's Bayern Munich had a more than handy record without star striker Robert Lewandowski following his arrival from Borussia Dortmund in the summer of 2014. In fact, they lost only one of their 14 games without the Pole across two seasons.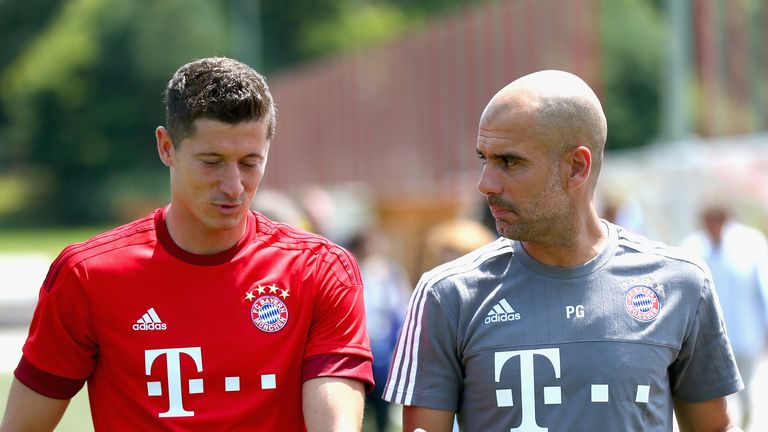 Interestingly, that defeat was one of only two occasions when Guardiola opted to replace Lewandowski with target-man Claudio Pizarro. The other was a goalless draw against Hamburg, suggesting that the like-for-like switch doesn't always pay off.
Guardiola had more success when adding an extra midfielder to the team in order to gain even greater control. Either Mario Gotze or Thomas Muller was then expected to take the responsibility of playing as a false nine. Could that be the solution for City?
Conclusion
Whether it's Iheanacho's big moment, a false nine or some other tactical tweak, the challenge for Guardiola is to find the answer without Aguero. City have managed it before. But if Guardiola can do so away to Jose Mourinho's United it would really send a message.