The Claudio Bravo debate: Experts give verdict on Manchester City goalkeeper
Last Updated: 11/09/16 1:58pm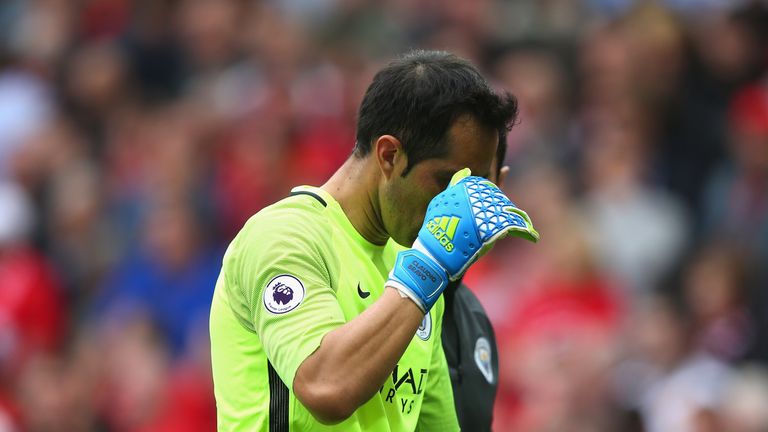 Pep Guardiola described Claudio Bravo's debut for Manchester City as "one of the best performances I've ever seen".
Other spectators at Saturday's Manchester derby were not quite as convinced.
With his side leading 2-0, the £17.1m summer signing from Barcelona dropped a Wayne Rooney cross in the 40th minute to allow Zlatan Ibrahimovic to score and bring Manchester United back into the game.
City held on to win the match, but Bravo might have conceded a penalty and been sent off in the second half when he appeared to trip Rooney after a heavy touch.
Guardiola signed Bravo - and subsequently loaned Joe Hart to Torino - because of his ability to play with his feet and he touched the ball 56 times in Saturday's game with 15 of those outside the box.
But opinion was split on his debut display. Watch some of the incidents for yourself and read what pundits and journalists have been saying…
Pep Guardiola - Manchester City manager
"Claudio had one of the best performances I've ever seen. When you make a situation for the goal - after that he continued to play in our build-up and [went] for other long balls to pick them up. That means a lot for me, the personality, because in football when you make a mistake it's how you react to that mistake.
"He was unlucky in the situation because I think he clashed with [John] Stones and this sometimes happens - it's football."
Graeme Souness - Sky Sports expert
"What Pep Guardiola is touching on is that it's basically a trade-off. He wants his goalkeepers to play out from the back and sometimes they will get caught and sometimes it will cost them a goal - but over the course of a season the benefits will far outweigh the downside. It's a bit like playing in a team that holds a high line to catch people offside. You will get caught occasionally, but over a season it's a trade-off.
"I accept all of that, but what I can't accept is the goal he gave away. It's nothing to do with what Guardiola is asking him to do with his feet and that risk. The goal he conceded was down to clumsy hands. It was a simple punt that he saw coming from 50 or 60 yards away that he fumbled under a minimum amount of pressure from John Stones."
Gary Neville - Sky Sports expert
"Pep Guardiola wanted a goalkeeper who was completely confident with his feet. Bravo was like a number 10 on the ball with his feet and is a fantastic passer of the ball. However, there will be some repercussions from today for Bravo. He was nervous beyond the goal.
"It isn't Spain. Having been in Spain myself, there isn't as much pressure put on the goalkeeper both on the ball with your feet and in in the air. There's no doubt in the next few weeks he'll have some questions to answer because other clubs - when he goes away from home in particular - will start to put that ball directly on top of him and see what he's like. You saw the Man United fans in the second half every time he had the ball and that will probably become normal practice. He's an experienced goalkeeper and obviously a very good goalkeeper.
"He'll be happy tonight but he'll have in the back of his mind that he's got a few more questions to answer than he did before the game today."
Mark Schwarzer - Former Premier League goalkeeper on Goals on Sunday
"The only challenge he is getting from is his own player. He probably did say something to John Stones, it just probably wasn't loud enough and they collided. Also they have not played together before and it is an unfortunate mistake that he has made, but it is obviously a goalkeeping mistake
"People will look at it and say he is clearly really good with the ball at his feet - he was excellent - but there is also that aspect of the game and he is going to be tested week in, week out in that area. People are going to watch that and knock a few more balls in there.
"Claudio Bravo literally is the sweeper keeper. He's so confident on the ball and knows exactly how Pep Guardiola wants to play. Do you want a goalkeeper who can play with the ball at his feet really well and start the build up at the back? But then the side of goalkeeping that ultimately is the most important is keeping the ball out of the back of the net wasn't the best side of his game. But it's his first game in the Premier League, which is a big change from playing in La Liga."
Oliver Holt - Journalist on the Sunday Supplement
"He had a very shaky debut, but it's more important for Guardiola about what Bravo represents. Guardiola talked him up overly after the match, but he is playing a lot on the half-way line. He was always on the edge of his box and it's the sweeper keeper idea that we've seen before. It adds an extra dimension."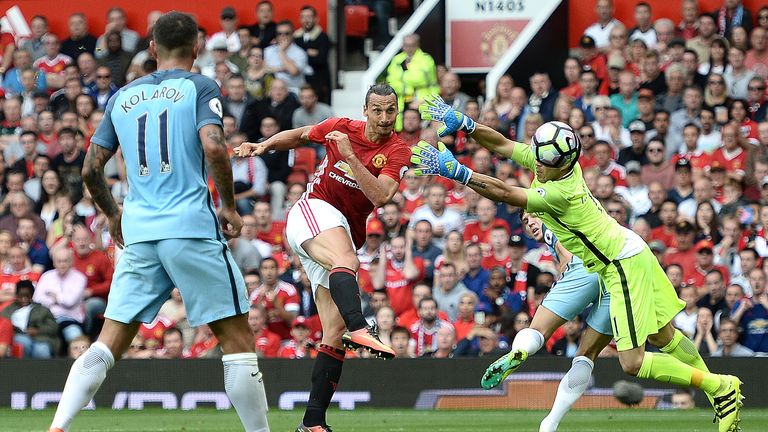 Ray Parlour - Former Arsenal midfielder on Goals on Sunday
"It looks like there's a mistake in him. You've got to get the ball in the box and make him make a decision. It looks like he has made a lot of wrong decisions in the game and Manchester United probably didn't make the best of them. Managers will be looking at that and saying 'let's get the ball wide and into the box to test the keeper because he will drop one'. Teams might get an opportunity that way."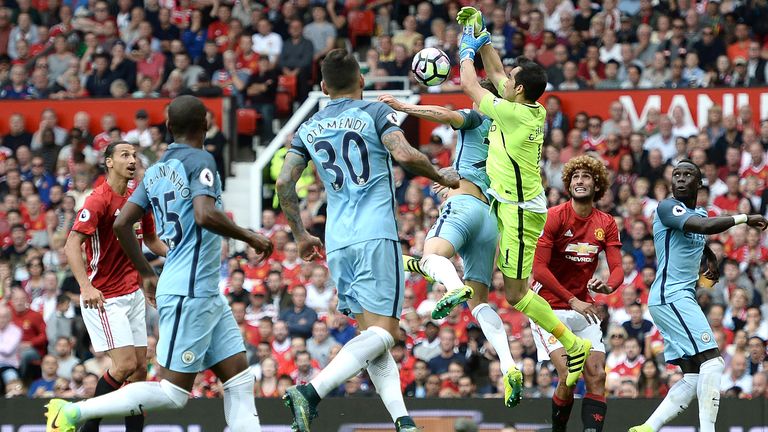 Martin Hardy - Journalist on the Sunday Supplement
"Yes, Bravo made a mistake, but he's only been there for two training sessions. At Barcelona [under Pep], the goalkeeper became a player. You look at cricket and it used to be five batsmen, five bowlers and a wicket keeper, until they said the wicket keeper needs to bat. If you're trying to create an extra player, why can't the goalkeeper play? It is a risk but it's something different."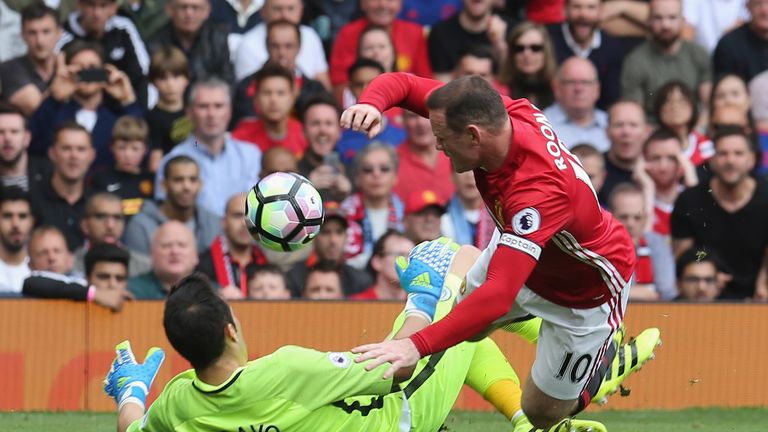 Neil Custis - Journalist on the Sunday Supplement
"Playing out from the back is an accident waiting to happen. You can do it at Barcelona because their opposition is always in retreat. Teams in the Premier League will hound down the area and force a mistake."
Thierry Henry - Sky Sports expert
"Pep loved his reaction - be a man and be brave - and they won. People remember the mistake, yes, and he did another one when it should have been a penalty. But they won so while you remember the mistake you can move on. I know Pep would have said to him 'carry on playing and pass that ball'. If the guy is not strong enough to accept that he would have been worse in the second half.
"For me, he came here and played. Yes, he made a mistake but put that to sleep. I'm sure Joe Hart was watching and laughing a bit but Bravo has to start. They won the game and that's the most important thing."