Kevin De Bruyne is the Premier League's most creative player, topping the assist charts in his starring role for Manchester City. Adam Bate caught up with him to discuss his role in the team, pressing for Pep Guardiola and why he wants to stay at City...
Ask anyone. Kevin De Bruyne is special. Kelechi Iheanacho talks of his intelligence. Others speak of his speed. Fernandinho focuses on how he combines the two qualities. "He makes the decisions so fast that it's hard for opponents to react," explains the Brazilian.


Sergio Aguero highlights his "fantastic vision" and says he is someone who "sees things others cannot" while Gael Clichy singles him out as a player who changes games even when not at his best. No wonder Pep Guardiola is such a fan. "De Bruyne is a joy," he says.
"Without the ball he is a fighter, with the ball he sees everything and he always makes the right decision. He is a player on another level, and we are lucky to have him. I hope he enjoys playing his amazing football with us. He is one of the great players I have managed."
All of which might go to a man's head. But speaking to De Bruyne before he heads out for a speed training session in Nike Football's latest apparel, the Manchester City midfielder confirms Guardiola's hope - he's having as much fun doing it as everyone else is watching.
"I am enjoying the way that we are playing," De Bruyne tells Sky Sports. "I think we are playing good football and the way that we want to play is very positive. I think people enjoy watching us play which is a good thing.
"Obviously Guardiola is a great coach. It's what I expected from the beginning. His style has always been there, it has little small changes every now and then because I think he also wants to evolve as a trainer by trying new things to get better."
Guardiola's tactical tinkering has become a trademark. His decisions are pored over by media and supporters alike, but what's it like at the sharp end of those decisions? De Bruyne shrugs off suggestions that it's tricky. He's familiar with having to adapt.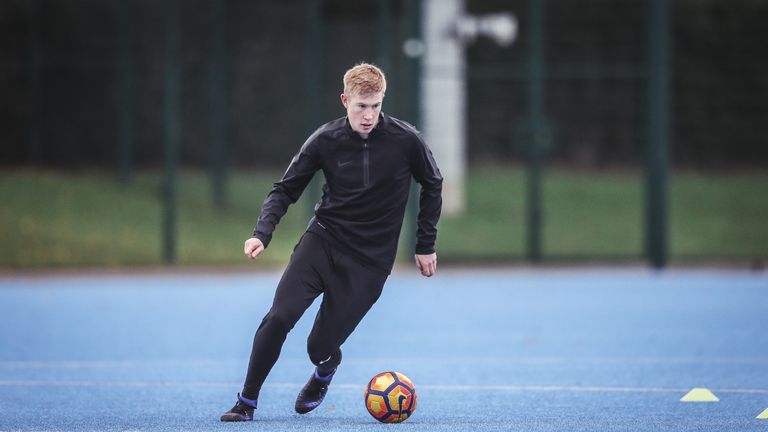 "I am used to playing in six different positions in my career so that's not an issue for me," he says. "I have always changed positions and I don't expect any different. It's all the same to me. It's all about the way you interpret it."
Even so, De Bruyne has played in a deeper role - coining the term "free eights" to describe the position of both himself and David Silva - as well as out wide at times. In Barcelona, he operated as a false nine with Aguero on the bench. He's Guardiola's flexible friend.
"We look at tactics in meetings," he says. "It just depends how the trainer sees that game. Obviously it's changed a little, but I've always been the offensive player in the midfield zone. I think I've shown over the last five or six years that I can create chances and do well there."
De Bruyne in stats
| | | |
| --- | --- | --- |
| Assists | 8 | 1st |
| Big chances created | 9 | 1st |
| Total chances created | 44 | 2nd |
| Successful crosses | 36 | 2nd |
The numbers certainly back him up. De Bruyne tops the Premier League assist charts this season and he ranks among the top three for key passes, successful crosses and clear chances created.
He's confirmed himself as a man who makes things happen.
But perhaps what marks De Bruyne out from other creative figures is that he combines these qualities with a furious work ethic. He has embraced Guardiola's desire for a pressing game. "We are recovering the ball very fast and that's really important," he explains.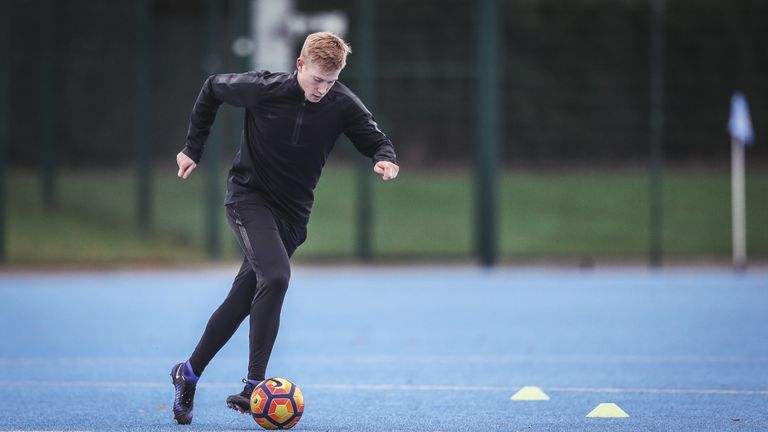 "You have to work on it as a team. There is no such thing as pressing on your own. You need to know where to stand and you have to coordinate that with the whole team together. Obviously it's very difficult to do if anyone slacks off but everyone is doing their job now.
"Because there's a new system and new tactics we have been training a lot on these things. It's the preparation that's the big difference." The problem, of course, is that City's schedule - competing for trophies at home and abroad - limits the opportunities to work on it.
"We travel and we play," says De Bruyne. "You can't train a lot during the season if you've only got two rest days in between and you need to go 90 minutes again afterwards. It's just about keeping fresh. You play games and you recover - the foundations are there from the work done in pre-season."
Not that any player would want it any other way. City reached the Champions League semi-final last season - "hopefully we can do something like that again or maybe even better" - and claimed an historic win over Barcelona last month. Trophies have to be the target.
"We are a team who can win any game," adds De Bruyne. "Even before the Barcelona game we knew that. But it's not about high points now, it's about high points at the end of the season. But to be there in the spring we need to maintain our high level throughout.
"We are still in the three competitions so we'll see what we can do but the aim is to be on top in everything. Fortunately, there are class players here so the coach has a lot of choices to swap. In a season here where you can play 60 games that's obviously necessary."
The good news is that De Bruyne plans to play rather more games than that. "I'm really enjoying my football here and my family is happy," he said. "That is the important thing. I have four-and-a-half years on my contract and I'm not busy thinking about anything else."
Kevin De Bruyne trains fast in Nike Football Training apparel, built for speed with revolutionary AeroSwift technology. Visit nike.com to explore the collection