Manchester City manager Pep Guardiola pleased with 'another good performance'
Last Updated: 28/10/17 7:51pm
Pep Guardiola says he is pleased with "another good performance" as Man City extended their unbeaten Premier League run with a 3-2 win against West Brom.
The current league leaders are yet to lose a game in any competition this season, and have now won their last eight Premier League matches after their victory at The Hawthorns.
Following yet another win, Guardiola said he was satisfied with the good showing from his side despite conceding two goals but added that there is still a lot of the season to go.
"It was another good performance but we have three problems because we conceded three chances and West Brom scored two goals but we played really well in a lot of things," he told Sky Sports.
"We deserved that win and it was just 3-2 but we could have scored a lot more goals.
"Ten games with nine wins and one draw is good for us at the beginning of the season. Of course, we are just five points in front of second place so we still have to play.
"West Brom have a specific way of playing and if you don't control the long balls or second balls, or concede a lot of throw-ins and free kicks, then there is nothing to do because they are an excellent team to take advantage of that.
"The best way to do that is to keep the ball, make the passes and attack in the right moment and when you lose the ball, to be in there."
The game was played at the same time as the U17 World Cup final, where Man City youngster Phil Foden scored twice as England beat Spain 5-2 to win the championship.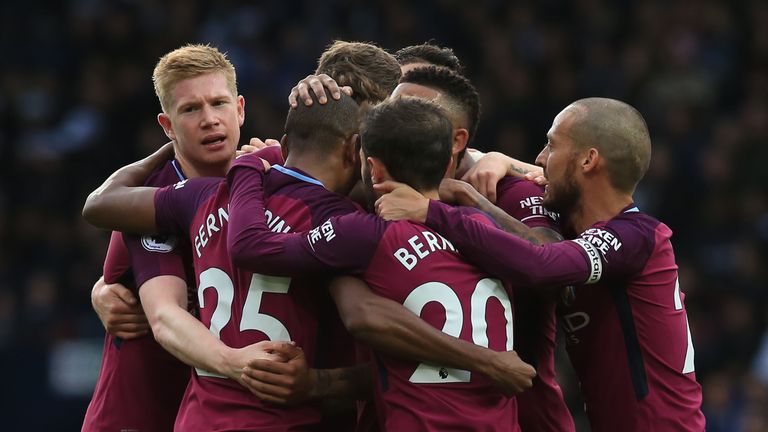 "I'm happy for the goals from Phil but especially [for him] to play in that important competition at that age," Guardiola added.
"I think for England, it will be amazing to realise that they can compete at the high levels with the English players they have.
"He is our player and we want to try and help him. It depends on him, but we are going to try and help him of course."