Man City's Kyle Walker hails 'unbelievable' John Stones and 'special' Pep Guardiola
Last Updated: 17/11/17 4:19pm
Manchester City's Kyle Walker has explained why John Stones is an "unbelievable" player and what makes Pep Guardiola a "special" manager.
Having joined City from Tottenham in the summer, Walker has been a regular for the Premier League leaders this season, starting 10 of 11 games.
Along with Stones, Walker has helped City keep six clean sheets as they have enjoyed the best start to a Premier League season.
And the full-back has nothing but praise for his England team-mate Stones, telling Sky Sports: "John is an unbelievable player.
"You don't quite appreciate him until you are playing alongside him. He rarely gets beat, he is great on the ball and he is very calm and level-headed.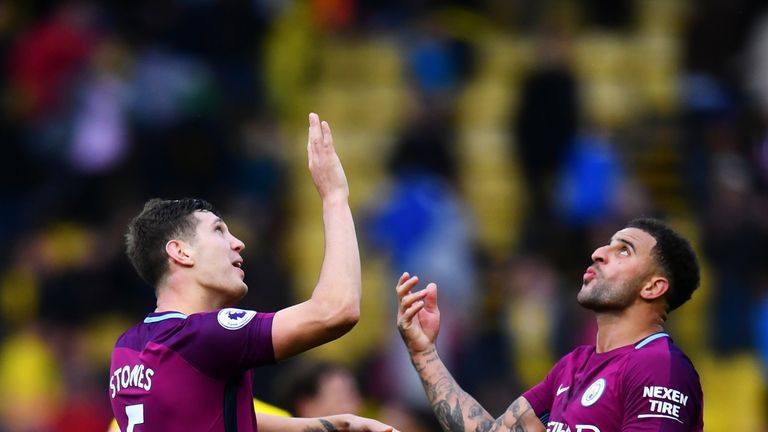 "I share cars with him every morning and we just have a good chat and that is the relationship we have together."
Walker was also effusive in his praise of Guardiola, who is into his second season with Manchester City.
"It's special working under him," he said. "His attention to detail, his enthusiasm, wanting to work with the players, wanting us to learn from him, and vice versa him from us and how we want to play.
John is an unbelievable player. You don't quite appreciate him until you are playing alongside him.
Kyle Walker on John Stones
"It's a good gel and a good combination. I could hear his enthusiasm on the phone when we spoke and where he wanted to take this club and what he had in a dream. It's rubbing off on the players which is great. It's good energy and that's what the lads need.
"He's very similar to [Tottenham manager Mauricio] Pochettino. They are both great managers. They both present themselves well and are down to earth people and that is why they get the best out of the players."
Walker also revealed how he has tried to gleam advice from former Barcelona and Bayern Munich boss Guardiola.
"He has worked with the likes of Phillip Lahm and Dani Alves, and I said to him if you have any advice please let me know because you have worked with two of my idols who I have been watching for countless years so any information you can pass on that will make me become a better player I want to learn."
City have won 10 of 11 games in the Premier League this season and, ahead of their trip to Leicester on Saturday, hold an eight-point advantage at the top of the table.
Asked whether City can go unbeaten, Walker said: "It will be very difficult, but it's possible with the players we have got and the form we have shown.
"But it's a long old season, those January games when it's back to back, it's going to be difficult, but we have the personnel in the dressing room to do it, so who knows?"
City have been the standout side in the league this season and, having scored 38 goals so far, they are on track to smash the record of 103 goals, set by Chelsea in 2009/10.
They have also improved at the back, conceding just seven goals; a record which is only bettered by Manchester United's five.
"We look a good unit, whoever plays," said Walker. "Whether it's me, Danilo, or Fabi [Fabian Delph], who's just stepped in at left-back and played fantastically well and got an England call-up. It's fantastic and encouraging.
"Football is easy when you are winning games as we are, but we need to keep our feet on the floor and keep performing as we are doing and listening to the manager. Keep following instructions and working for each other. The work ethic in the team and desire to win, that's what we can't lose."
Watch the full interview with Kyle Walker on Soccer Saturday