Manchester City goalkeeper Ederson opens up on his journey to the number one spot
By Patrick Davison
Last Updated: 26/11/17 3:47pm
From Sao Paulo to Manchester via Benfica, Ederson opens up to Patrick Davison on his journey to becoming Man City's No 1 goalkeeper ahead of the Nissan Super Sunday clash with Huddersfield live on Sky Sports.
Before he'd even walked through the door at the Etihad, it seems Pep Guardiola had decided Joe Hart wouldn't be continuing as Manchester City's goalkeeper.
Deciding Claudio Bravo wasn't the right replacement for him didn't take too much longer.
With Man City leaking goals and opponents scoring with almost every shot on target, the search for a replacement began with a big chunk of last season still remaining.
Quickly, the focus turned to a young Brazilian goalkeeper who'd broken into the Benfica team less than a year earlier.
"Halfway through last season rumours started doing the rounds that Manchester City were interested in signing me," says Ederson, who played one of his first games for the Portuguese giants against Guardiola's Bayern Munich.
"Other clubs were interested as well, but I just wanted to keep doing what I was doing over there.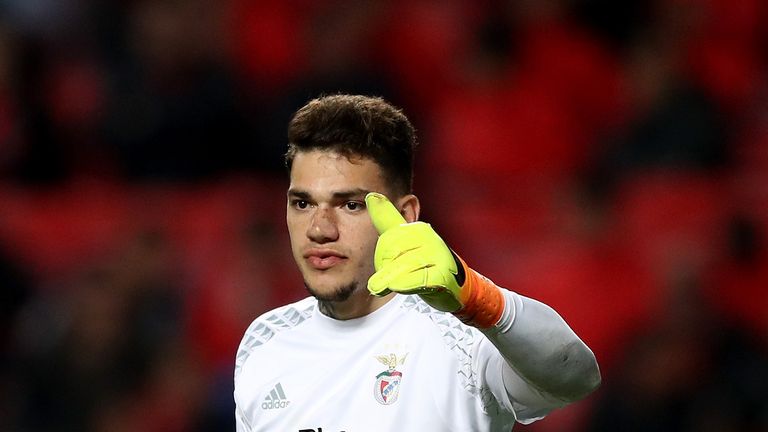 "When the season ended, my agent told me that Man City had shown the most serious interest. I was very pleased to find out that such a huge club wanted to sign me.
"On top of that, Pep Guardiola is a brilliant manager and the team is fantastic, so I felt very happy and honoured and now I'm here playing for this great club."
There was a good deal of scepticism when Man City decided to make a 23-year-old who hadn't played for his country one of the most expensive goalkeepers of all time, but already that has faded. Already he looks perfect.
Firstly, and most importantly, he's kept six clean sheets in the league, more than Bravo kept in the whole of last season.
"When we train with the rest of the squad, we do lots of drills with the ball at our feet and work on our passing, but first and foremost we have to work with our hands," he adds.
"Xabi [Mancisidor, Man City's goalkeeping coach] gives Claudio and me specific goalkeeping drills to do. Our main role is to make saves, the ball work comes after that."
Of course, though, there are other qualities which mark him out as a Guardiola goalkeeper.
Ederson is ready and able to sweep up behind a defence when playing a high line, comfortable in possession and armed with a pinpoint accurate long pass that looks a lot more like creating a goal than your average goalkeeper's clearance.
"First of all, it's down to my vision. Even before I'm on the ball, I'm always looking to see where I can pass the ball," he says, sounding more like a midfielder than a shot stopper.
"I've always been very good at playing long balls. That was an attribute that my old club Benfica used to exploit because you can't be offside from a goal-kick.
"So if our opponents were playing a high line, our strikers could have a high starting position to try to receive the ball and score."
The Brazilian looks so confident with his feet that more than one pundit has made the slightly tongue-in-cheek suggestion that he'd be good enough to play outfield. As, indeed, he used to.
"When I started playing football, I played in defence as a left-back, but given that I was too lazy to run after the opposition's attacking players I asked the coach to put me in goal and that's how my passion for the position was born.
"I instantly took a liking to it and then I just kept working hard until I finally made it to my first club."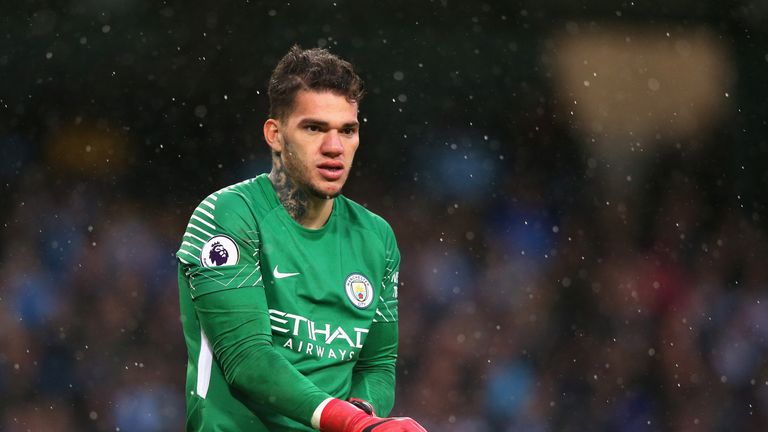 From that first club close to home in Sao Paulo, a teenage Ederson made the decision to pursue his dream in Portugal.
"I'd always had my Mum around to wish me good night and make me lunch and dinner," he says, reflecting on the close family in which he was raised.
"Leaving really helped me because I matured very young and I learned to fend for myself. It's also down to my parents, they brought me up very well. I saw how they battled to get me here."
The same character and fearless streak he showed to leave Brazil for Europe has already been on display at Man City.
Four days after Sadio Mane's high boot led to him being stretchered off and receiving eight stitches, he was back in goal against Feyenoord.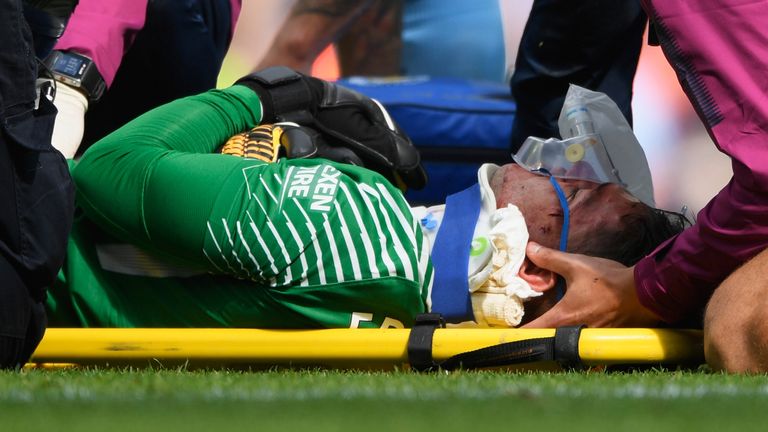 "Despite football being my job, it's also good fun and it's a way that children enjoy themselves. When a child falls over and gets injured, he gets back up and carries on playing. It's no different for me.
"On that occasion, I did get injured, but the next day I was back on my feet playing again and doing what I enjoy the most."
He often speaks like this - carefree and calm, but with a fierce determination to win.
"I came here with the aim of winning trophies. City haven't won the title in a while. I came here to be part of the club's project with this new team, that isn't just thinking about the present, but also about the future.
"This team can give so much to the city and the fans, and I hope to win many trophies here."
Right now those trophies look inevitable. In no small part, because Guardiola's search for a goalkeeper is over.