Yaya Toure will not leave Manchester City in January, says agent Dimitry Seluk
By Paul Gilmour, Sky Sports News Reporter
Last Updated: 26/12/17 6:29pm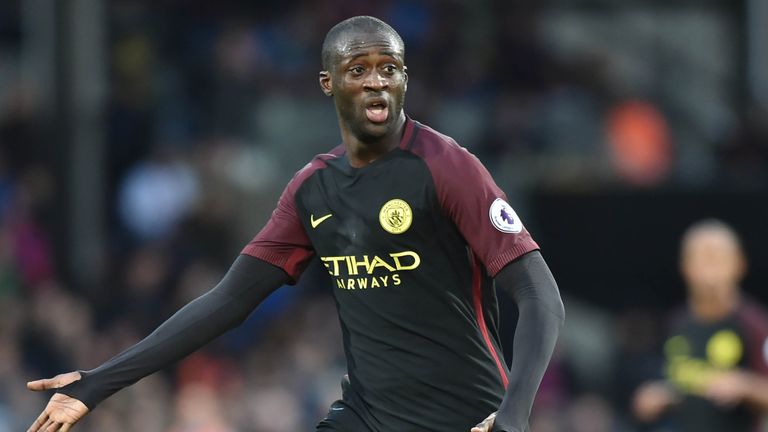 Yaya Toure will not leave Manchester City in January, according to his agent Dimitry Seluk.
The 34-year-old midfielder has six months left on his contract at the Etihad, but Seluk has told Sky Sports News that Toure is determined to become a three-time Premier League champion.
He also added that Toure is enjoying his role of helping City's young players progress.
"Everything is good at Man City. He will 100 per cent stay at City in January," Seluk told Sky Sports News.
"He wants to be a three-time champion of the Premier League, but he is also enjoying using his experience to help the young players at the club.
"During the Leicester Carabao Cup game, he had more appearances for City than all of the other starting players."
Toure has also come out of international retirement and believes he can help the Ivory Coast's young players.
It is unknown at this stage if he will be available for the January Africa Cup of Nations qualifiers against Namibia, Zambia and Uganda, while Ivory Coast also face Rwanda in March.
Ivory Coast have had a difficult year after failing to qualify for the 2018 World Cup and suffering a first-round exit from the 2017 Africa Cup of Nations.
Toure's last game was the final of the 2015 Africa Cup of Nations where the Ivory Coast triumphed over Ghana on penalties following a 0-0 draw.
When asked about Toure's international involvement, Seluk said: "We must see [if he can play in January for Ivory Coast].
"Maybe from March he will play. There have been many changes [in the squad]".