Pep Guardiola says Man City could slip up and hand Man Utd Premier League title
By Husmukh Kerai
Last Updated: 14/04/18 8:00pm
Manchester City manager Pep Guardiola says his side could still slip up and allow Manchester United to win the Premier League title.
City need five points from their remaining six Premier League matches to secure the title ahead of Saturday evening's game against Tottenham, live on Sky Sports Premier League.
They travel to Wembley on the back of three straight defeats, having lost 5-1 to Liverpool over two legs in the quarter-finals of the Champions League and 3-2 to Jose Mourinho's United last weekend.
Guardiola is not ruling out further slip ups from his side and used examples from Spanish football and the NBA to prove his point.
"It can happen," Guardiola said. "Football is emotional. We can only try to focus and win at Tottenham and then Swansea.
"The fact is that since November or December we were already champions. When I heard pundits and fans in November they said it's all done, it's impossible for City to drop points. In one week we lost three games, that happened.
"We are able to win the two games [we need to confirm the title] and we will do that. We handled the pressure between the good and bad moments for the entire season, not just in this period.
"Dealing with the end of season pressure is good for our future. We have to handle that. If we are not able to in the end and United win the league then all we can says is 'congratulations'.
"Of course it can happen, I assure you. Real Madrid, many years ago, lose six games in a row and didn't win the league. Of course it can happen, no doubts about that. The players know that, I don't need to tell them.
"Never before in the NBA had one team in the final recovered from 3-1 down. One year ago Cavaliers won 4-3 against Golden State Warriors, winning three games in a row.
"It's in hour hands, that is the good advantage. If we lose it will be in the same way we tried to play against United and Liverpool. Congratulations to the opponents if they beat us."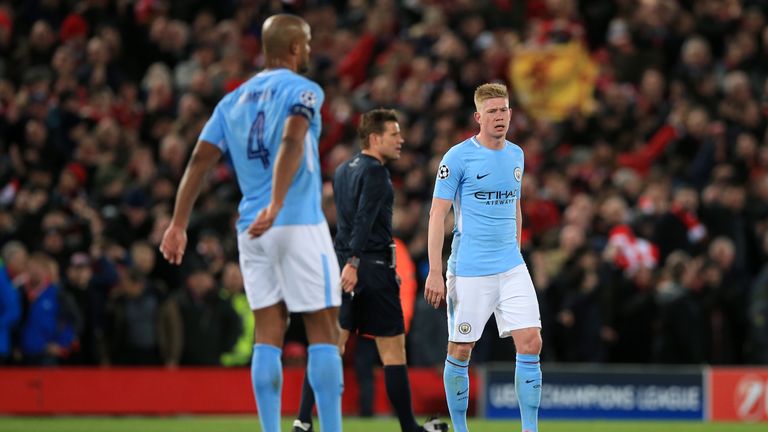 There have been suggestions that City's run of losses could be down to Guardiola's demanding style of play, but he rejected those claims saying the issues with his side are mental rather than physical.
He added: "No, I don't think so. Of course it is tough but it is tough for everybody in the Premier League. It's not unusual for a team to win a lot of a games and when they lose people ask 'what happened? We did not expect Manchester City to lose'.
"The way we run is not a problem. You have to understand that when [Mohamed] Salah scores his goal it is not a physical reaction [it's mental]. That is normal, they are human beings.
"But if we score the second goal or we score two or three goals you would see how they run and how aggressive they are. The condition for itself I think doesn't exist. The way we play we believe in.
"The problem is we shot three shots on target against Liverpool at home, that is the problem."