After winning the Premier League title with a record points total, Manchester City boss Pep Guardiola joined Gary Neville and David Jones for a Monday Night Football special this week.
Guardiola discussed an array of topics, from signings, difficult decisions last summer, having a Plan B, whether he had any doubts, how City can get even better, what other Premier League teams he has enjoyed watching, and who he thinks will win the World Cup.
Here's everything he had to say...
Why the Premier League is difficult…
"At Barcelona and Bayern Munich people expect you to win, but at Manchester City you never know. We don't have history behind us like other important teams and there are five or six really tough teams at the top.
"When you look at the distance of the gap we won with and think about doing that again, it will be impossible. You think about 25 points to Liverpool, and all the other clubs, it's unreal. And the weather conditions, the amount of games, it's quite different to Germany and Spain.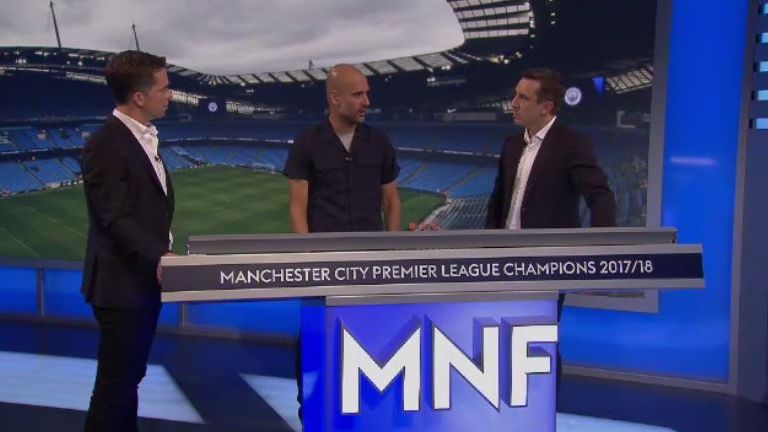 "It's one of the most satisfying titles. But I am from Barcelona and that is my club so winning the first league there was also so special - "we did it". Now I have that feeling as well. I don't know what is going to happen in the future but we will always remember together that we did it here in England."
On reaching 100 points…
"Once you achieve the main target of winning the Premier League and you play for nothing you are going to drop points. That [100-point goal] helped us maintain our consistency and focus and try to get it. In that moment, the game at Southampton was so tight and we didn't expect we were going to score, but this season everything went well in the Premier League. If you repeat the same ideas, the same players, the same people, it would not be possible to do it again.
"100 points is a lot. I always believe records in all sports will be broken sooner or later, but of course it will not be easy. It's a lot of points, especially here in England, that's why we are so proud."
On doubts…
"Always at the start you have doubts about whether you can win or not.
"Football depends on the moment, the quality of the players, but when we reflect with our people and say what do we need to do to change, we believe so much with our way we want to play.
"Last season when we had the Leicester defeat or other defeats when we were not good, people said 'do you believe you can do it?' and I said 'I don't know', but I am not going to change, because I believe in what we do'. All the managers around the world believe in what they do.
Winning one title, a lot of teams have done that, it's not exceptional. To be a big team in England or in history you have to win more.
"For example, when Claudio Ranieri won the league with Leicester it was a completely different way to play. They won because he believed and the team believed completely what they did. All the teams that won the Premier League and other titles did it because the manager and players were fully convinced that is the best way to win. Football is not just one way to win titles.
"The manager has an idea and tries to convince the players to do it. Now people say 'this season is so fantastic compared to last season' but what we have done this season we started last season.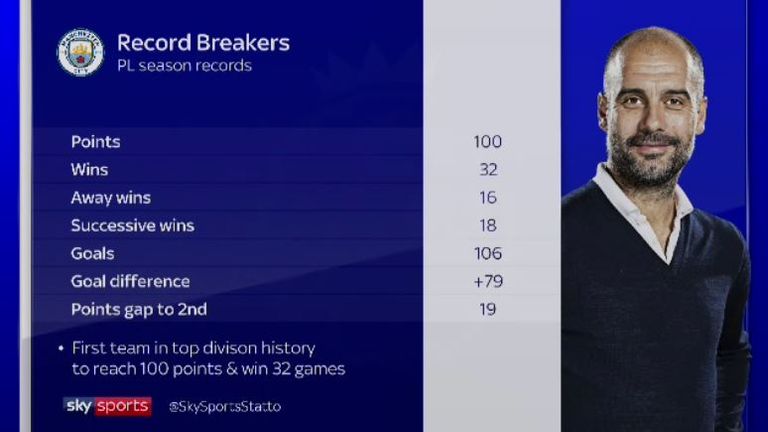 "A lot of things this year are because we started them last season. Why didn't we win last year? We were not good enough. Chelsea were much better, Tottenham were much better, and other teams were much better than us, and you have to accept that. Defeat is part of the competition.
"Sometimes it happens perfectly on the field, sometimes you need more time. With this league, the players I had, because I needed more time to convince the players, it takes longer. But it's not a problem."
Considering a Plan B last season…
"You can think about a Plan B or you can try to improve Plan A. Plan B might be more long balls or three at the back or two strikers, and you can use it.
"[Sergio] Aguero and Gabriel [Jesus] are two magnificent strikers and sometimes I use two strikers, but I believe more in fight and trying to improve the main idea. Plan B is little details.
"Defend deeper or you have the ball and we counter…that is not going to happen with us, no way."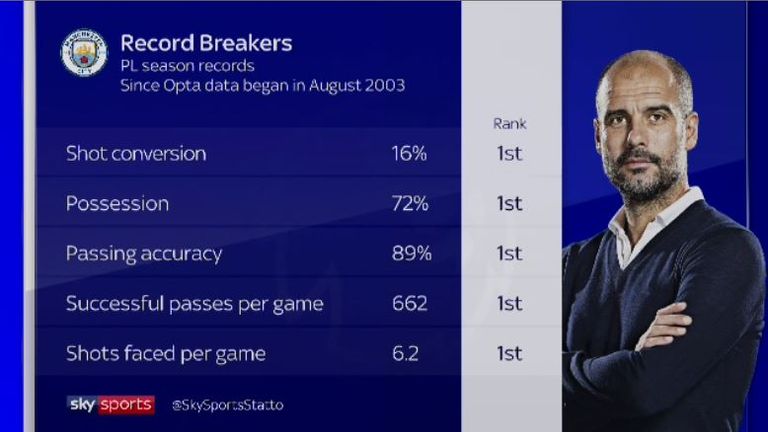 On last season…
"We started quite well in terms of results. But then we went to White Hart Lane and people were saying 'City are going to win' and we faced Tottenham, a Mauricio Pochettino team, and how good they were, and I said 'wow, we are going to suffer'. We were leading but thought 'this is going to be tough'.
"People didn't think about Tottenham winning the league and I experienced for the first time at White Hart Lane the physicality, an amazing team in the way they played, high pressing, good build-up, and I said to my friends it will be a tough season here. After that we started to drop points."
On bringing down the average age last summer…
"There is a big difference between 30 and 23. You have young players, more energy, but also with Pablo [Zabaleta], Gael [Clichy], Bacary Sagna and [Aleksandar] Kolarov, they were out of contract, and we decided to put energy in the team, freshness. They did really well last season and I do not have complaints. But we decided when they were out of contract they needed to change team to give something new to our team.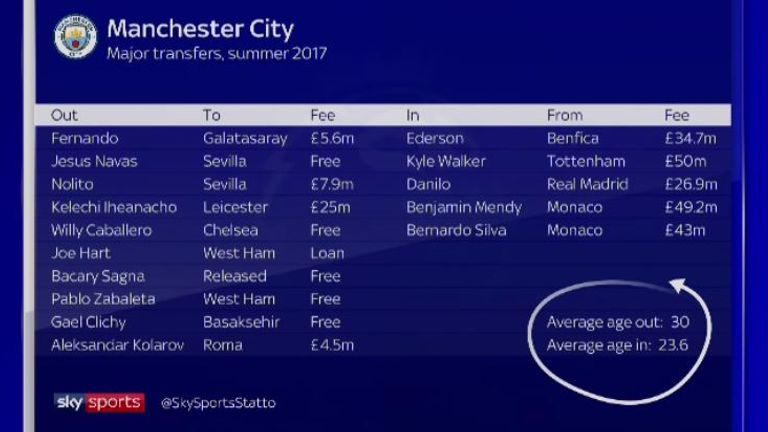 "It was an old team with a lot of years together and we made a few changes in the first year and had to do it in the second season for the next seasons. A 23-year-old is not just for one season, he's going to be three, four or five years, that's why we needed to do that."
On selling club legends…
"It's always difficult because they are human beings and had been together years and had a good relationship, but we had to do it.
"People ask me about the toughest decision and it's Joe Hart. Because I know how professional he is and how important he is for the club and what he has done. I am at the club like I am because of people like Joe. It's the same with Pablo, Bacary and the others, but you have to do it, because we believe it is the best and you have to take the decisions, that's our job."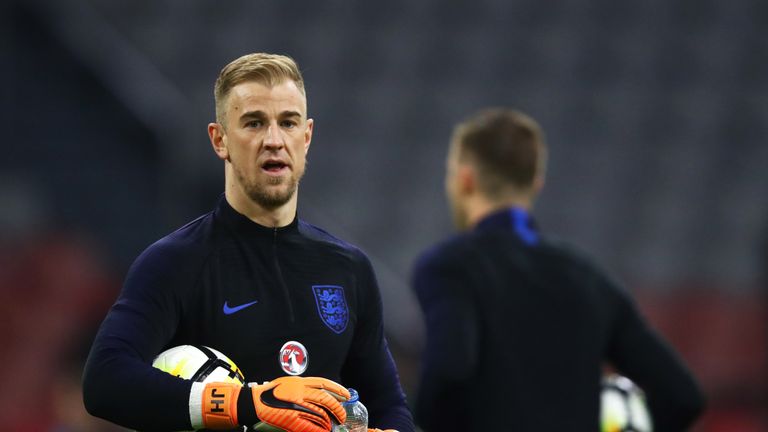 People ask me about the toughest decision and it's Joe Hart. Because I know how professional he is and how important he is for the club and what he has done. I am at the club like I am because of people like Joe.
On how transfers work at City…
"I speak with my staff, I speak with Txiki [Begiristain, director of football], of course Ferran [Soriano, City chief executive] for the financial issue, but we speak and after that we speak again and after one month we speak again and try to put on the table the good things, the bad things, the age, the character, the personality, adapting to the way we play, many things. And then after we say try it, that might be the best solution, but you don't know if it is going to happen or going to go well.
"Ederson, for example, was perfect, but then at the end you are saying 'go and try the Premier League and try to play' and you don't know if it's going to happen."
On signing full-backs…
"We had no doubts about the quality of Mendy and Kyle [Walker]. These guys are facing the best wingers in the world so you have to be good defenders and good at attacking. We knew with Benja, we saw from him in the Champions League with Monaco. We knew that. That's why we tried to make a huge investment to take these players when today the market is so tough.
On Kyle Walker…
"Very [happy with him]. I didn't know him but in the locker room he settled perfect. You always have the feeling he can improve and next season do better.
"The fundamental success of this season is the quality of the players. People say you won because you invest a lot, they are right. We invested a lot of money and will invest less in the future, because instead of doing it in two or three transfer windows, we did it in one. We needed it for the age."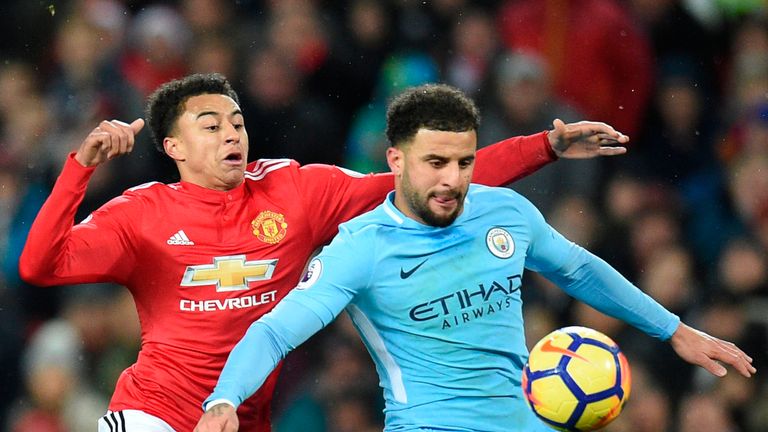 On Fabian Delph at full-back…
"Last season we had him and I never asked him to play in that position, I didn't realise. Then we lose Mendy for six months and say Fabian you have to play there. It's OK. A holding midfielder with the ball, his concentration is always good and he can play there. When people say 'Pep how good he is', why didn't I realise it last season?
"Maybe I had Gael and Kola in that positions and they did quite well, but this season we had Mendy unfortunately injured for six months. And [Oleksandr] Zinchenko is a No 10 playing at full-back and playing good. But you ask him to go up and down and he cannot do it, you ask Fabi to go up and down like Mendy or Kyle Walker and he cannot do that. So he gets there, passes the ball, control that guy, that's enough and he did it really well."
I try to convince them to run like the most humble team in the world, that is our secret, and they know. If they don't do it they don't play, they go alongside me on the bench.
David Silva and Kevin De Bruyne compared to Andres Iniesta and Xavi…
"They are incredible players. For me it's like choosing between Phillip Lahm and Dani Alves, it's impossible. Both are excellent. They did amazing, especially with David's personal situation, he impressed me the most with the way he reacted in that position when he came back. They are close.
"In that position you play Xavi, he controls, he knows the tempo in a way you cannot imagine. Kevin is more movement, attack here, right, left, runs in behind, always he is looking behind the back four. They have different qualities as players. David Silva is quite similar to Andres Iniesta."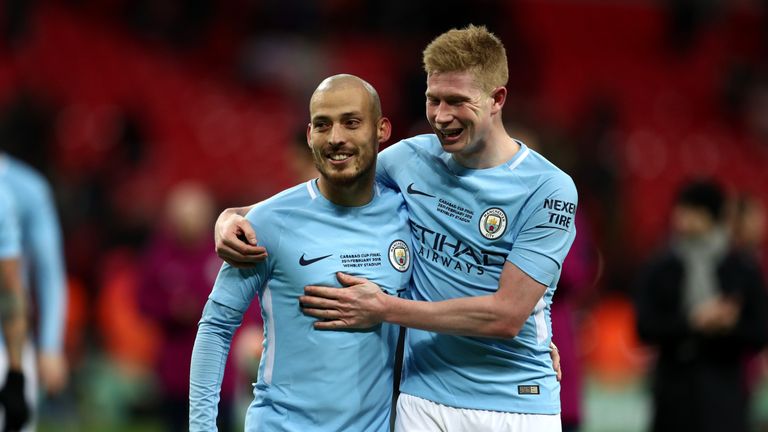 Importance of winning the ball back…
"I try to convince them to run like the most humble team in the world, that is our secret, and they know.
"If they don't do it they don't play, they go alongside me on the bench. I can forgive absolutely everything, mistakes, but if they don't run they are not with us. They have to fight.
"I don't like to see players saying 'I'm good, the other 10 play for me', I don't like that. You run because after that they are going to run for you. Our physicality in terms of sprints are always high, that is one of our secrets, more than tactics, our spirit, consistency, competition; try to run, that's good."
Importance of 1-0 win at Chelsea in September…
"It was our first game away against one of the big teams and the performance helped us to believe. You need proof sometimes. We speak about what we want to do but you need the players to feel 'we go to Stamford Bridge, one of the toughest grounds, the champions, 15 points ahead of us last season' and we put in that performance and win. That's it, OK we can do it, we can do it wherever. It gave us belief."
On summer plans…
"Yaya [Toure] is leaving so we have to replace him, and maybe another one.
"One or two more, no more. We cannot invest…maybe people don't believe me but we don't have the money to invest £300m every season.
Where else to add beside midfield…
"Maybe in front, but I don't know. We have to think and talk more with Txiki and the staff. It's four competitions, we need new faces to compete with the guys from this season.
On defending the Premier League title…
"For no team to do it for a long time shows how difficult it is. The target is there but the other teams and contenders are trying too. The target is to win. It happened with Barcelona and Bayern Munich.
"I am curious how we are going to run without the bull. That is our main target. That would be a good signal if we are still a humble team with desire and show how we run back. Normally after winning you say 'now I don't run'; this is the moment you are not going to win. We will try to focus on that next season.
"If we don't win back to back we will congratulate the champion like we did last season against Chelsea and improve.
"I am happy this season with what we have done, but will not change too much. Last season I was happy as well working with this club and this organisation and these people. I learn in football that you can win and lose. Of course if you lose you are more sad, but it's not a big disaster. You have to accept it and then it's what you have to do to improve and compete with them in the best conditions."
"Winning one title, a lot of teams have done that, it's not exceptional. To be a big team in England or in history you have to win more. I know the players a little bit and I think they have the desire to try it again. When we saw the last games, still winning and trying to play, even against Huddersfield or Southampton, we don't play good, it was slow, boring, it was hot, but they tried and that is what I want to see from my team next season and then the competition will speak for itself."
On the competition…
"Opponents will create more problems because they know what we have done, that's my experience from Barcelona and Bayern Munich. We changed some things, depending on the quality of players, because opponents know you better. A lot of teams play with five at the back this season and it's more difficult to attack them, five at the back and their striker goes with their holding midfielder, there are no spaces.
"Maybe it will happen a lot, what do we have to do to solve that situation? That is why football is nice."
On John Stones playing at the World Cup…
"I think he is really prepared. In the first part of the season he was a key player for us with Nicolas Otamendi, they were outstanding. After he got injured and had a few more problems to come back, but Huddersfield and Southampton both performances were good.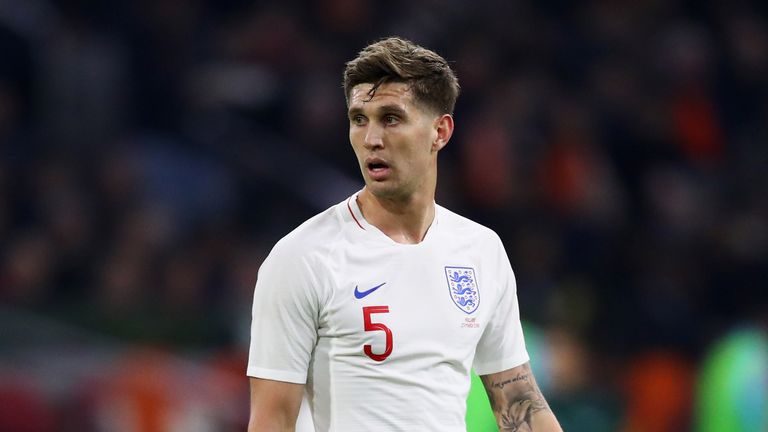 On World Cup contenders…
"They are always the same teams. Spain it was always illusion but after they passed the quarter-finals and they got a generation with Xavi, Iniesta, [Sergio] Ramos, [Gerard] Pique, [Sergio] Busquets, [Iker] Casillas, these guys…I think Spain is one of the contenders with Germany, Brazil, if [Lionel] Messi arrives good then Argentina.
"Hopefully England for the players I have and for the country who receive me and my family. I am curious about this competition.
On enjoying other Premier League teams…
"Since the beginning I enjoy playing Tottenham. I like a lot how they play. Liverpool is magnificent. I suffer against Jurgen Klopp in Germany. The transition to attack inside is so quick. They learnt a lot from last season.
"Last season Chelsea were outstanding. We learned about playing five at the back, the movement. I think a lot of teams copy Antonio Conte teams.
"Of course Jose [Mourinho] is always a huge competitor. His teams, how they convince them to be their teams, I admire the big quality teams and the qualities they have.
"I like Crystal Palace with [Wilfried] Zaha and other players. I enjoy watching football and different teams and the players they have."