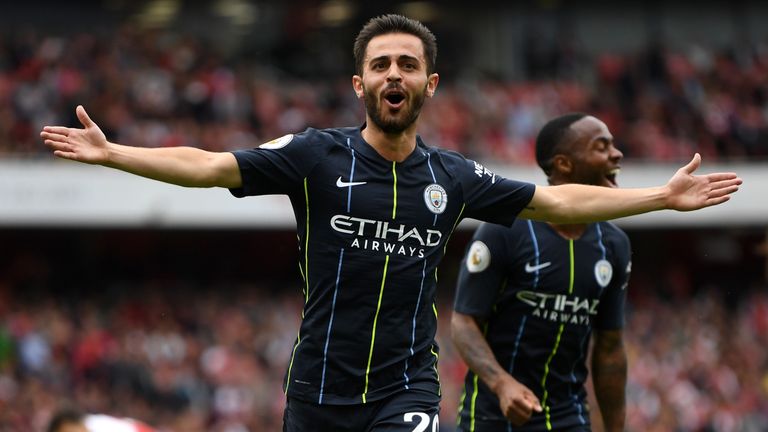 Manchester City's Premier League title rivals should be "worried" after the champions' opening weekend victory over Arsenal, according to Dennis Wise.
Raheem Sterling and Bernardo Silva scored as City cruised to victory despite Kevin De Bruyne starting on the bench and David Silva being absent.
"I was very impressed with them," Wise told Sky Sports News. "I think they looked very comfortable against Arsenal at times."
"Overall, looking at it, I think everyone needs to be slightly worried. Not everyone was playing as well. They had a few players out."
"You look at the personnel on the day, the players they put out, I thought they were outstanding."
Having played scintillating football on their way to a record-breaking 100 point campaign last season, City are favourites to retain the title.
City's only major acquisition during the summer - Riyad Mahrez - made his full debut. While having missed most of last season with a knee injury, Benjamin Mendy returned to add an extra attacking dimension from left-back.
Despite the ease with which City claimed their first Premier League title under Pep Guardiola last season, Wise is confident complacency won't be an issue under the former Barcelona and Bayern Munich boss.
"I think this manager won't allow that at all," Wise said.
"These players are so focused on what they've got to do. They want to do something that's extraordinary."
Having faced criticism as he failed to score for England at the World Cup, it took Sterling just 14 minutes to resume the prolific form he showed for his club last season.
The 23-year-old cut in from the left before unleashing a powerful strike past Petr Cech to score the 50th Premier League goal of his career, 18 of which came last season.
"In the World Cup he played a different position," Wise said. "He played just off the front man. I think he's in his preferred position where he plays wide."
"He's the type of guy that causes defenders so many problems with his pace and trickery."
"I can just see him carrying on and doing what he did last year."
Also victorious on the opening weekend were Manchester United, Tottenham, Chelsea and Liverpool, who beat West Ham 4-0 to go top of the league.
City face Huddersfield live on Sky Sports in their first home game of the season at the Etihad Stadium on Sunday.