Premier League: Manchester City boss Manuel Pellegrini plays down Alan Pardew spat
Manuel Pellegrini has played down his furious touchline spat with Alan Pardew during Manchester City's win at Newcastle.
Last Updated: 13/01/14 11:18am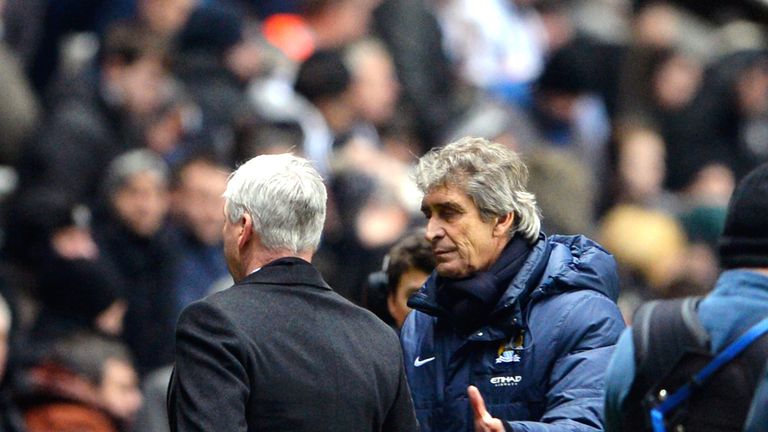 The Chilean found himself on the wrong end of an expletive-laden rant from Pardew during the first half of a controversial Premier League encounter at St James' Park on Sunday.
However, Pellegrini was not unduly concerned by the verbal volley, but more with his opposite number's running battle with the match officials as City claimed a 2-0 win.
He said: "I'm not surprised because I think it's impossible to complain about every decision of the referee during the match.
"I know they were playing at home and they have an advantage in that sense, but it's impossible for the referee if you are complaining at every decision.
"That was my only problem with Alan, but nothing important."
Pardew was contrite after discovering that his comments had been clearly audible, and apologised to the City boss.
The 52-year-old said: "I hear that it's been picked up a little bit, and I apologise for my comments 100 per cent.
"It was a heat of the moment thing. We just had words that we always have as managers, to a degree. I have apologised to him and fortunately for myself, he has accepted that."
Goals from in-form strike-partners Edin Dzeko and Alvaro Negredo provided the book-ends to an enthralling contest - but it was a disallowed effort that never was which provided the biggest talking point.
City were leading through Dzeko's eighth-minute opener when Cheick Tiote hammered an unstoppable shot past Joe Hart and set off on a celebratory run towards the home dugout.
However, unbeknown to him, referee Mike Jones was consulting his assistant Stephen Child, and the pair ruled that Yoan Gouffran had been standing in an offside position and interfering as the ball had gone in. Jones ruled out the goal.
A bemused Pardew, who sought out fourth official Martin Atkinson for an explanation, said: "I did ask the fourth official, because he saw the whole picture and he could tell there was no interference.
"He said, 'we don't really get involved in that kind of decision', whereas I thought in the past they may have, but maybe I'm wrong on that.
"What can I say? The referee thought it was deflected, actually. He said to me, 'it got a deflection', which it didn't, so he obviously he didn't see it how I saw it at all."
Negredo wrapped up the win five minutes into stoppage time after City midfielder Samir Nasri had been carried off with a potentially serious knee injury after tangling with Mapou Yanga-Mbiwa to complete a solid afternoon's work by the visitors.
"The kick he made to Nasri was absolutely a red card directly," Pellegrini told Sky Sports.
"We did not have any help from the referee today. He didn't give a goal because it was absolutely offside, that is the only clear thing about which Newcastle can complain - but it was offside."
"Nasri has I think a serious injury to his knee, we will see tomorrow. I repeat it was a direct red card.
"It's his medial ligament. We will see tomorrow what has happened with him."
Pellegrini added: "Normally everyone is talking about our scoring team, our attacking team, but I always repeat the same: we try to play as a creative team, but it's very important to know how to defend and today, we did it very well."