Pablo Zabaleta expects changes at Manchester City this summer after admitting that finishing second is not good enough.
City were expected to challenge Chelsea for the Premier League title but instead find themselves in a battle to finish as runners-up behind the newly-crowned champions.
While Zabaleta says it would be important to finish second rather than third, he acknowledges they still should be doing better.


"This is a Manchester City side that want to win trophies, every season," he told Sky Sports.
"The expectations and ambitions are really big and that's why now we are a little disappointed about the season because we are out of the cups and Chelsea have won the title with four or five games to go.
"We know that is not enough (to finish second) because when you look at the players we have in the team we expect to win something, but we want to win all three games and then in the summer see if there are any changes in the club and be ready for changes because always in big clubs players come in and go.
"I always expect change. Big clubs are very ambitious and want to sign big players. City are one of those clubs that wants to win trophies next season and that is why you can expect some change."
City host QPR on Super Sunday before finishing their season with a trip to Swansea and a home match against Southampton.
It is almost three years since City scored twice in stoppage time against QPR to win the Premier League title in dramatic fashion and Zabaleta, who netted the opener in the 3-2 victory, has fond memories of the clash.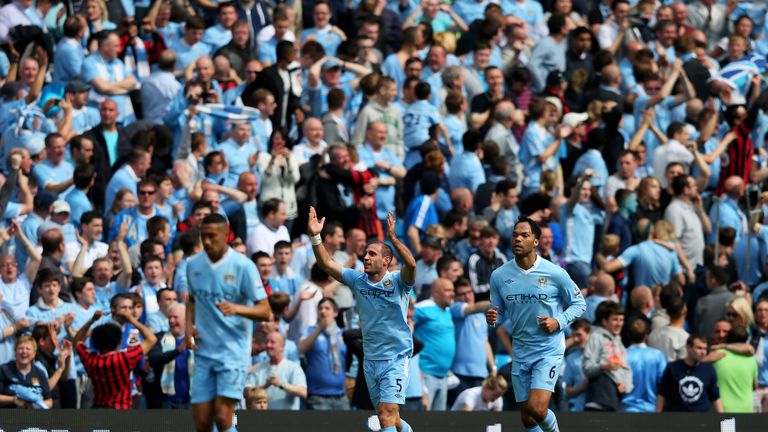 "I don't score too many but that one was in a special game, in a game that we were playing for the title," he said.
"I know people will forgot about my goal, everyone will remember Sergio's (Aguero) in the last minute but every time we play QPR it is a great memory from that game. Now it is a different story, another game, but we need to play with the same spirit.
"When you cannot win the league it is important for the club to finish as high as you can... and come back next season even stronger."
Asked about how Aguero compares to his Argentina team-mate Lionel Messi, Zabaleta said: "Messi is just out of this world, he is the best player in the world and that's why he is so good and in all important games he always make a difference with great goals.
"Aguero is one of the best strikers in the world without doubt, they are both great but I would say Messi is from a different planet."
Watch Pablo Zabaleta's full-length exclusive interview with Sky Sports on Super Sunday from 12.30pm, before watching Man City v QPR live at 1.30pm on Sky Sports 1 HD.