Steve Agnew says Jonathan Woodgate will be a 'fantastic appointment' for Middlesbrough
By Elgan Alderman
Last Updated: 31/03/17 5:17pm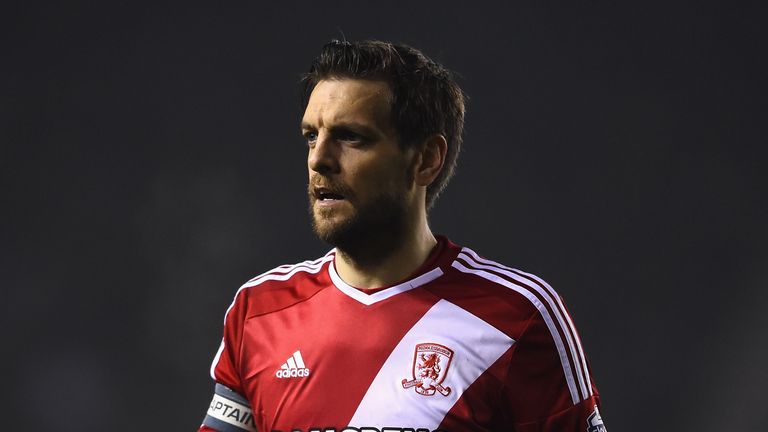 Middlesbrough head coach Steve Agnew is certain Jonathan Woodgate will prove to be a "fantastic appointment" to his backroom staff.
Woodgate this week became the third appointment to Agnew's coaching team in the past fortnight with Joe Jordan and Paul Jenkins having been named assistant head coach and first-team coach respectively.
The former England defender had two stints with his hometown club as a player before ending his career at the Riverside last summer.
Speaking ahead of Boro's visit to fellow relegation contenders Swansea, live on Sky Sports 1 this Sunday from 12.30pm, Agnew said: "I've known Jonathan a number of years and he's a proper football guy.
"I couldn't believe how excited he was in terms of the coaching work - he can't get enough of it. I'm sure he'll prove to be a fantastic appointment."
"We've got a nice balance so I've been pleased. From what I've seen we have a real togetherness and feel for each other."
Though Woodgate is embarking on his first role in coaching, Jordan brings with him a wealth of experience Boro hope will prove useful as they aim to climb out of the relegation zone.
After a long career as a striker for clubs such as Leeds, Manchester United and AC Milan, Jordan has acquired almost 30 years of coaching experience with the likes of Celtic, Northern Ireland, Portsmouth, Spurs and QPR.
Jenkins, meanwhile, has made his way up the ranks of the Boro backroom staff, and was most recently in charge of the club's Under-21s side.
Sunday will be Agnew's second match in charge after the 3-1 defeat to Manchester United before the international break. Despite that result and the looming threat of relegation, Agnew is focused solely on the game at hand.
He said: "We're not looking any further than Sunday. I'm confident and positive."
Grab a Sky Sports Month Pass for half price, and let us knock your sporting socks off with a blockbuster month of sport on NOW TV. All for just £16.99.