Slaven Bilic says West Ham's win over Huddersfield just a stepping stone
By Pat McLoughlin
Last Updated: 14/09/17 5:28pm
Slaven Bilic is hoping West Ham's first Premier League win of the season over Huddersfield can inspire the club's climb up the table.
Bilic had been feeling the heat after the Hammers lost their first three top-flight matches but second-half goals from Pedro Obiang - via a huge deflection - and Andre Ayew secured a 2-0 win over the Terriers at London Stadium on Monday Night Football.
"It [was] important for us to win the [Huddersfield] game," Bilic said ahead of Saturday's trip to West Brom. "We have to continue like that.
"As I told the players this morning, because yesterday we were off, and we had a small meeting, we have to build on this.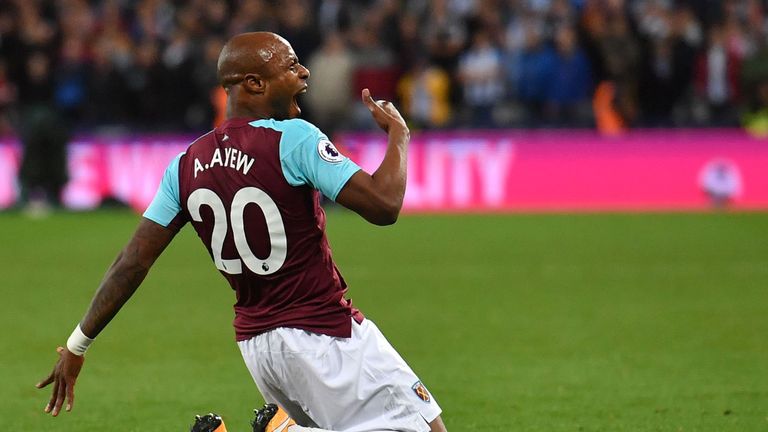 "Ok, we beat Huddersfield.
"Not on Monday night - we beat Huddersfield on Saturday and Sunday when we trained in our stadium and [in] our stadium there was properly fiery training sessions and [now] we have to produce it, more or less, every day.
"We have to do it tomorrow and then, and only then, we will be in a situation to get something out of Saturday, or any other game."
West Ham defender Winston Reid had pointed to a greater intensity to the team's approach in the vital victory but Bilic added: "It's not like before there hasn't been a hunger.
"We're not the only club that are giving their best when their backs are to the wall.
"The art is, that is, the difference between great players and good players because [the greats] do it every day or every week. Every day they want to move the boundaries, individually, and then they produce it for the team as well."
Ahead of the potentially tricky trip to The Hawthorns, the Croat has asked his team to stay in that winning mentality and pull together professionally.
"Definitely, it's my job to keep them in that zone," Bilic admitted. "It is a massive part of every manager's job but it's also down to them to be like that because we can't control what they do outside the training camp.
"I'm talking now in general. They are mature people. They are well paid, they love football and they are in a privileged position that most of the normal people would swap [for]. They should respect themselves by respecting the job."
Andy Carroll's return gave Bilic's side a timely boost, the former England striker making his first appearance of the season on Monday after five months out with a hip injury.
The manager rejected the suggestion made by former West Ham boss Alan Pardew that injury-prone Carroll could even be excused from some training sessions.
"That is impossible," Bilic said. "It's about making a balance. There are some players, and Andy is one, that you have to find special treatment for.
"But that doesn't mean that he can't train the whole week. Most likely then he will get injured.
"On the other hand you can't treat him as you're treating a 20-year-old. You need to find a balance."
Bilic also moved again to clarify his relationship with David Sullivan after saying last week the club's owner "likes to talk".
Sullivan had claimed Bilic turned down the chance to sign Renato Sanches from Bayern and Paris St-Germain's Grzegorz Krychowiak in the summer.
"I only explained the situation that he put me into," Bilic said. "We had a good conversation after Monday. We won the game and it was very important for us and he was also happy with our performance. You should call him and ask him how did he feel."