David Moyes angry after Declan Rice error in West Ham defeat to Arsenal
By Stephen Mills
Last Updated: 22/04/18 4:40pm
David Moyes could not defend the error from Declan Rice which he felt cost West Ham a point at Arsenal on Sunday.
The score was 1-1 in the 82nd minute after Marko Arnautovic had cancelled out Nacho Monreal's opener when the 19-year-old defender looked perfectly positioned to head clear an Aaron Ramsey cross inside the six-yard box.
Instead, Rice ducked out of the way of the ball, allowing it to drift past the wrong-footed Joe Hart and into the goal.
A late brace from Alexandre Lacazette compounded West Ham's misery as Arsenal won 4-1, but Moyes insists they would have held onto a point if Rice had done the right thing.
The West Ham boss told Sky Sports: "The young centre-half should head the ball away and it wouldn't have even got to 2-1, it was that easy. Why he would duck in the box I've got no idea.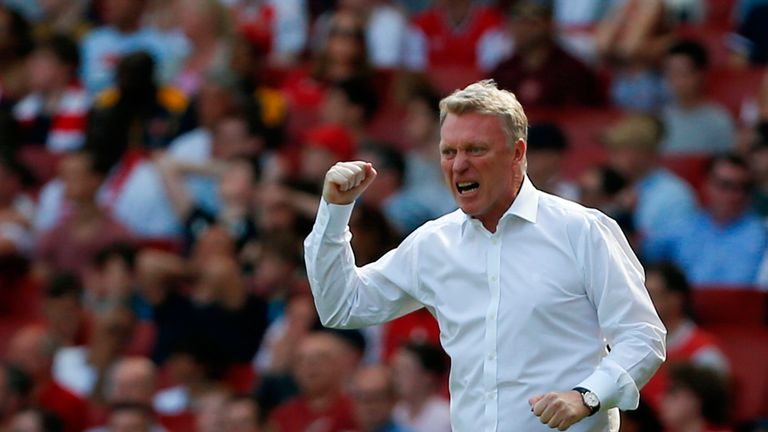 "But look, we've all been young players going into games and we're always going to make mistakes. The most important thing is you learn from your mistakes, you don't do it again and you understand how important it is.
"Even if Joe Hart did shout, any centre-half - and I was one of them - can never let the ball go. The ball is in the middle of your goal and you are probably only six yards from your goal.
"You can never let the ball go. You deal with it and you argue about it afterwards.
"The rules for any centre-half have always been 'I'm going to head it clear first and talk to you after'.
"We are distraught for the team because I thought the team's efforts were incredible. We've had good results and I think today we were going a long way to getting a good result."
The defeat leaves West Ham six points clear of the drop zone as Stoke could only draw 1-1 with Burnley on Sunday.
But Moyes says his players must keep scrapping for points in their remaining games against Manchester City, Leicester, Manchester United and Everton.
He added: "I think we are capable of winning games between now and the end of the season, so I'm hoping I am able to do my own work and not rely on anyone else.
"If I was in Stoke's position I'd be thinking it might be difficult to get to the points tally we're at at the moment, but because it's possible and they can still do it, we have to make sure we pick up our points and win the games."