David Moyes has urged his West Ham side to show consistency after they beat Leicester 2-0 and put themselves within reach of Premier League safety.
It was a solid performance from the Hammers after two successive 4-1 losses to Arsenal and Manchester City, and has taken them onto 38 points with two games to play.
Moyes was pleased with his side following the game, but wants them to produce the same levels each week to pick up more points in the future.
"Winning always feels good and we've needed to win a couple of games so the boys did a really good job today getting that result," he told Sky Sports.
"We've just played Chelsea, Arsenal and Man City in a row which is never easy and we conceded some goals so to get a clean sheet and three points today is really good.
"I think these players are capable of winning games like this and winning other games. What they've got to do is do it across a consistent basis.
"I don't think we have a bad team, but what we have to do is defend better if we're going to give ourselves a chance and we did that today. I thought on another day we would have been more clinical and scored more goals."
West Ham have pulled themselves further clear of the relegation places following the win at the King Power Stadium, and while the job is not yet completed, Moyes is starting to look up the table.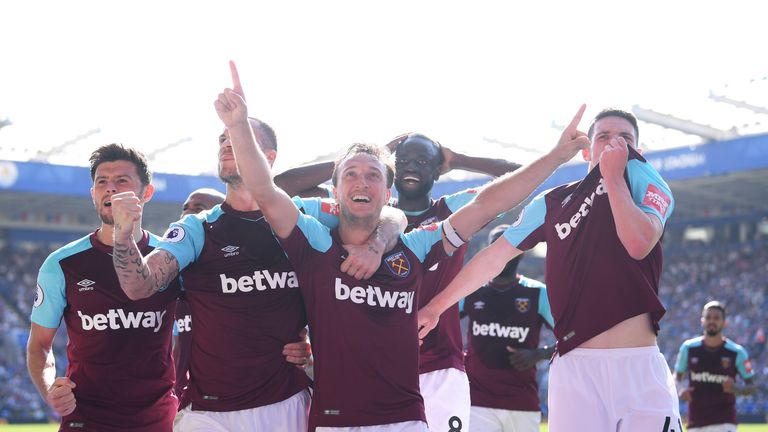 "It's not done completely yet but you'd have to say it would take a lot for the other teams to get us," he added.
"I'm actually now thinking how many points can we get and where can we finish in the league table. I'm thinking can we get closer to the middle part of the table... We'll try and win more points in the home games to come.
"You take a little bit of a risk when you come to any club that is in the bottom three and the only person who gets the blame for it is the manager. If you don't stay up, the manager seems to get in trouble. I don't think that's right but at the moment, it looks like we're in a good place and hopefully pick up more points."