Premier League: Lee Cattermole admits he was close to leaving Sunderland
Lee Cattermole admits that he was almost driven out of Sunderland by former boss Paolo Di Canio.
Last Updated: 28/10/13 11:18am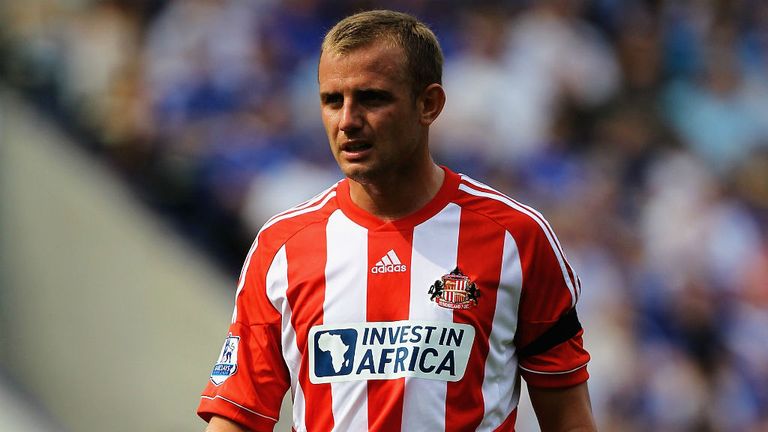 Cattermole was stripped of the captaincy by Di Canio and told he was not part of his plans.
But the former Middlesbrough man stood firm and he was actually recalled for what proved to be Di Canio's final game in charge at West Brom and he now looks set to be involved under new boss Gus Poyet.
"I was very close to leaving a couple of times. For whatever reason, it didn't happen. The way it was going, I would have left happily. I wasn't part of the manager's plans and that can happen in football," Cattermole said.
"Yes, it was torturous, but I've always been quite confident and I've got a lot of experience of managers who have backed me.
"I didn't lose confidence over anything he did or the fact he didn't fancy me. I worked hard with the hope of getting a chance.
"Things happened in the summer and there were a lot of things I was disappointed with from the club in terms of the way I was treated.
"I understand that is football but there are ways of doing things. All you ever want is a bit of respect and [caretaker manager] Kevin Ball gave me that straight away.
"I am more mature now, 100 per cent. The summer was a massive learning curve for me. It is the first time I have not been wanted by a manager.
"I turned round and I was quite happy with how I dealt with it. I spoke to a lot of senior players who have been in the same situation. I listened and took advice. I kept my mouth shut. I kept my head down. The only thing I could affect was what happened if I got my chance. I kept training each day. A lot of the time I was running on my own.
"Yes, it's been frustrating. I've been out of the picture but I've come back in and I'm enjoying my football again. I think I'm playing well, but as a team we're not playing great."
Cattermole is now set to feature in Sunday's Wear-Tyne derby with Newcastle, which he knows is a huge game.
"We have chatted about the importance of the derby," he said.
"The manager has made it clear to everyone how important it is - as if people didn't already know. Come Sunday, when they arrive, they will certainly know.
"The last six months have been very hard to put it into words, you can't really do that. I'm happy now and I'm playing again.
"I've worked hard and I've come back from a serious knee injury. I always felt if I got a chance to come back in I'd have a good season. I'll do everything I can to help Sunderland get out of the position they are in."