Gary Neville says it would take something "incredible" for Sunderland to beat the drop after their defeat to West Ham.
Gus Poyet's side lost 2-1 at the Stadium of Light on Monday night and remain four points adrift of safety, albeit with a game in hand over West Brom in 17th, but face four of the current top six in their next four fixtures.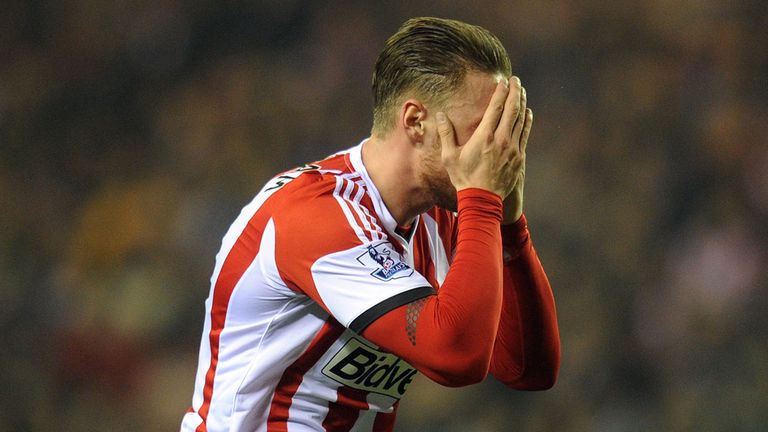 Sunderland are basically going to have to surprise us at a level that I've not seen.
Wigan Athletic made an amazing survival bid in 2011/12 when they won seven of their last nine games – including wins over Liverpool, Manchester United and Arsenal – to climb out of the relegation zone in the final weeks of the season.
And Sky Sports pundit Neville says it would take something equally remarkable if Sunderland are to get out of trouble.
"On paper there's no chance. You wouldn't say there is if you're being harsh about it," he said on Monday Night Football.
"Everton at home you wouldn't say they'll get anything and the three other games at home (against Cardiff, West Brom and Swansea) are huge for all the other teams.
"They are basically going to have to surprise us at a level that I've not seen. Wigan, a few years ago when they went and beat Arsenal and United, were incredible. They went on a run at the end of the season and you thought 'where's that come from?' It was absolutely incredible to watch.
"Sunderland are going to have to do that. Are they capable looking at them tonight? No, but we've seen stranger things happen."
Trouble
Sunderland went behind to Andy Carroll's early header and Mohamed Diame scored a second for West Ham before Adam Johnson gave the hosts some hope.
But Neville felt their poor defending was indicative of their problems this season.
"It was a bad night for them," he added.
Live Monday Night Football


"I said before the game that what got them out of trouble last season wouldn't be enough this season. Now they have got themselves in so much trouble.
"When you play against Andy Carroll and Kevin Nolan, second balls are absolutely critical. It must be probably the primary thing that Gus Poyet – or any coach that plays against West Ham with those two – must be thinking about before a game.
"They must be alive. When that ball is in the air towards Carroll or Nolan, make sure you're the first to react and you're against your man.
"More often than not your first centre-half, who is going up for the ball, will not win it. He's not going to get a clear header that will knock it 30 yards away, so you've got to be alive on those second balls. Those are basic things tonight that have cost Sunderland.
"If you look at all the fixtures to go you'd have to say they've got a real massive task to get through those and get the points they require."