Derby players were furious after Craig Pawson overturned what looked like a clear penalty against Leeds, having consulted his linesman.
Rams right-back Jayden Bogle was at the centre of the incident, having gone down under the challenge of Leeds winger Jack Harrison, though the decision hinged upon whether the full-back had, in fact, himself committed a foul as the pair came together.
Pawson, who sent off two Tottenham players in their 1-0 defeat to Bournemouth last weekend, initially pointed to the spot, though retracted his initial decision after consulting linesman Eddie Smart.
Speaking after full-time at Pride Park, EFL pundit Keith Andrews said: "Initially, it's good play from Derby, they are just starting to get a grip in there and this is one of the first times we've seen Bogle get into advanced areas. Harrison tracks him really, really well, but is it? It's so difficult to tell, it really is.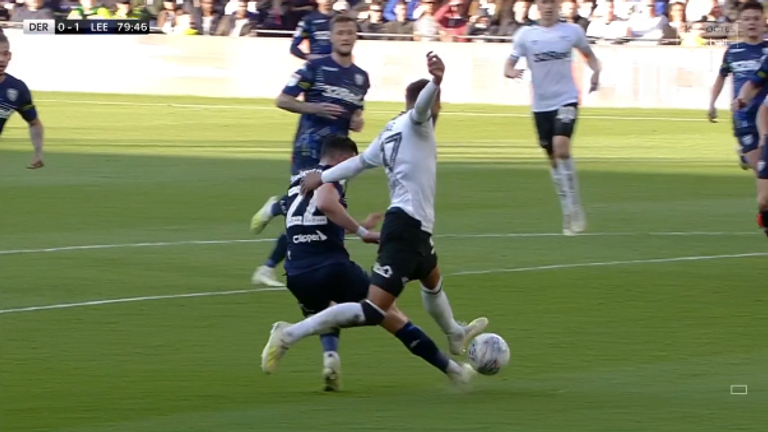 "I'd give the referee credit because he's gone and consulted his assistant, I like that. I think it takes a good bit of confidence to do that in that type of hostile environment. I think the linesman has a better view of it - he's looking right across and he can see which way the legs are going.
"The referee's angle isn't as good, so you have to sway towards the referee's assistant. It was the right conclusion, just."
Former Derby frontman Darren Bent, however, said he remained unsure, despite being shown multiple replays. He said: "Looking at this slow angle, I'm not even sure he kicks him, it looks like there's no contact there.
"At first, I thought it was a penalty...but I've slowed it down, though about it both ways and I'm still not sure which way it goes because I'm not sure it's a penalty in the first place, but I definitely don't think there's enough to overturn it."