Matheus Pereira was the star of West Brom's promotion back to the Premier League. The Brazilian winger not only scored eight goals but provided 16 assists – the most of any player in the Championship. He was the only man to create over 100 chances for his team-mates.
Supporters at The Hawthorns quickly fell for his talents and now that an £8.25m permanent move has been confirmed, they are relishing the prospect of him lighting up the Premier League too. He is a bargain buy, a special player, the man who elevates Slaven Bilic's side.
Pereira's talents are so conspicuous that it is difficult to view his rise as anything but inevitable. And yet, he struggled to make the breakthrough at Sporting Lisbon and was loaned out to Chaves instead. He was warming Nurnberg's bench in the autumn of 2018.
Nate Weiss, one of his coaches at Nurnberg, still recalls the uncertainty of those early months of Pereira's career in Germany and the dramatic transformation that followed.
"We laugh about it now but there was a very difficult period at first," Weiss tells Sky Sports. "I told him that he had the ability to go to the top but when he was on the bench that did not seem possible. When you have his talent, though, it can just turn ever so quickly.
"He always had huge confidence but the reality is that football is not an exact science. Will the opportunity come? Will he find a team where he fits in? Will he find a coach who 100 per cent believes in him? These are the things that you cannot know for sure in football."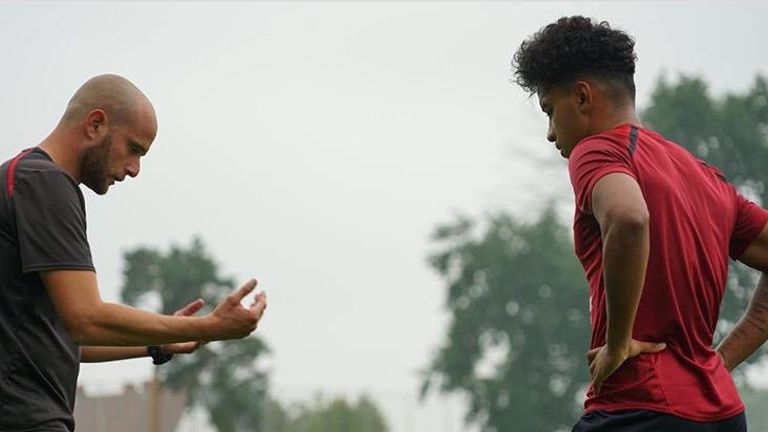 The irony is that one of the key coaches who showed that belief in him was Weiss himself. He was not Nurnberg's head coach. Instead, he was the team's individual coach, a role of growing importance, working one-on-one with players to maximise their potential.
Weiss, who grew up in the United States before pursuing a career in Europe, speaks fluent English, Spanish, German and, crucially, Portuguese. A bond with Pereira was soon forged.
"I was basically with Matheus 24/7 to make sure that he understood everything that was happening and felt comfortable. We spend a ridiculous amount of time together. He was like a son to me because he knew I was not an authority figure. My job was to help him."
Speaking to Pereira, he is quick to acknowledge Weiss' role in providing that help and, indeed, the significance of that season in the Bundesliga in his own development.
"Nate was a very important person for me," Pereira tells Sky Sports. "He was key to my improvement. I trained with him every day. I often trained with him on my days off too.
"That experience in Germany was a great one for me on a personal level because I had to adapt to the challenge of a new culture and a new club. I knew that I had to be mentally prepared to take advantage of the opportunity when the opportunity came."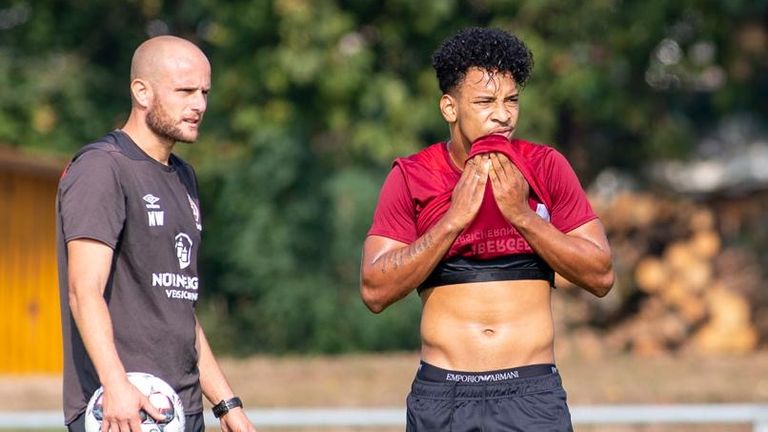 Pereira's work ethic is not the first quality that springs to mind when watching his outrageous skills on the pitch, but in training that appetite was obvious. Weiss confirms the tale about coming in on his days off. But even before that, he had made an impression.
"Matheus changed my whole philosophy when it comes to individual training," he says. "I have travelled all around the world, working with all types of players, but here I am working with a player who has a technical ability that I have never even seen before.
"How am I going to tell a player like that how he is supposed to shoot, how he is supposed to pass or how he is supposed to use his body? The things he is doing are so natural. How do you train that? How would you train Lionel Messi? But I wanted to find a way to help him."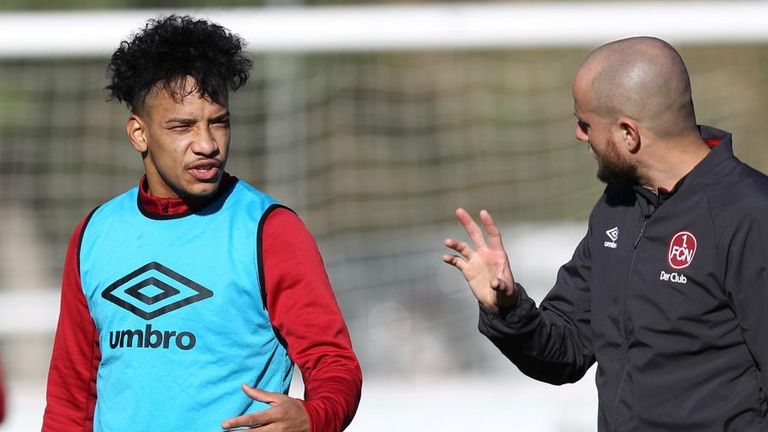 The answers came from hours on the training ground. Time spent helping Pereira to focus on how best to use those skills to maximise his effectiveness when he did get his chance.
"With such technical ability, there had to be something missing for him not to have been more successful already. So it was basically just a case of breaking down his game.
"We looked at how he arrives into the box and the areas that would put him in the best position possible that would then allow him to shoot. Specifically, we looked at how he cuts inside from the left side, something that he is still doing for West Brom.
"I told him that, just like in basketball, he had to go to that same spot and just shoot and shoot. Do it a thousand times because you are will find yourself in that position in a game.
"Matheus just became obsessed with it. Every single day he would want to train it. The work that he put in was incredible. He worked on it constantly, cutting inside from the right and shooting into the corner with the inside of his left foot. He just wanted to do it all the time."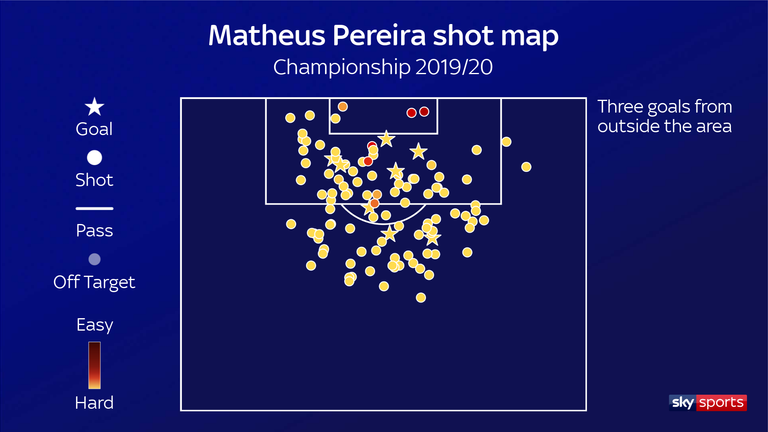 The hard work paid off in April of last year when he opened the scoring for Nurnberg against Bayern Munich. There was a repeat of that goal for West Brom against Cardiff in October, while his free-kicks against QPR and Bristol City are also testament to his work in training.
"It is repetition with quality," adds Weiss. "People talk about 10,000 hours making a master but it is 10,000 hours of quality work. If you are doing something you are not going to use then it is not really going to help. But he is a winner. He wants to train and wants to work."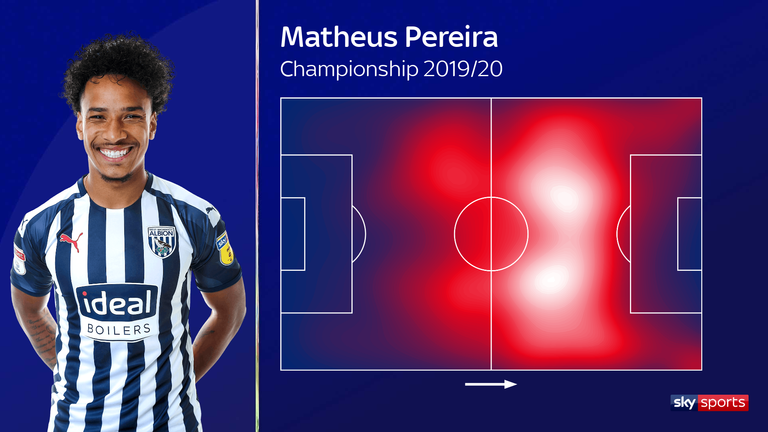 It is an image of Pereira that tallies with Bilic's description of the 24-year-old as someone who is "very hungry, likes to learn and wants to improve" but not everyone has embraced that spirit. There was a high-profile fall-out with Jose Peseiro, his coach at Sporting.
Even at Nurnberg, ambition was not always channelled effectively. Pereira's red card against Fortuna Dusseldorf came as a result of a petulant flick out at an opponent's nether regions.
For Weiss, it is simply a case of accepting the man he describes as a genius.
"You have to accept him for who he is. He is going to do something once in a while that is not orthodox. I remember in his first game he tried to do a rainbow over one of the opponents and it did not work. Everybody was wondering what he was doing.
"But when you recognise genius you have to take the good with the bad because he is able to do things that no other player can do. Once you accept him like that as a human being then you can gain that trust and what he can do is just unbelievable."
Something clicked in the latter stages of that Bundesliga season even with Nurnberg heading for relegation. There was a goal against Augsburg in his first game back after suspension and another next time out against Stuttgart before finishing in style with that Bayern strike.
"He started feeling the trust of the team and feeling the trust of the club. He was one of the best players in the Bundesliga for those last few months. He was a huge part of the reason why we were playing better football at the end. He was the link player on the counter-attack and you knew the ball was going to get to the right place at the right time."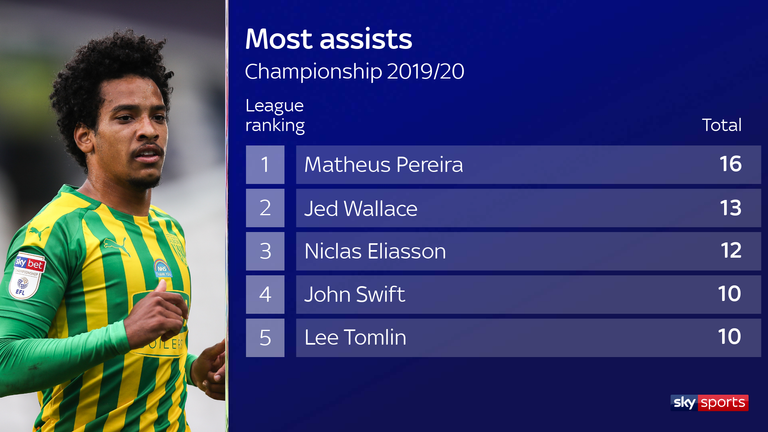 West Brom saw something and he carried that form with him to England. Weiss continues to follow his career, speaking to him every other week. He is in regular contact with Pereira's father and even advised him on his training exercises during the lockdown.
"I watch almost all of his games and I see a progression in his level," says Weiss. "He is now defending. I see him tracking back and making tackles and that was one of his weaknesses.
"He has got a team around him where they have players with pace who are making those deep runs into the box so he can play those through-balls. That is one of the strengths that he has - that Brazilian touch. Not many players in the world have that ability to play a through-ball of the perfect weight so that the player does not even have to break his stride."
There were a hat-trick of assists against Swansea and another trio against Hull after the restart. The longest season of his career was just the next step on the journey.
"It is a very difficult league," says Pereira. "Not least because many teams play a more direct game, often looking for the draw. In addition, you are often playing two games a week."
But he has come through that. Now the Premier League awaits.
"I think this is just the start for him," adds Weiss. He is going to become even better."
Speaking to Pereira during the briefest of summer breaks, he had yet to worry himself with the details of the challenge that lies ahead.
"Right now, I am not thinking about the Premier League. I am just enjoying the holidays. Once I start training again, then I will start thinking about that." What is certain is that Premier League defenders will soon need to start thinking about Matheus Pereira.