Referees' chief Mike Riley apologises to West Brom over Chelsea penalty
Premier League referees' chief Mike Riley has apologised to West Brom for the controversial penalty awarded at Chelsea.
Last Updated: 20/11/13 5:18pm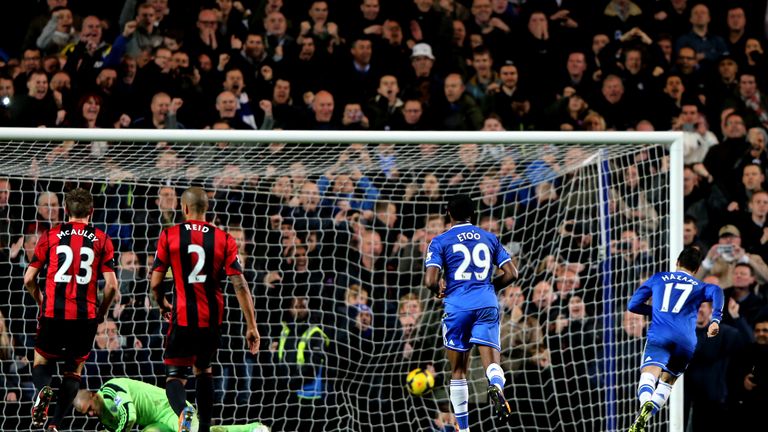 Riley telephoned Clarke to say sorry for Andre Marriner's decision to award a penalty for a collision between Steven Reid and Chelsea midfielder Ramires in stoppage time at Stamford Bridge.
Eden Hazard converted the penalty that extended Jose Mourinho's run of home Premier League matches without defeat to 66.
Clarke told the club website: "We've had a phone call from Mike Riley to apologise. It doesn't get us any more points but it's nice of Mike to phone.
"If he's apologising, he obviously feels it was the wrong decision. We have to put it behind us now and move forward."
West Brom have also revealed that they have written to Riley and the Premier League complaining of four penalty decisions that have gone against them this season.
West Brom's grievances concern refereeing decisions in games against Southampton, Arsenal, Stoke City as well as the game at Stamford Bridge.
They believe they would have been seven points better off had those decisions not gone against them.
"The purpose of the letter is to try and provoke discussion," added Clarke.
"It's not necessarily a discussion between us and the authorities, but a discussion between everyone and the authorities to see if there is a way we can improve the game.
"That's my understanding of the basis of the letter - it's no more than that.
"If there is technology that can be used to help referees make difficult decisions, which is what they have to do, then let's look at it and see what we can come up with.
"If we can improve it, good, if we can't improve it then we'll stick with what we've got. But let's talk about it."
West Brom are currently 10th ahead of the west midlands derby clash with Aston Villa on Monday 25 November, a game you can watch live on Sky Sports HD1 from 19.00.