Inside Wolves' academy: Morgan Gibbs-White is a symbol of success
Last Updated: 11/04/18 6:35pm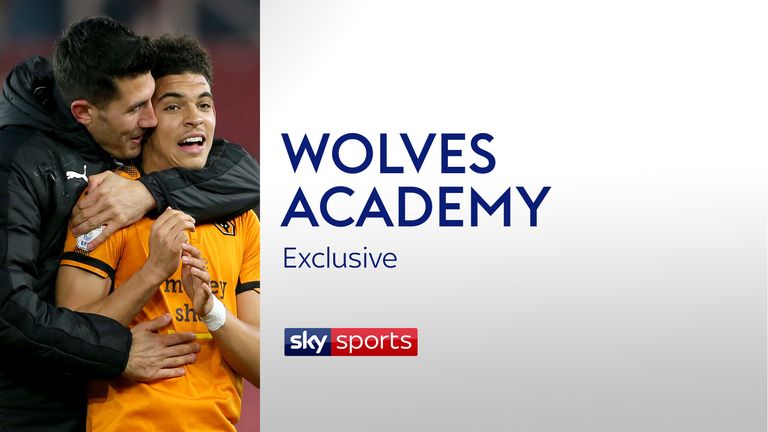 Wolves' success story this season has been a tale of Portuguese players and Chinese cash but in Morgan Gibbs-White, the club has also become the first to give an opportunity to one of England's Under-17 World Cup winners. Adam Bate went to visit the club's training ground to speak to academy manager Gareth Prosser to find out why that is so significant.
Amid all the excitement at Molineux as promotion to the Premier League looms, there is a story less told. Beneath the brilliance of the team's Portuguese quartet of star names, beneath even the transformation of Conor Coady and the delivery of Barry Douglas, there are the club's thriving academy prospects who have been integrated into this success.
Of the England starting line-up that won the Under-17 World Cup in India last year, eight of those players are still waiting to make their professional league debut. Callum Hudson-Odoi has featured twice for Chelsea, Phil Foden three times for Manchester City. But midfielder Morgan Gibbs-White is the anomaly, having already made 16 appearances for Wolves.
Born just up the A449 from Wolverhampton in Stafford, Gibbs-White scored in the final against Spain and has since made a big impression with his bright cameo appearances off the bench for Wolves. He has been involved in every single squad in 2018 and is increasingly earning the trust of manager Nuno Espirito Santo. The fans are now chanting his name too.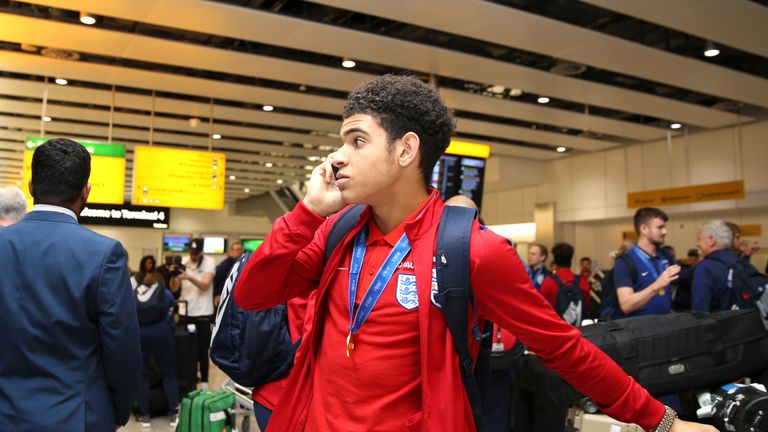 For academy manager Gareth Prosser, the pride is palpable. Prosser was in India alongside Gibbs-White's father, the club having flown him out to see his son's moment of glory, but it is at Molineux that the achievement really hits home. "When you hear the fans chanting that he is one of their own, the hairs stand up on the back of your neck," he tells Sky Sports.
"Morgan has been with us since he was eight so as a club we are extremely proud of his success. It was great for me to go to India but we could have had a plane full of staff who had all played their part on the journey to support Morgan. It is really rewarding for us as an academy and brilliant to have that community link. We don't want to lose that identity."
Prosser has seen the club endure plenty of challenges in his decade with Wolves. When he first arrived he was one of nine academy staff based at a nearby leisure centre where they shared the community astroturf. Now the club have their own site to call home at Compton Park, just yards from the Sir Jack Hayward Training Ground. It has not been straightforward.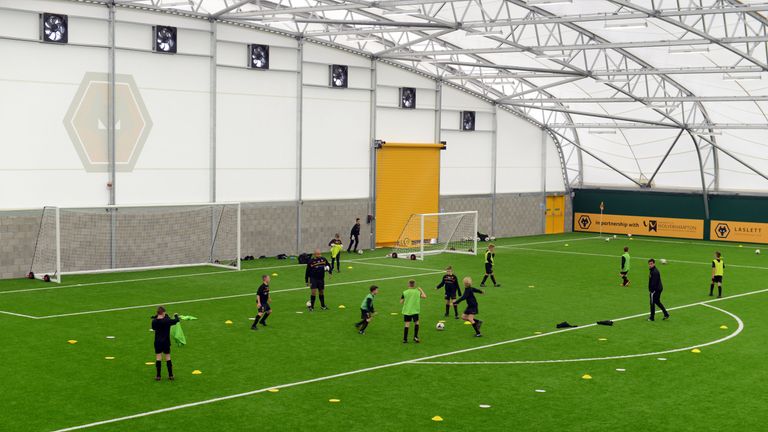 "When you are relegated from the Premier League to League One and there's an indoor arena being built at the academy you are sat there hoping they will stick with it," he admits. "It was a lot of money. It would have been easy to say we were not building those facilities and were going to reinvest elsewhere. But I think a club loses something if you do that.
"If Fosun (the new owners who bought the club in July 2016) had come in and made this huge investment into the first team but no academy player had got near it, there would be a different feel to the club. But even though there has been this significant investment there has still been the opportunity for academy players to impress Nuno and his staff."
In fact, Fosun have redoubled the efforts to get the best from the academy. Prosser reveals that there is a bold target set by the Wolves board that academy graduates should make up, on average, 35 per cent of every squad throughout the course of the season. That might be a youngster like Gibbs-White or a seasoned professional like club captain Danny Batth.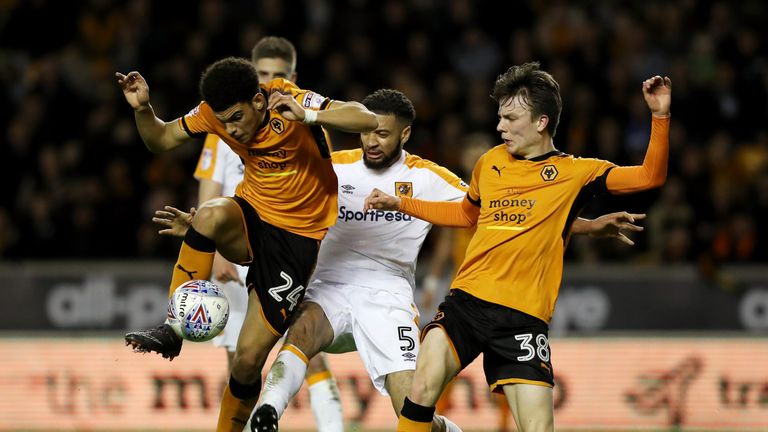 Others have gone under the national radar. Bright Enobakhare, scorer of a vital late goal against Barnsley in September, joined at 15 and has played in 19 Championship games this season. Oscar Buur scored the equaliser against Hull on his league debut earlier this month. Reserve goalkeeper Harry Burgoyne was recently called up to England's Under-21 squad.
There is excitement about Ryan Giles, Austin Samuels and many others just underneath this group, but the challenge of bringing them through will not get any easier in the Premier League. What will help is the commitment from above. Unusually, chairman Jeff Shi is based at the training ground and the benefits of all being together at one site are obvious.
Everywhere there are images of Batth and fellow graduates such as goalkeeper Carl Ikeme. Gibbs-White will soon join them. The academy changing rooms have a message - 'Are you next?' - written on the walls, with further pictures of those who have broken through. "The great thing about Wolves is that it is not an academy and a first team," explains Prosser.
"Jeff Shi wants to know the players and he can push for their opportunity. It is a joined-up approach with the managing director Laurie Dalrymple and sporting director Kevin Thelwell heavily involved in the process as well. We are a team who are very aligned and that has been one of the keys to the success. We have had a lot of support from senior figures.
"We have been fortunate too that even amid the managerial changes, the processes have stayed in place that continue to give young players a chance. Every morning there is interaction between first-team staff and development staff. Who deserves to train up today? You can't buy that.
"With Morgan, Nuno had not necessarily had the chance to see him at first because he was injured, but he had heard all about him. So for him to come back and be given the right to train with them, earn their confidence and now play, is a message to the other academy players. Now they are saying, 'Come on, I can do what he has done'. That's important."
Prosser is confident that the talent is there. Wolves retained their Category One academy status even when dropping down into the third tier and that has helped to protect their best assets. He is proud of the after-care for released players, the additional coaching minutes that the indoor arena helps to ensure in winter and the significant emphasis on education.
But one wonders whether the breadth of experience among the coaching staff is particularly helpful. There are the ex-pros. Former Newcastle midfielder Scott Sellars is the under-23 coach and Darren Ryan takes the under-18s. Former Liverpool assistant manager Sean O'Driscoll is there too. As is Darius Vassell and former club captain Sam Ricketts.
But there are others such as Marc Campbell and Jon Hunter who have not necessarily played the game to that level but have the right personality to bring fresh ideas. "Some bring the theoretical knowledge and the research," explains Prosser. "We have deep thinkers, those who challenge, and those former professionals who know the game.
"Darius and Sam are relatively inexperienced in their coaching journey but they understand what it felt like to play at the top level and if they weren't here we could think we are doing it right but be missing things. That is what they bring. They make sure we don't lose sight of that. It all complements each other. If we had one type we would not evolve."
The onus will be on Wolves' academy to do that in the Premier League. Promotion will bring some benefits. Conversations with those parents more interested in the status of the club than the pathway to the first team will become a little easier. There is also the possibility of more tournament invites due to the club's heightened profile. But there are challenges too.
"The plan now is to evolve again to ensure we can produce players capable of hitting our first team because the level has gone up," adds Prosser. "The bar has risen and the challenge has got harder. Our aspiration is to improve the programme so we can bridge the gap." With young players of the ability of Morgan Gibbs-White, they might just do it.
Don't miss the Sky Bet Championship clash between Wolves and Derby on Wednesday night, live on Sky Sports Football and Main Event from 7.30pm
Comment below to get involved in the debate, but please adhere to our House Rules. If you wish to report any comment, simply click on the down arrow next to the offending comment and click 'Report'.