Wolves star striker Benik Afobe reveals secrets to his success
By Nick Lustig
Last Updated: 17/04/15 1:36pm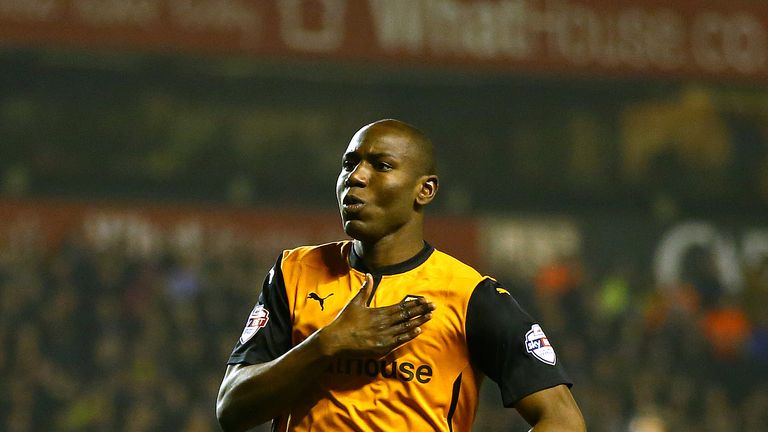 Benik Afobe insists that he will not let knocking in-form Tottenham forward Harry Kane off his goal-scoring perch distract him from firing Wolverhampton Wanderers into the Sky Bet Championship play-offs.
The 22-year-old forward has been in blistering form and rattled in his 30th strike of a superb season in last weekend's disappointing 2-1 defeat at midlands rivals Birmingham City.
Afobe, who earlier in the season netted 19 times while on loan at League One MK Dons, has made light work of adapting to the Championship following his £2m January move from Arsenal, providing Kenny Jackett's side with extra firepower as they chase a top-six finish.
The goal at St Andrew's took Afobe above Kane and to the top of the English goal-scoring charts, a sensational feat given the Spurs forward's outstanding form. In fact, only Barcelona's Lionel Messi, Real Madrid's Cristiano Ronaldo and Red Bull Salzburg's Jonathan Soriano have scored more goals than the Wolves hitman in the major European leagues.
Despite this, Afobe revealed the only satisfaction he will take from such a phenomenal season will be if his goals secure Wolves a place in the end-of-season play-offs and a shot at promotion to the Premier League.
"If I did not score any more goals and we got promoted, I would snap your hand off for that. But, as a striker, I am there to score goals and help the team. The main aim is to get into the play-offs and get promotion. I am just going to try my best to ensure that happens," Afobe told Sky Sports.
"I have never got into double figures before in one season, so it is an unbelievable achievement for myself and I have no one else to thank but my team-mates and the managers that I have been playing under.
"It is obviously something you dream of before the season starts. To be top goal-scorer in England is a great accomplishment and I am proud of that. But there are still matches to be played, so hopefully I can get a few more goals from now until the end of the season.
"Any defenders that I come up against at the moment, I just feel I can score and rip them apart. That's the great thing about having confidence, I am not really worried about who I am playing against.
"We do video analysis before the game and the manager tells me the players I will be coming up against. But I do not really care to be honest as I just know, whatever goalkeeper or defender that is put in front of me, they will be unable to stop me."
Turnaround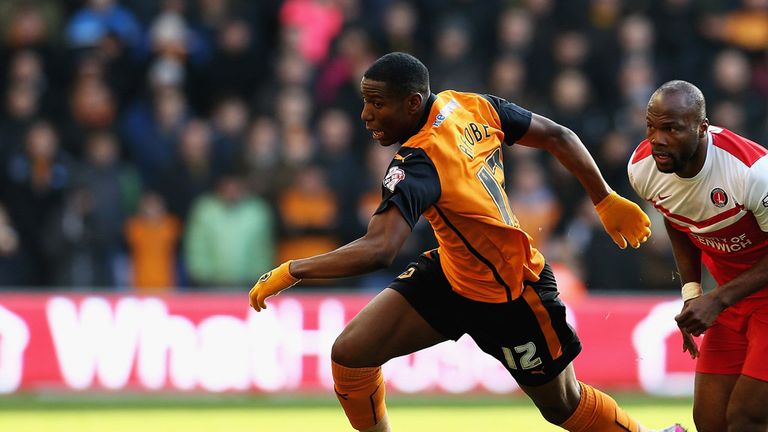 It has been a remarkable turnaround for Afobe, whose career had hit the buffers following unsuccessful loan spells with Reading, Bolton Wanderers, Millwall and Sheffield Wednesday.
In a bid to reignite his fortunes, Afobe spurned the chance to go on holiday last summer in favour of extra training. The England U21 international also enlisted the help of a psychologist on his arrival at MK Dons in August, following a recommendation from boss Karl Robinson.
Despite initial reservations, Afobe says the decision has proved to be one of the best of his career to date and insists he will continue to tap in to the help of a psychologist for the rest of his playing days.
"Before I went to see him I was thinking to myself 'this is pointless'. I am quite a confident lad, my parents have always motivated me and I just thought it would not work," he said.
"But I just wanted to get myself back to the Benik Afobe of old. Scoring goals, being injury-free and showing people what I can do.
"After a few sessions, I could just see myself starting to grow. It was helping me on and off the pitch. I still see him now, even though I am not at MK Dons anymore.
"I just want to prove myself and be the best player I can possibly be. I believe I am giving myself the best chance possible of doing that. I feel much fresher than I use to and have not missed one game this season.
"It has been extremely useful and he is someone I will probably be seeing for the rest of my career. I now consider him a friend."
Wilshere's words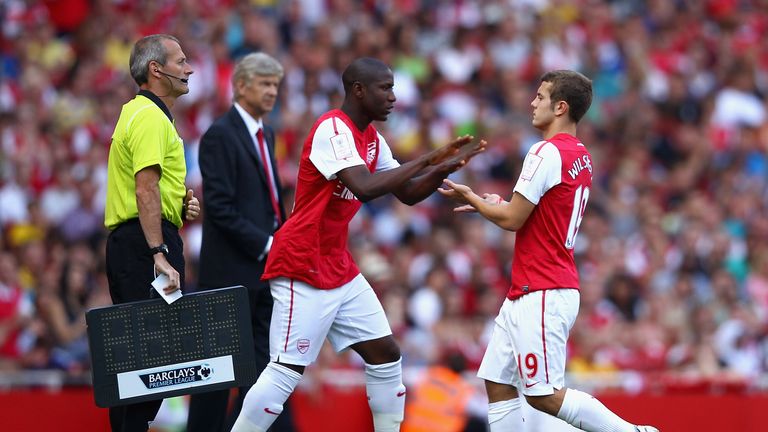 Ahead of this Saturday's crunch clash with play-off rivals Ipswich Town – a match live on Sky Sports 1 HD from 12pm – Afobe also revealed he can count on the support of old Arsenal team-mate Jack Wilshere in his bid to get Wolves back amongst the English elite.
"Jack said before the season started that I was going to make a name for myself. He even joked that he was going to put a bet on me to be top goalscorer," Afobe said.
"It just shows the belief my friends, including Jack, have in me. There's a top class player saying that to me, so it was a major confidence boost.
"We know Saturday is a must win game. It's do or die now. If we did not believe we could achieve promotion, we would not be here.
"None of the players have booked any holidays as we are fully focussed on making the play-offs. Everyone in the camp still believes we can do it."
Watch Wolves v Ipswich live on Sky Sports 1 HD from 12pm on Saturday